I will fully admit that I am a total voyeur when it comes to watching "Hoarders". While I know that these people are seriously mentally ill, I'm still flabbergasted by the state of their homes, and I just can't. look. away. Awhile back, I watched the Mother of All Hoarder episodes, featuring Sandra, a once successful interior designer, lived in the 9,000 square foot historical tudor-style home – the Julian Price Hillside Mansion, built in 1922 – that had fallen into complete disrepair and contained a hoard like none I have ever seen. If you haven't seen it, you can watch the two part episode here – (affiliate link) – it's episode nine. She had lost her home in foreclosure, and the new homeowners, Michael and Erik Fuko-Rizzo were planning on restoring it to its former glory. They were kind enough to give Sandra the opportunity to go through the home and salvage some of her stuff, as opposed to calling in 1800-GOT-JUNK. After watching this episode, I admire them for their kindness, empathy and patience of a mountain of saints. I don't know if I could have survived the ordeal. If you saw this episode, I'm certain that you still remember it, because it was like no other.
When I learned that the new homeowners were going to restore it, I made a note to follow up and see what sort of magic they were able to create, given the state of the home when they bought it. You can see that was a massive project. Absolutely huuuuuuge!
The Exterior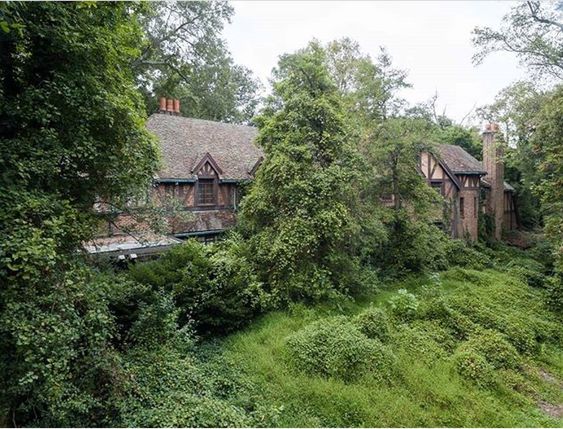 I'll share the exterior transformation right off the bat, because as you can see, the exterior alone was an unbelievable undertaking after so many years of neglect. But look at it now. Wow. It makes my heart happy to see this home brought back to life.
To get the full effect, look at this side by side comparison. Unbelievable.
The Interior – BEFORE
After the restoration was complete, the new homeowners opened it up to the public in Greensboro, NC, and for a hot minute I tried to figure out if I could justify a trip down there to see it. Talk about the ultimate before and after.
This house was packed to the gills. 30+ rooms, full of stuff. Like this.
And the staircase –
It's really staggering and overwhelming to even consider, isn't it? These new homeowners bought the house and the hoard. Ultimately, they did get the house cleaned out, but you could see that years of neglect had taken its toll. Yet, you can also see the potential that was there, underneath all of the junk.
Mind you, this house is massive, and I don't have pictures of everything. But, what I do have is still pretty compelling. A large group of designers contributed to this project by taking on individual rooms of the home, and the transformations are nothing short of spectacular.
The Interior – AFTER
Let's start with that main staircase. I can't even imagine the work that was involved to restore that behemoth.
From this vantage point, you can see how expansive it is.
Again, here it was before the restoration –
And here it is now. You can see that they were able to reuse and restore the original light fixture.
And then there is the main floor living room with its stunning ceiling detail and ornate fireplace. I love the color palette in here – it's so light and fresh, such an amazing transformation from where it once was.
A couple of other angles of this lovely room as it stands now.
Amazing. As if it was this way for years.
One thing I didn't realize initially is that this room, with the pool table, was transformed into the new kitchen. A refresher – here it is before:
And now – what a stunner. But yet so warm and welcoming. I could totally imagine sitting on a barstool at the island and chit chatting. I love that despite this home's massive size, the kitchen isn't a bit out of place in its scale and design. (But I'm hoping that whoever wallpapered that ceiling has access to magnificent massages).
Even the nooks of this kitchen are gorgeous. And I'm kind of smitten with that subway tile – what a unique look to a traditional classic.

I know what you're thinking. "What happened to the original kitchen?" It went from this –
To this. It looks like the original cabinets were restored – I can't even imagine the work that was involved to pull that off. Wow.
The upstairs attic space was one that oozed with potential. (Although I'll admit that it probably felt a bit scary before the remodel when the house was empty). What a great getaway space for work, guest space, etc…
Oh the molding and trim details in this home.
This room was transformed to a playroom. The before –
And the after –
If you'd like to learn more about the Julian Price Hillside Mansion, and see more photos of the home, you can check out their Facebook page here and the Julian Price website here. I'm still a little bitter that I didn't find a way to get down there and see it in person! So if anyone lives in Greensboro, and can hook me up, send me a message. 😉
I hope you enjoyed this restoration as much as I did. I've been keeping tabs on this project since I first watched the episode of Hoarders. The new homeowners are good people to undertake such a huge project (huge, in more ways than one), and restore such a historical beauty to its original glory.
Note: Photos are sourced from the Julian Price Facebook page and Greensboro News and Record.
Jenny