I have shared my favorite Benjamin Moore paint colors here, but I thought I'd share my favorite Sherwin Williams paint colors, since I know I'm not the only paint geek out there. 😉 I always follow paint color trends, and while I may not always agree with the direction they're going, I can share my favorites with you. I have incorporated some of these colors in my own home, and have admired some of them from afar or have used them on client projects.
Many of these fall under the umbrella of Sherwin Williams' most popular paint colors, but all opinions are my own. Either way, I think you'll appreciate them as much as I do, because I know choosing a paint color, or a full color palette can be daunting. All of these shades to be neutrals in their own right. Color can be neutral! And as a cabinet painter, I would consider any of these colors for kitchen cabinetry, as they're all quite versatile.
Naval
You all know my affinity for all things navy, so I'm guessing it's no surprise that Naval is on my list of favorites from Sherwin Williams. Hale Navy is another popular navy, but I find Naval to be more saturated with more depth as a result. I used it in my laundry room – it's beautiful!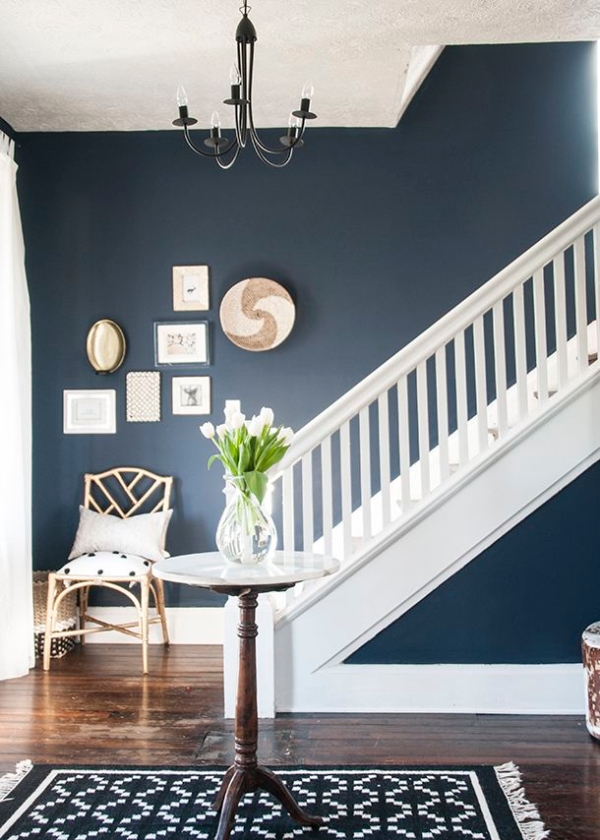 Mineral Deposit
This is a color I have had in our master bedroom since we first bought our house. It was the first room I painted, and I have to admit, even I'm surprised that I haven't repainted it, since I'm known to change paint colors regularly. It's a beautiful, tranquil blue that is so restful and perfect. I still don't see it going anywhere soon. And as a side note – my husband was the one who picked this out of two colors from which I was trying to decide. Winner.
Anew Gray
I'm excited to be painting some cabinets in this color, but it's equally beautiful as a wall color. It's a pretty, warm gray that's not too light and not too dark, and plays well with existing brown finishes (like so many of us have to work with in our homes). It is one of Sherwin Williams' most popular griege paint colors.
Seeing it on cabinets gets me even more excited to paint them for a homeowner.
You can see how pretty it is as a wall color too. Very versatile.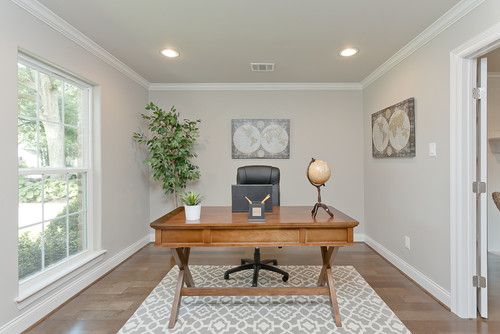 Cyberspace
My love of contrast is showing up in some of my favorite Sherwin Williams paint colors, I know it. I just can't get away from it – contrast is a beautiful thing. Case in point with the way Sarah at Thrifty Decor Chick has highlighted her gorgeous fireplace in her new home with this rich gray – Cyberspace. Don't be intimidated by dark colors! They can be so striking, and don't necessarily have to read as "dark" when you incorporate light furnishings or artwork into the room. Or, use it a an accent, like Sarah did with her fireplace.
Light French Gray
I wish I had a room like this one in my house, because I think Light French Gray is perfect in here with the light wood floors, white trim and cathedral ceiling. It's a beautiful medium gray/greige.
Again – Light French Gray paired with some beautiful molding and light hardwood floors – beautiful look at Naptime Decorator.
And here it is in her finished home office. Check out the full before and after of this space here.
Ethereal Mood
This is another color that I have in my own home and continue to love, even after having it for many years. Again, you know that I'm one to paint a room late at night if the mood strikes, so I hope this tells you something about how much I like this color. This color carries downstairs to our basement, and pairs well with the board and batten that we installed down there. Plus, it works with the beiges/browns that aren't going anywhere anytime soon (if ever).
Creamy
Ok, I'll say up front, that I don't care for the name of this paint color, but don't let that turn you off. Creamy is a great off-white that I've used in a lot of kitchens. It's warm, without being yellow, and is a great color if you have to work with existing finishes like beige/brown counters or floors. This is a client kitchen that I painted (before the floors were refinished). It's also a great option as a trim color and one of Sherwin Williams' most popular paint colors.
Gauntlet Gray
Gauntlet Gray is a great color for just about anything – walls, cabinets, even as a striking exterior paint color. I've used it on kitchen cabinets in this two toned kitchen with Repose Gray on the uppers and Gauntlet Gray on the lower cabinets. It's a warm gray, which makes it a great option for people wanting to bring gray into their homes without it feeling cold.
It plays well with white trim and a stone exterior on this pretty home from The Gray Cottage.
Here it is in a bathroom from Homearama in 2017.
Sea Salt
Sea Salt has been a favorite of mine for awhile and I just can't seem to quit it. We have it in our Jack and Jill bathroom, and it's also a great option for a restful bedroom retreat.
Looking for more? Check out this post on my favorite Benjamin Moore paint colors.
Before you dive into painting a room, I highly recommend either getting large scale paint swatches, or even a sample quart of paint so that you can see the color before you spend money on paint. Also, when putting paint samples up on the wall, put them against a white neutral backdrop vs. the existing wall color. It gives you a more true read of the paint color.
Did I miss anything? What are some of your favorites?