While this 90's home update isn't a full blown remodel, I think you'll find it equally dramatic. This home was built in 2000, but definitely had a very 90's vibe to it. The colors, the wallpaper, etc… I painted the kitchen cabinets years ago – you can see that here – but the homeowners recently listed and sold the house, which is when it caught my attention. The updates that the homeowners made to this home completely transformed it, and I think you'll appreciate their taste and style as much as I do when you see this 90's home update. The listing photos for when they bought it and sold it capture some of the same angles, so it's a really great side by side comparison.
Before and After – A 90's Home Updated!
I remember many of these colors in my own home at one time or another – red, yellow and even green walls. Lots of jewel tones. We all remember that style, right? This home had many of those characteristics but had great bones and potential to give it a whole new look. I think to fully appreciate the changes, you need to see the before and after photos side by side.
I had to pick my jaw up off of the floor when I saw the listing photos. The molding is another thing that has absolutely transformed this house in so many ways. Let's take a look – it's such a stunning update!
The Entry
The entry was given a new look with paint, molding, new lighting and new double front doors. If you look back at the before, you can see that there was a single door with a transom over the top and sidelights flanking it. With the addition of the trim and the double front doors, it really gives this entrance a whole new look. Something I wouldn't have even really thought would be possible, really. But if you look at the footprint of the door in the before, I don't think it was changed in order to accommodate the double doors. Crazy good!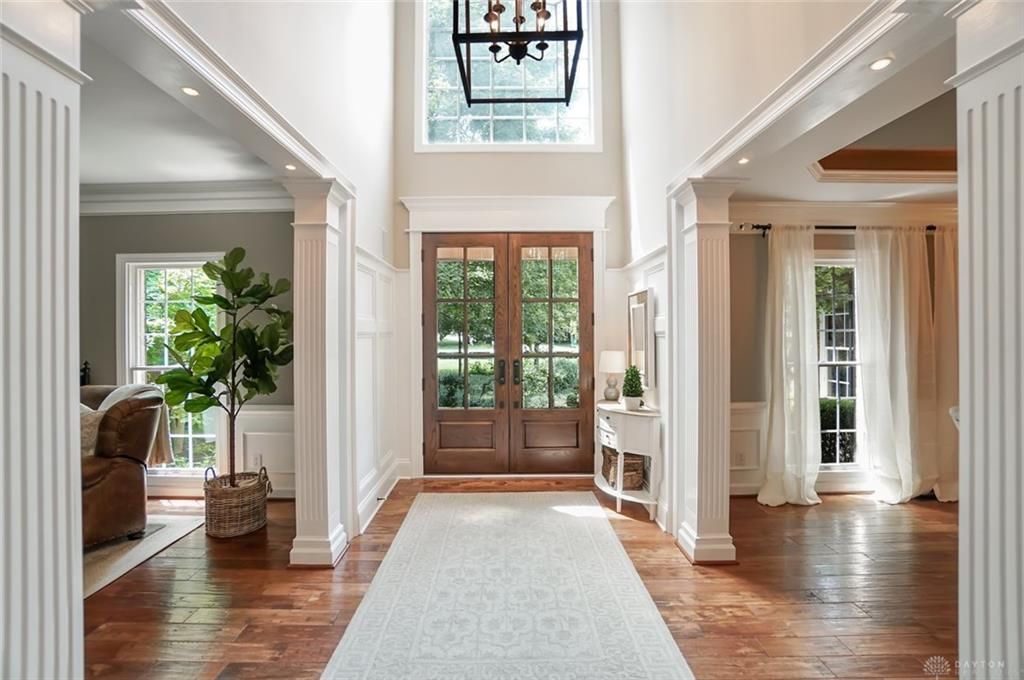 Moving to the stairway, you can see that more paint and molding were added. It really looks like such a gorgeous feature now, doesn't it? Even painting the toe kick on the steps helps to tie it all together, doesn't it?
Living Spaces
The living room used to be deep red (been there, done that). It got a refresh with some paint – does the power of paint ever get old?
The office used to have forest green plaid wallpaper (which I would have loved at one point in my life). We had an office with forest green walls once. And a wallpaper border along the top.
Now the wallpaper is gone and has been replaced with a more updated, warm olive green paint color.
The family room is one of my favorite areas in the house in terms of how dramatically different it looks now. Before, it carried the jewel color palette and the heavier wood tones in the fireplace.
I think this is a design lesson in how to deal with a large two story room and ground it with molding. The fireplace got a big facelift as well, and an entertainment center was added so that the fireplace still is the main focal point. The molding also lends itself to a more intimate backdrop for family photos. I think that's one of the biggest challenges with two story rooms like this, is where to place artwork. This makes it all look seamless and simple, doesn't it?
I can't even believe how much different it looks. Love it (and now I want to add more molding to my home).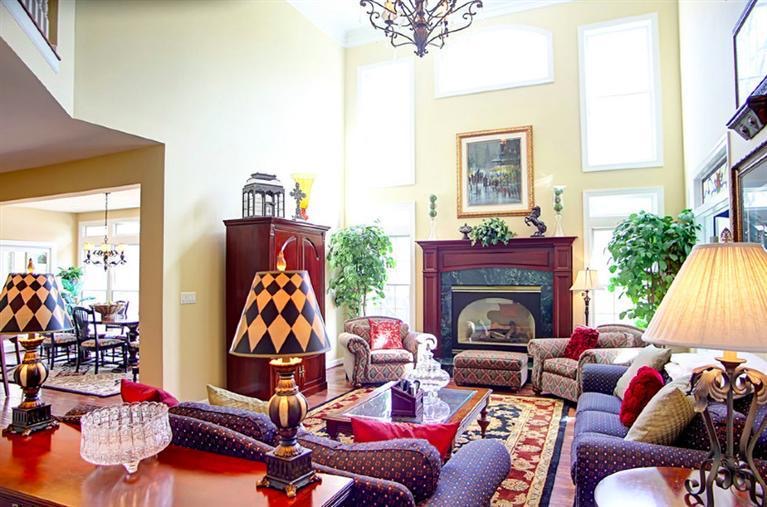 There is a sun room off of the great room that used to have a tile floor and dark navy walls (which I don't mind – you know me and navy).
Now, it's an extended living area with new flooring and brighter walls.
The Kitchen
The kitchen was one of the first things they did when they bought the house. They replaced the counters, added a backsplash and I painted the cabinets.
Would you believe this hutch used to be a planning desk? They took some of the cabinets from the butler's pantry (since they added a wine fridge/drink fridge). It is such a great use of space.
The breakfast room got a fresh coat of paint and new lighting. I love the simple rug underneath the table.
The formal dining room is similar in updates – lighting and paint. And I love the painted ceiling in here too.
The master bedroom is huge and was a sea of wallpaper.
Now it's a tranquil retreat.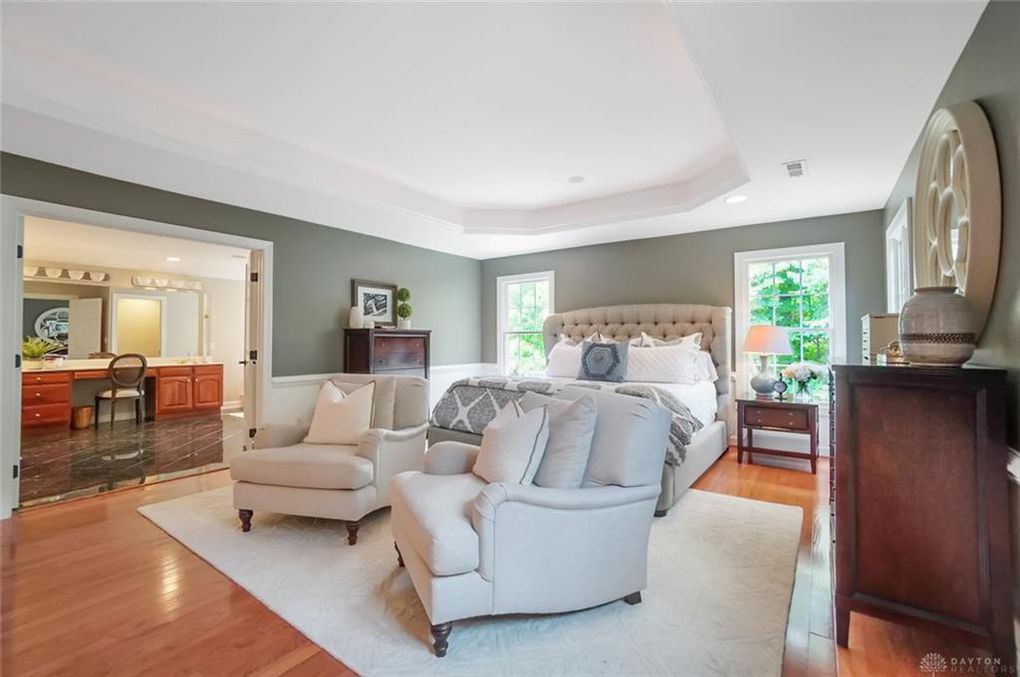 Obviously there is more to this home – but these are the big highlights that I thought you would appreciate and enjoy the most. It's such a great 90's home decor update – and also shows how molding can really ground and transform the look of a room as well.
Did you have these colors in your house at one point? Or maybe you still have some of them now? It's funny, we keep revisiting some of these colors in different ways over the years. I know I'm seeing a comeback in some of the rich jewel tones, but with a twist.
What do you think? Are you as impressed as I am? Have you undertaken a 90's home update? It doesn't seem like that design era was that long ago, does it? In case you missed it, this beautiful 80's home remodel that completely blew my mind (with so much of it being transformed with paint and flooring). If you like full blown remodels, check out this 1970's home transformation from my friend Kayla at Painted by Kayla Payne. The girl has vision.
Jenny