I wrapped up a new client kitchen project a couple of weeks ago, but also wanted to talk some more about products that I've been learning about and using as I continue to grow my business, as well as my skills and techniques. I'm always looking into and trying new primers, fillers, etc… but have stayed true to my trusty standby as far as paint goes – Benjamin Moore's Advance.
In doing some reading and research, I've discovered that Breakthrough by PPG has gotten great reviews as a product for painting cabinets, and I've been working with it and using it (and loving it). I thought it would be helpful to do a side by side comparison of the two products. They're both awesome, but they each have pros and cons to consider, and it's worth taking a closer look.
Benjamin Moore Advance – Pros
Like I said, I've been using Benjamin Moore's Advance for years now, and have been a loyal customer. There are lots of reasons why I love it and have used it for as long as I have. Let's do a bulleted list, as I like to see things all organized. 😉
Advance is a waterborne alkyd, that hardens like an oil. This means soap and water clean up, which I love. I know there is a time and a place for solvent-based products, but I really hate working with solvents. They're smelly, messy, and the clean-up is awful. So this product is the best of both worlds, in my opinion – great durability without the hassle of dealing with smelly solvents.
Advance levels out beautifully, whether you spray it or brush and roll it.
I use Advance in a satin finish, and it is perfection. Just the right amount of shine to it, without being glossy.
No topcoat required.
Benjamin Moore Advance – Cons
The biggest con for me when it comes to the Advance, is the dry time. It's a 16 hour recoat time, which means you spend a lot of time waiting for paint to dry. When you're painting cabinet doors with two coats of primer and two coats of paint – on both sides – that's a lot of waiting for paint to dry, and it drags out the production process.
It takes 30 days for Advance to fully cure. That's not to say that you have to wait that long to touch your cabinet doors, or rehang them. But you need to be a little gentle until the paint fully cures. With dark colors, the dry/cure time seems to be longer.
While Advance levels out well, you have to be mindful and not mess with it if you're brushing and rolling it. If you goof up, leave it alone. The more you mess with it, the worse it gets. And oftentimes, the mistakes level out to where you hardly even notice them.
PPG Breakthrough – Pros
Granted, I'm a newer user of PPG Breakthrough, but I've been doing loads of research and reading, and have also talked with other painters and the PPG reps about this product. But really, products speak for themselves, don't they?

Breakthrough is a waterborne acrylic, so you still get the easy clean-up like you do with Advance.
Dry time – this one is a big one for me. It's dry to the touch in 15-20 minutes, and you can recoat in two hours. That's just amazing, and for me, it cuts down on my production time in a big way. And, it reduces the time that I need to be on-site when painting cabinet frames, which is great too.
Durability – it's hard as nails, and you can handle/move the doors soon after painting them without having to worry about the paint still being tacky. Another bonus – especially when you're transporting the doors to install them. Speaking of durability, my local PPG store has a laminate counter painted in Breakthrough. Hard as nails I tell you.
No topcoat required.
PPG Breakthrough – Cons
Not everyone sees this as a con, but the satin finish in Breakthrough is a bit more matte than that of the Advance. I personally prefer the satin finish of the Advance, but I know people who prefer the Breakthrough. And honestly, it's not that noticeable, I just notice it because I work with it often.
Leveling – Since Breakthrough dries so fast, it doesn't level out as well as the Advance – but this is only when I'm brushing/rolling the frames – it sprays just fine. However, if you use the right painting tools, you can still achieve a beautiful finished look. One must have tool is a flocked foam roller. I experimented with quite a few, and this roller gave the smoothest finish when I hand painted the frames. Trust me on this one. Use the flocked foam roller. Here is an end panel that I painted in the Breakthrough:
Breakthrough is a thinner consistency and doesn't cover quite as well as the Advance, so you'll use more paint as a result. There have been times where I've had to buy another gallon of paint to finish a job, whereas with the Advance, I could have finished it with one gallon. Not a deal-breaker, but something to take into consideration.
Important: Make sure you use the Breakthrough that is VOC250 vs. the VOC50. There have been issues with the 50, and the higher VOC version of Breakthrough will hold up better. If you can't get the VOC250 in your area, go with the Advance.
But as you can see, the end result is gorgeous.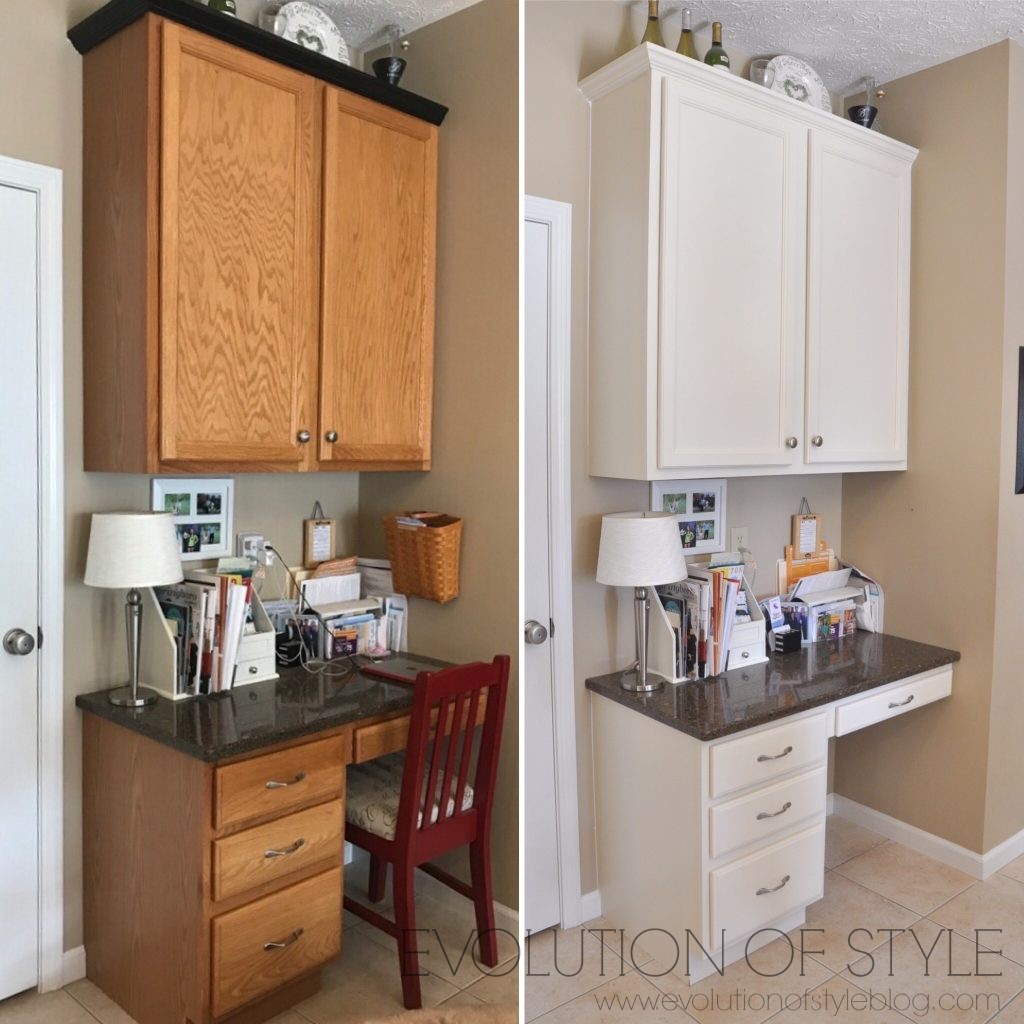 So there you go – a comparison of two great products, each with its own merits. I like both of them for different reasons, and I think you'll be happy with either one. It's a matter of personal preference, and what matters most to you.
If you're looking to paint your cabinets, check out my tutorials:
Do you have your favorite go-to products?
Jenny
SaveSave