Hello!
Well friends, my long awaited Etsy drapes have finally arrived from Avec Dieu Couture's Etsy shop, and I am in love! I have to tell you, after receiving these drapes in the mail and admiring the professional look and feel, I am so glad that I didn't attempt these myself. There is a time and a place for everything, but it was not my time to try to do these myself. Worth. every. penny.
Especially when I think about the inevitable frustration (and subsequent cursing) that I would have experienced in my sewing attempt.
So, let's get on with the good stuff, shall we?
I opted to have them lined, and I'm so glad I did. They're very substantial and have a high-quality feel.
I also had her add a header that would allow for drapery clips. I learned a new (professional) way to hang draperies. I used drapery hooks that are hooked in to the header and then hook in to the eyelet in the drapery rings I purchased.
Not my drapes, but same technique
I know, new terminology and techniques for me too.
The best part about getting these drapes installed is that my dining room is finally starting to resemble my inspiration room. Well, my version of my inspiration room. Now I need to get my husband's buy-in on a new chandy… And a rug! I have been searching high and low for a striped rug that will fit the bill (and isn't too spendy)!
Have you ever scored a great purchase on Etsy? I couldn't be happier!
Linking up to: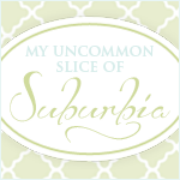 Savvy Southern Style – Wow Us Wednesday
The Vintage Farmhouse – Creative Things Thursday