Hello friends!
I have participated in two One Room Challenges so far, and each time, I decided at the last minute to dive in and join the chaos fun.  And each time the results have been great and so rewarding, albeit stressful and exhausting.  I've said it before, but I need deadlines that are imposed by someone other than myself, so the One Room Challenge fits the bill.  In case you're unfamiliar with the One Room Challenge, it's an event that takes place in the spring and fall of each year thanks to Calling it Home, where you transform a room in just six short weeks.
The first room that I tackled was our master bathroom.  It had been a thorn in my side for awhile, after taking down wallpaper (and then letting it sit like that for um, a year), and the One Room Challenge forced me to dig in and get it done!  It still makes me happy to walk in here and see a finished space.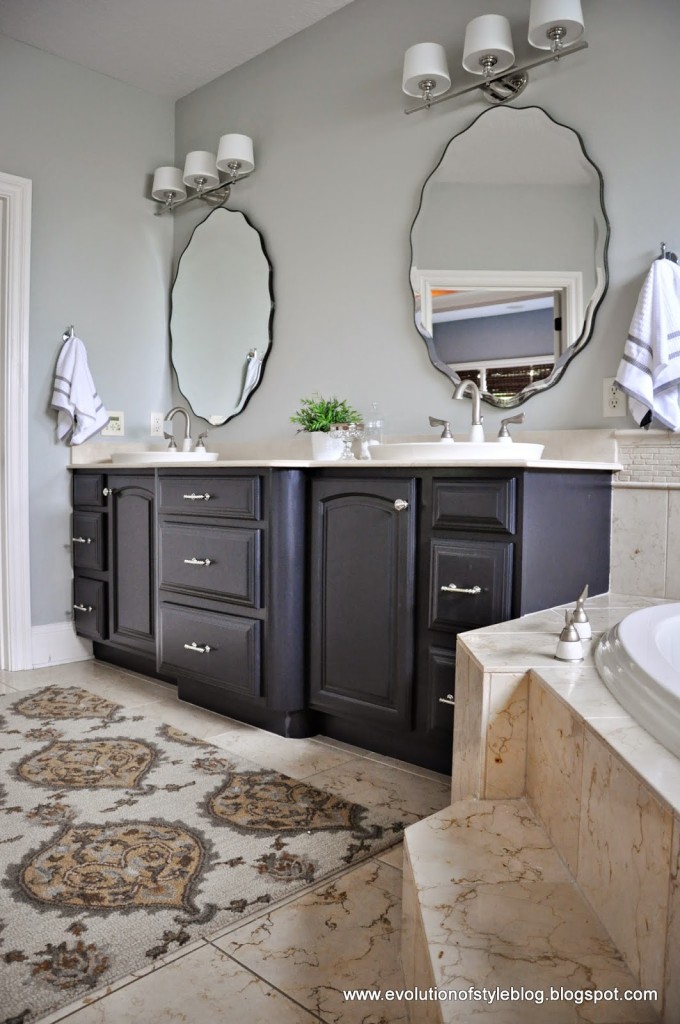 Then, in last year's Fall Edition of the One Room Challenge, I gave my daughter's room a complete refresh.  This one was a lot of fun, and the fact that my daughter loved the process (and still keeps her room neat to this day), makes it even more rewarding.  This is still one of my favorite rooms in the house.
So for the Fall 2016 One Room Challenge, I debated about which room to tackle, and considered my laundry room, my office (which has turned into a bit of a dumping ground lately), and my 15 year-old son's room, which hasn't been updated much since we first bought our house back in 2010.  I painted the walls, but honestly, not a whole lot else.  He was upgraded to a queen sized bed last year, and it's just kind of a hodge podge right now.  Plus, I had to hear how my daughter was the "favorite child" after I did her room, so I figured another bedroom was fair play.
So, let's get on with the dreaded "Before" photos, shall we?  This is a judgment-free zone, right?  I did pick up the underwear that was on the floor.  You're welcome.
I'm throwing in a photo of his bathroom vanity area (which connects to our Jack and Jill bathroom), because it needs to be updated as well.  This (and the matching vanity area in my daughter's bedroom) is the last sliver of wallpaper that I need to eradicate from my home.  I'm throwing it out there, but I can't guarantee that it will be done as part of this project.  Dream big, right?
As I begin to tackle this project, the upside is that I have pretty much complete creative control, and my 15 year-old son's requests are pretty straight forward:
Blackout blinds or drapes (I may need to draft my mom again since she did such a great job on my daughter's pom-pom drapes)
Darker color on the walls (he's thinking blue)
Create a place where a bear would like to hibernate, basically.  It's a teen boy's bedroom after all.
I'm adding these requirements:
Organize the desk area
Incorporate rich wood tones with shelving, accessories, etc…
Create a focal point on the wall with a paneled wall and/or a striking headboard
Maximize the use of space since the room is on the small side
Here are some rooms that I'm drawing inspiration from as I get started.
I love all of the rich colors and textures in this room (even though it's not in the navy family).  The mix of gray and orange has always been a favorite of mine, especially in a boy's room.
I love the dark walls in here  and the nice contrast with the crisp white bedding.  And the gray and orange striped floor.
Toby Fairley knocks it out of the park with this gorgeous masculine bedroom.  Love the headboards, the patterns, the colors, everything!
The contrast between the brick feature wall and the dark painted wall are gorgeous in this boy's bedroom from Hello Yellow.
I love this stunning (navy) feature wall from Life on Virginia Street.  LOVE.
So, you can kind of see the direction I'm going in this room.  I find that I do some of my best thinking under pressure and deadlines, so I'm hoping that holds true this time around also.  I'm excited to get going – thanks for following along!
Jenny