Hello!
I love looking back at the past year and seeing what I managed to accomplish, so today I thought I'd do a recap of my favorite projects of 2016 and share them all in one place. It's a lot of fun, and triggers some memories of projects that I had forgotten about and might want to do more of in the new year. This post contains some affiliate links.
I was on a thrift store makeover binge at the beginning of 2016, experimenting with different types of paint, both in the colors and the brands. This dresser was such a fun redo, and I still love the simplicity of it all! I got it for a steal at our local Salvation Army (it has the best selection and the best prices in our area), and better yet, it was a solid piece of furniture, which is what I want most when it's all said and done. The color is Queenstown Gray by General Finishes, and I used Flat Out Flat as a top coat.
Here's the before:
And the after – so fresh and pretty with new knobs to finish the final look.
I think this furniture makeover is my all-time favorite from last year (possibly ever). Again, another solid piece from Salvation Army (made by Thomasville), that just needed some love and an update.
I got creative with Amy Howard's One Step Paint, and mixed two colors together (Atelier and Black), to create a beautiful new color.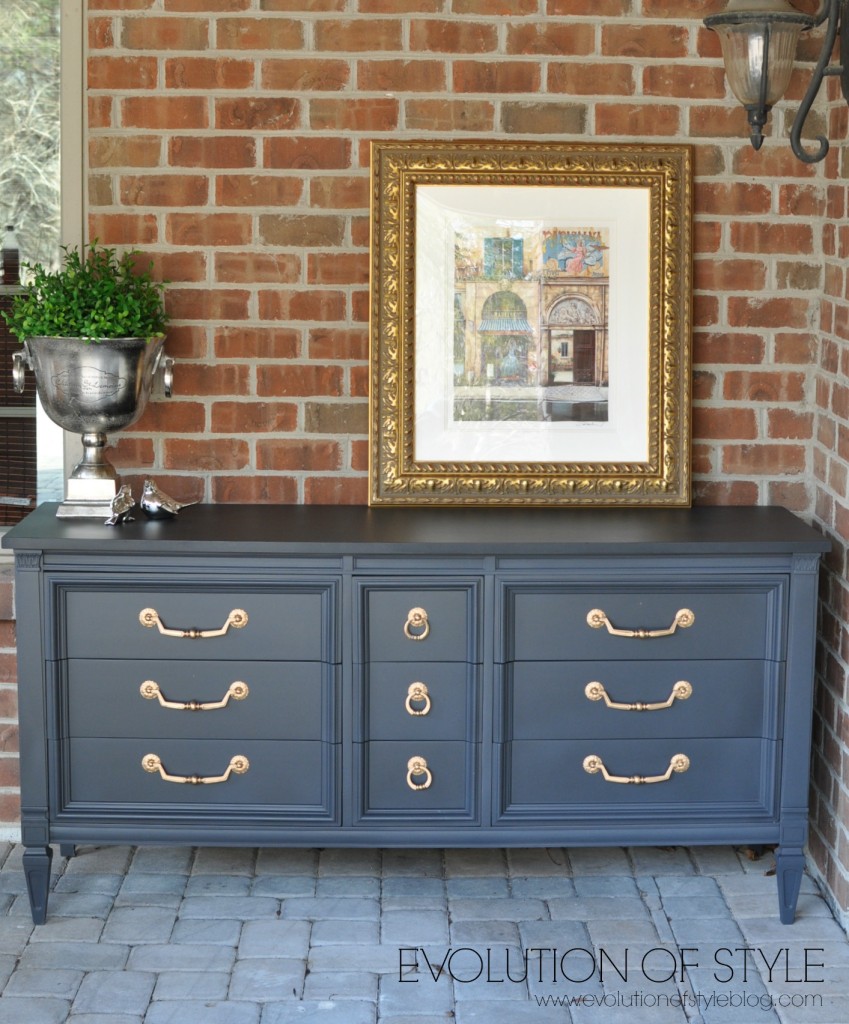 I do a lot of kitchen makeovers, and this oak kitchen is one that I still am drawn to, because even though it's small, it shows that small can be stylish, functional and beautiful. Here it is before –
And here it is now –
I hit up another Homearama tour again this year, and while I wasn't a fan of some of the houses, this one really hit it out of the park for me. So spot on with current trends, yet not "trendy", if that makes any sense.
Painter in Your Pocket Series
I'm hoping to continue adding to my Painter in Your Pocket series, but I'm happy that I was at least able to get the ball rolling with it, as there is so much to cover and share. In case you missed any of them, here are all of the Painter in Your Pocket posts from 2016:
While I always go a little bit crazy as I tackle a room for the One Room Challenge, I'm never sorry that I did it once I'm done. I'm a girl who needs a deadline, and the One Room Challenge delivers on that! I'm really pleased with my son's bedroom makeover, and it's nice to knock out another project on my list. Honestly, I think the time crunch works in my favor – it forces me to make decisions, and I get great ideas that way.
I'm going to round out my list of favorites with this mid-century modern dresser that I refreshed. It was a bit of a hot mess when got it, but it turned out so sharp. You know my love of navy, and this one hit the mark.
And here it is in its finished state:
Revisiting all of these furniture pieces makes me want to go thrift store shopping and pick up a few pieces to paint! I've been bogged down in the world of cabinets!
What would you like to see more of in 2017? Please let me know, and I will work to include it in posts this year.
Jenny
Linking up: