Hello Friends!
I hope you're having a great week. We're getting some spring-like weather here, and it's been so nice. I feel like Mother Nature is setting us up for a late winter blizzard though, with these warm temps – crossing my fingers that doesn't happen. Let's get started! This post contains some affiliate links.
I was at The Creativity Exchange this week, talking about my favorite color – navy blue – and how it can be a great neutral. Take a peek, in case you missed it. Cyndy added a gorgeous navy blue color palette to the mix.
Navy Blue in the Laundry Room
Speaking of navy blue, I decided to take the plunge and paint the walls in my laundry room. I figured the walls were a great place to start, because they are easier to redo if I don't like them. Whereas redoing cabinets is a bigger job. So far, I'm loving the navy blue. I went with the color Naval (Sherwin Williams) that was color matched so I could use Benjamin Moore's Aura paint, which is my favorite for walls. I used their matte finish, and it's like butter. It's not black, I swear – just a really rich navy blue.
Hidden Laundry
I spotted this stunner on Instagram, and still can't get over how clever it is. My only question is, where do I hide the dirty laundry? I guess when you have a laundry room like this, you keep up with your laundry. Finecraft Contractors are the geniuses behind this stunning space.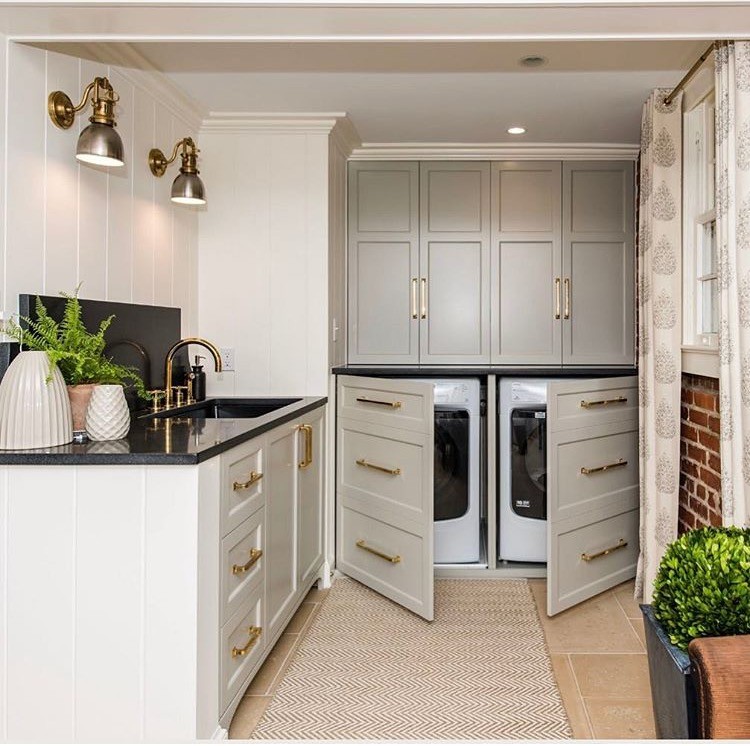 Wash 'A' Way Brush and Roller Cleaner
I spotted this video for the Wash 'A' Way Brush and Roller Cleaner, and am intrigued by how well it seems to work at cleaning out your brushes and rollers so quickly!

I'm on to a new book and am getting through this one in a hurry. The Woman in Cabin 10 is a book that has popped up in the "Books you might like" given my reading history. On my flight home from California, the gentleman next to me was reading it, and I asked him about it. He said that it was good, so I decided to give it a whirl based upon his recommendation. It certainly has drawn me in, with a story about a woman who appears to have been thrown overboard on a cruise, and the efforts in trying to find out what's going on by a journalist who is on board, leaving you wonder if she has lost her mind, or if she's being made to look that way by the people who committed the crime. I'm not finished with it yet, but it's certainly holding my attention.
I hope you have a great weekend and are enjoying some lovely weather wherever you are!
Jenny