Hello!
I'm putting a kitchen refresh/repaint back together today, and I'm excited to show you the finished product. I love it when a plan finally comes together!
It's time for this Friday's installment of 5+1 – 5 things I love + 1 thing I don't.
Sentimental Dads
Thanks to all of you who commented with advice and commiseration on my sad sentiments about the last day of school on last week's 5+1 post. I know I'll make it through one way or another, but it was nice to know that I'm not alone in already feeling so weepy about it. You'll appreciate this excerpt from Rob Lowe's memoir, as he discusses sending his oldest son off to college. Even men lose it when their kids leave the nest.
Peel and Stick Plank Walls from Stikwood
I stumbled upon Stikwood this through my Facebook feed, and thought you all would appreciate it, given the current craze for planked walls. It's peel and stick, people!
They have great weathered wood styles – check out the reclaimed weathered wood:
Here it is in a room – how cool is that? You'd never know it was peel and stick!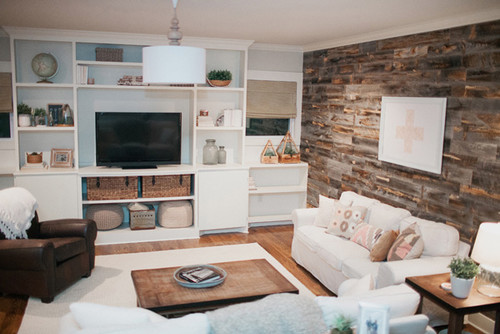 Or the gray reclaimed weathered wood:
A great way to add some texture and interest to a room, don't you think?
Ban Total Refresh Cooling Cloths
Ok, I know I'm all over the map this week, but with the weather heating up, these amazing helpers need to be shared (and kept in your purse/gym bag). They freshen you up when you're sweaty and stinky, yet still need to be out in public. No, that's not their tag line, but that sums up how I use them. If I need to go to the grocery store after hitting the gym, these make sure I don't offend everyone in the produce section. A win-win. They come in three great scents – Enliven, Invigorate and Restore – so you can't go wrong. And no, this isn't a paid advertisement for Ban Cooling Cloths, I just like them, and I figured you would too.
May Flowers
The nurseries are busy as we all get ready to add some spring flowers to our yards. I always love having bright and beautiful flowers planted in my pots, but struggle with ideas and different flowers and colors to use. This is where Proven Winners comes in to save the day. Check out their Container Garden Recipes. Oodles of flower combinations for all seasons and climates. It's like paint by numbers for your garden. A great idea for Mother's Day (hint, hint).
If you go to their website, you can also sign up for the 2014 Gardening Idea Book. Sometimes it's nice to have pictures in hand when you're shopping for plants, and I have always been thrilled with the combinations they put together. They make me look like I know what I'm doing.

With it being Mother's Day Weekend, I can't forget my mom. She's forever thoughtful, helpful and loving. I mentioned that my daughter's first communion was last weekend, and she included two photos on my daughter's gift – one of me and one of her.
How sweet is that? My daughter's first communion day was lovely, and now we have her photo to add to the sequence.
As for the one thing I don't like, that would have to be the stray hair(s) I occasionally discover on my chinny chin chin. Yes, those wiry, stray witch hairs that seem to literally show up overnight. I don't have many, but boy do they get your attention when you find one. Drives. me. crazy.
To my friends who know me, please feel free to pluck any wild hair that you see that I may not notice. That's what true friends are for, right?
Have a beautiful Mother's Day Weekend!