Hello friends!
I hope you had a great weekend and are getting into the swing of a new week. I have been hopping from one project to the next, with a lot of painting involved. Similarly, I'm questioning my painting decisions in more than one place, so there are lots of disaster zones unfinished projects in my house at the moment.
I have been wanting to paint out the area in our great room where we have our tv and built-ins, so I finally made a trip to see my Paint Guy and he color matched the paint to match my trim. The idea here was to give it a more cohesive look, and now I'm wondering if it just looks too … sparse.
You be the judge.
Here is the before:
And here it is now.
Is it too stark? Does it need something more? Or should I just mark it as an "epic fail", repaint it and move on?
On the upside (no pun intended), I did manage to tackle the band of paint around my coffered ceiling that had been bugging me since I repainted this room in the first place. It's funny, I was up on the ladder, and I thought, "I wonder if I can reach up here on this ladder?" And after a(nother) realization that I'm not a big fan of heights, I got my bearings and got to work.
Here is a refresher, since I'm sure you have more on your mind than the paint colors in my home. See that greenish band around the outer perimeter? That's it. Painted. Done. Off my list.
I'm happy with that piece of my painting project in here. And I added a chair from our bedroom that had been unused and deserved to have some face time. Plus, it looks nice in here (unlike the unsightly red ottoman/bench).
I loved this chair the moment I saw it, but the pricetag, not-so-much. (And so goes my love/hate relationship with Arhaus Furniture.) So, when it went on super-sale because of an itsy bitsy defect, I snapped it right up for about a third of its original price. Awww yeah.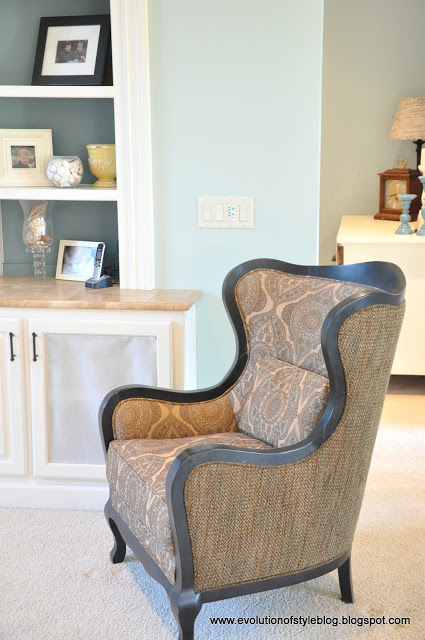 I'll share some more basement work and painting dilemmas soon. In the meantime, I'd love your thoughts on my current quandry. What do you think? Too stark? Repaint? Or let it marinate for awhile?
Any epic fails in your decorating world lately?
And I know you haven't forgotten – nor have I – those lost on 9/11, eleven years ago. I can't believe it's been that long. Do something nice for someone today, and never forget.