Hello!
I have been battling some sort of bug that seems to want to suck the energy out of me, so my holiday decorating seems to run in spurts. But, now that the fireplace is done, the mantel deserved attention.
Getting rid of the niche was a step in the right direction, but admittedly, it can still be a challenge in terms of scale. But, I have come up with a great solution – for the holidays anyway.
Bear with me on the ever-changing décor. I was experimenting and taking pictures as I went. But let's focus on the star of the show – that cool chalkboard print!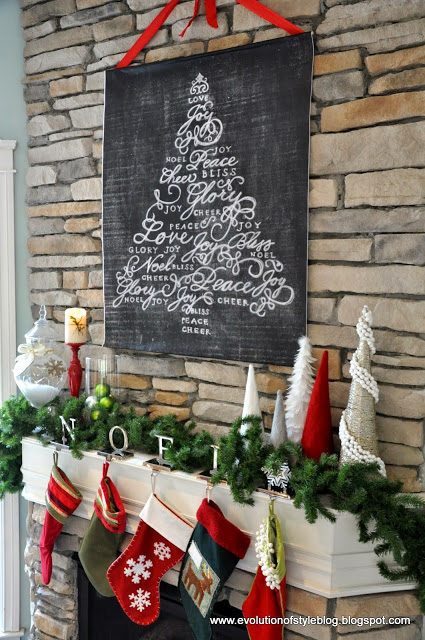 I found it at the Caravan Shoppe, after reading about them here at House of Smiths. The cool thing is that you buy the design, they email it to you for download, and then you can get it printed in all sorts of fun ways. I bought the "All I Want is Everything" pack for $12, which gives you a whole bunch of designs from which to choose. I had two prints made in the 3×4 size at Staples for $6 each (engineering prints keep it cheap). Love that.
I'm going to add this one to the basement.
I wanted to jazz it up a little bit to hang over the fireplace, so I picked up some dowel rods to hot glue on both ends and then added the ribbon to give it a scroll effect. Tip: Glue the ribbon on the dowel rod first, and then glue the dowel rod to the print. It will hang better when you're finished.
Fun, right? And the scale is perfect!
The tree print works well with my tree-obsession that I have going on right now.
The Christmas tree is up now too (although not in these photos). It's so nice to enjoy this space for the holidays!
Don't forget – the 12 Days of Christmas Tour of Homes kicks off on Monday!