I almost missed Homearama 2019 this year, which would have been awful. Last year it was in July, and I assumed it would be the same timeline this year. You know what happens when you assume. Luckily, I squeezed through with my Homearama Buddy, Vanessa, on the last day. It was a hot and sticky day (and I'm a sweaty girl), but these are the sacrifices I'm willing to make to bring home trends to you. Let's get things rolling! In the interest of page speed, I'm going to share some of my favorite areas, and try not to go completely overboard! This post contains some affiliate links.
House #1 – Candlestone
Price: $1.395M (Sold)
Square Footage: 7,700 sq. ft.
Builder: John Candle Homes
www.johncandlehomes.com
The exterior of this first home is impressive and had us excited to get started!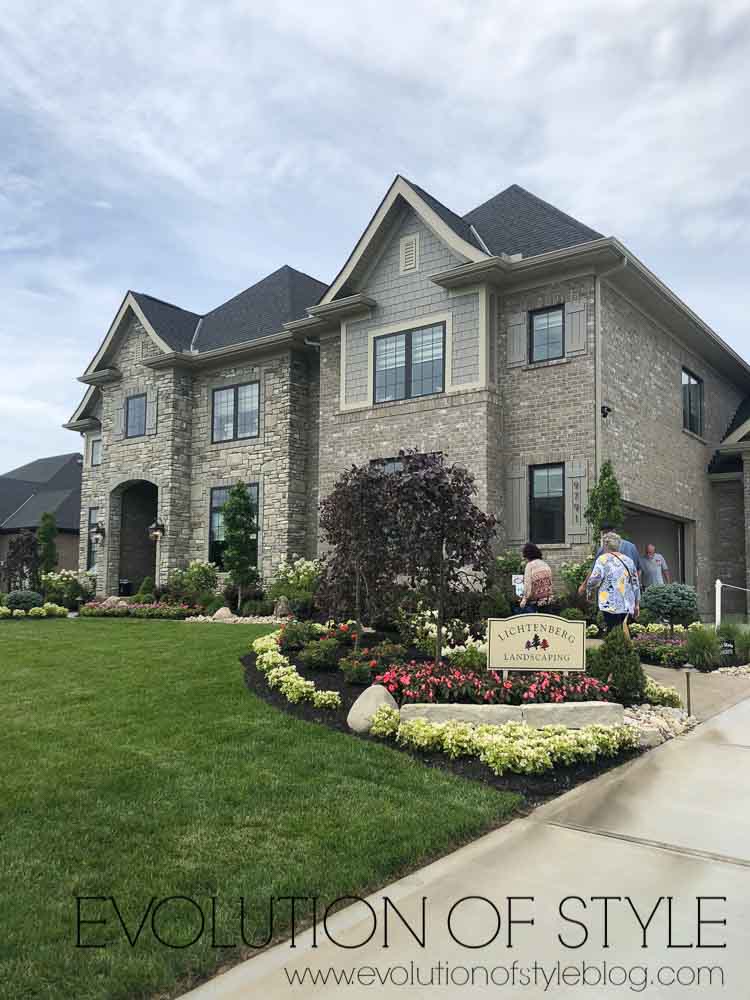 One of the trends that we noticed through several of the homes, was deep, rich color in the "green" color family. This office is a great example of the color I'm talking about here.
The trend we noticed in this home was that there was a lot of molding going on throughout the home. The ceilings, the walls, you name it. And also check out how this home has such a great indoor/outdoor flow going for it. And don't worry if you leave the sliding doors open to the outside (the outdoor porch has retractable screens, so it's a bug-free zone). Those retractable screens are a game changer!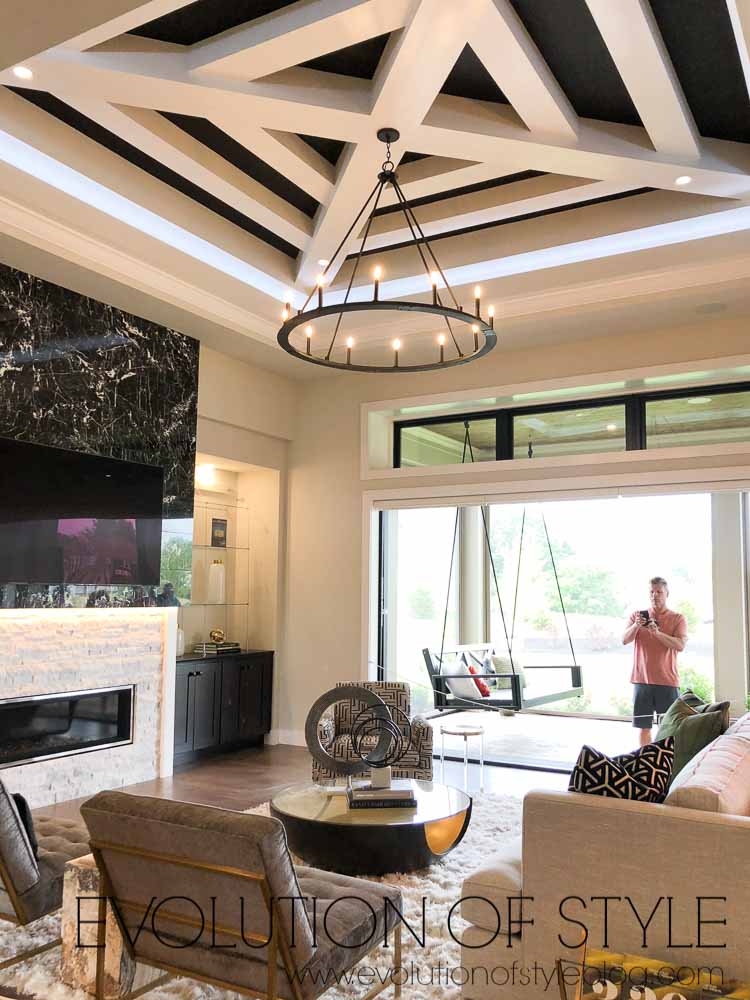 I love the open flow and floor plan in this home. The family room, dining room and kitchen are all open and are really conducive to entertaining, as well as just every day living. No formal living room in this house, and I love it! The central eating area is still plenty big for a large group.
This photo shows you how it all flows together, both indoors and outdoors.
The kitchen was large and welcoming with plenty of storage. Although I miss last year's non-white kitchen cabinet colors – we're back to white in here. White is fine, but I am still loving other color choices like we had last year.
But I'll never tire of a hidden pantry.
And if this isn't enough entertaining area for you. There is this built-in bar in this space too.
This is where this tour got a little weird. There was a glass door that wasn't a closet or pantry, but it had a pretty light and a mirror. Luckily, there was a note on the door that told us what it was. Here's what it said – "This is a time-out room custom designed by John Candle Homes for parents that are not happy with their children's behavior." That's just strange to me, and a little creepy, considering it was designed into the home's plans. Last I checked, a chair in the corner worked just fine. But hey, I'm old school like that. Besides, who wants to clean all of those fingerprints off a glass door in a time-out room?
Beyond the time-out area was a built-in desk. I think this is the only way I could have a built-in desk – one that's not actually in the kitchen. I love that this is tucked away from the heart of the kitchen, as a desk in the kitchen has always been a clutter-zone in my experience.
There was also a bedroom and the "children's room" adjacent to it on the main floor that was an extra space for hanging out and watching tv. Although the master bedroom was actually upstairs.
Heading downstairs is a wide staircase with pretty dark flooring.
Sharing highlights of my favorite areas – there is more molding on display down here as well. This is the seating in the media room area.
A great bar space for more entertaining (although I would have liked to have seen an actual bar vs. the table).
Heading upstairs, there is more molding detail on the walls.
The master bedroom was tranquil and serene with grasscloth wallpaper, a trimmed out ceiling, and a high style light fixture that also has a fan built-in.
The master bathroom featured high impact black subway tile in the shower, and a nook for the tub with another tile feature.
There was an upstairs laundry room with a floor that played mind games with you if you looked at it too long.
As I wrap up, I have to share one feature that really caught my eye was back on the main floor. How cool is this window off of the kitchen? A great setup for guests to sit and hang out, while allowing you to still be part of the party (and notice the retractable screens out on the porch as well).
That's Homearama 2019 House One! What do you think? More to come!
Jenny