I finally made a leap of faith and chose a paint color for my office/mom cave. I had bought some sample paints in shades of green and let them "marinate" for awhile, and decided that wasn't the direction in which I wanted to go. I started thinking that since I had such fun, bold (for me anyway) fabrics, that I wanted to keep the backdrop neutral. So, I opted for Concord Buff by Sherwin Williams.
Well, I got it up on the walls and let it sit with me for awhile. Then I got to thinking. Remember how I described the original wall color as "baby poo brown"? Well, the walls in the rooms leading into my office are the same brown color. In terms of room flow, you're looking from a brown room to a yellow room. Then I start thinking about my kids talking about a local high school teams' colors of brown and gold, chanting "Poop and Pee! Poop and Pee!" So when I look at this room, guess what's playing in my head?

Poo colored room leading to my office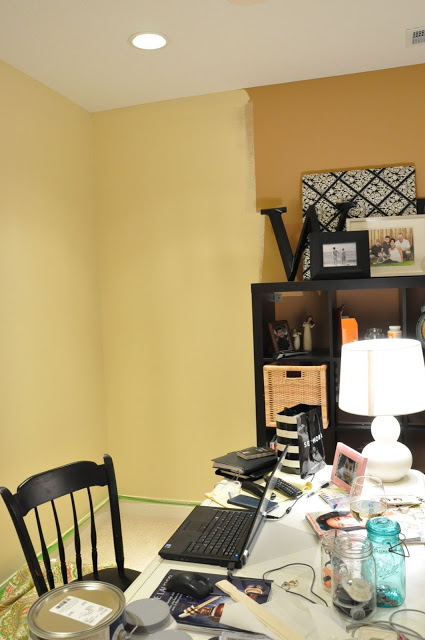 Another contrast in the before/after colors
since I hadn't painted behind the storage piece yet

I even looked at the upholstery fabric out to see if I could warm up to it some more.
Now, I know it doesn't look
that
bad, but it was definitely more yellow than what I wanted. And, I didn't want to be working down in this space, always regretting my color choice. Perhaps I should have just been more patient and waited for the
Room Remix Paint Series
. Alas, patience is not one of my virtues.
Did I ever tell you that I repainted our master bedroom the day before my due date? Went into labor early the next morning. Not the patient type when it comes to painting.
Now, on to Plan B. Since I couldn't finish the room with one gallon of paint (flat paint sucks, literally – it absorbs the paint like a sponge), and I needed to buy another gallon anyway, I opted for Muslin by Sherwin Williams, instead.
It's a creamier neutral, and works with the light tones in the fabric. So, I was up until midnight on Saturday night, painting. Much better. No more poop and pee anymore.
I'm in love with the Muslin color – it really hit the mark. And I'm having a lot of fun with the pops of color in this room as well (more on that in another post). The chair is obviously not reupholstered yet, but I wanted to see if I could get a feel for what it would look like. A work in progress…
Shall we take a trip back and review the before as well?
I still have a lot on tap for this space, but am loving the results so far!
Jenny
Linking to:
Just A Girl – Show and Share Day