Hello!
As with my recent posts about choosing paint colors for furniture and for rooms, you can definitely tell that I have paint on the brain. I have a lot of projects on my to-do list that are overdue, and a big one is painting the exterior of our home. While I paint furniture and cabinets on a regular basis, I won't touch an exterior project with a ten foot pole. I know my limits, both in my skill set and my sanity), and painting an exterior would probably send me over the edge. I'm already overwhelmed at the options when it comes to paint colors, and trying to decide what direction I want to go with it. So today, I'm going to take you along on my mental journey of picking exterior paint colors. Whether we end up at a final destination, is another story…
High Contrast
I have been going back and forth with color ideas for awhile, and one of the big decisions I need to make is whether I want a high contrast look or not. Currently, the color of the siding, stone and brick kind of blend together, and I am looking for something new. Here is a look at our home's exterior when we first bought it back in 2010. I don't take a whole lot of exterior photos, and it's so rainy and disgusting here, I don't have a great current shot of our home's exterior, so bear with me on some of the photos here.
In this close up shot, you can see some of the stone and brick detail. I feel like it just gets a little bit washed out with its current color palette.
Here is a backyard view, when our yard wasn't a totally mud pit like it is right now – oh how I miss green grass. This was also before The Big Dig, where we took out our pond, and replaced it with a paver patio. Right now, it looks awful. We have a whole section that is just mud right now thanks to 1) weather and 2) dogs. Ok, mainly because of the dogs. But our backyard grass has really taken a nosedive for some reason. Anyway… Here is the backyard. Not a whole lot to worry about in terms of painting back here – just the covered porch area, soffits and stairs (which need some serious help) – and my stair railing, which is a hot mess.
So basically, I have no contrast going on right now. Naturally, I'm finding myself drawn in the opposite direction.
These are a couple of exteriors that I have admired for a long time, and I guess that's a good thing because I still love them, even today. I love the rich color, and the contrast of the trim along with the stone. So classic and pretty.
This is another exterior that has probably been pinned a gazillion times. And why wouldn't it? It's sharp, so eye-catching for so many reasons.
While I don't have a problem repainting a room in my house if the paint color is a fail, or, more frequently, if I'm just itching for a something new. But exteriors aren't so easily redone. My mom still talks about the time they had their house painted and absolutely hated the color. The day to repaint couldn't come soon enough! This is quite an investment, and I want to make sure I get it right the first time. (Because there won't be a second time anytime soon).
I don't know that I'm this bold when it comes to an exterior paint color, but this house is certainly a show stopper, don't you think? This home can certainly pull off such a bold color choice. The contrast really draws your attention to all of the beautiful architectural details, the varied rooflines, the windows – all of it. Stunning. If you're nosey like me and want to see the inside, take a look here. You're welcome.
But this house proves that you don't have to have a huge house in order to be bold with your exterior paint color. This house is equally striking in a rich charcoal.
And you know I can't talk high contrast without including navy in the round-up.
Again, you can see here how the detail of the stone is the focal point with the dark paint color as a contrast. Think of how it would look if the exterior color was a light brown or beige – the detail would blend right in with the facade.
Going White
Recently, I have even considered going in the opposite direction with the exterior paint color – trying something white. I've seen some exterior before and after photos where the exterior went white, and I have loved how they have completely changed the look and feel of the home. But I'm still on the fence.
While this home has a white exterior, it has the black shutters to give it not only charm and character, but a nice dose of contrast. It wouldn't look the same without the shutters would it? It would be like a face without eyebrows.
Somewhere in the Middle
There are options that are in the middle, that may not be as dramatic as some, but are certainly striking without being boring.
I love this house for lots of reasons – a gorgeous exterior, but would you just look at that outdoor fireplace? Wow. I love the color palette on this home, the stone work, the cedar shake roof – all of it.
This gorgeous home from The Gray Cottage has me thinking that middle of the road can most certainly be beautiful.
I think I could get behind an exterior color that falls in the middle, if the trim is a crisp white. Like this home from TS Adams Studio, Architects, painted in Sherwin Williams' Repose Gray.
This beauty from Clark and Co. Homes looks sharp in Amherst Gray with a light and fresh front door in Wythe Blue (both Benjamin Moore colors).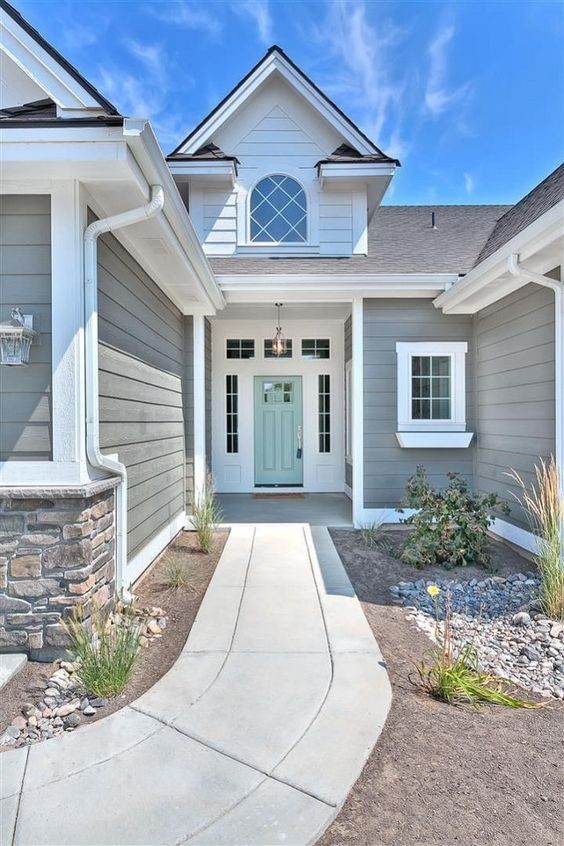 So, what do you think? I have to tell you, I'm not much closer to a decision after this exercise! If anything, I'm surprised that I'm kind of loving the colors that fall in the middle, now that I realize that I need the white trim as contrast. I think with our huge, dark roofline, that we probably shouldn't go too dark, or else it will just look … weird. But I think that we can all agree that the trim should be white. Just need to decide on the rest of it, right?
I'd love to hear your thoughts and experiences on painting the exteriors of your homes. Anything that you wish you had done differently? Anything you would definitely do again? Please share, as I find exteriors overwhelming!
Jenny