Hello!
I'm so excited to share a great reader project with you all today! You may remember Kelly's kitchen from awhile back, after it was transformed with paint. Let me refresh your memory.
Before:
After:
Absolutely gorgeous, right?
Kelly emailed me asking about some paint changes that they had made, and others that they were thinking about making. In the process of sharing photos, I was (once again) blown away by their DIY projects.
First things first – they painted the pantry doors to break things up a bit, since there are a lot of white doors going on as you make your way into the kitchen. They painted them the same color as the island – Kelly wasn't sure if she liked it, and was thinking maybe they should have kept them white, whereas her husband liked the contrast.
What do you think?
I'm a fan of painted pantry doors, and I think the color looks great with the whole look of the kitchen, and gives it a little more depth and interest.
Then she proceeded to show me what was behind the pantry doors. Are you sitting down?
Her husband built them. These used to be the old school wire shelves that drive people crazy. As Kelly said so well – "No more wire shelving!" Amen!
You can kind of see what the pantry looked like before in these photos.
And yes, Kelly has crazy canning skills too. If she lived closer, I would have her teach me to can, while I put her husband to work building me an awesome mud room bench with lots of cubbies.
I had to pick up my jaw off the ground when I saw these glorious pantry photos. And the organization makes it even more swoon-worthy. Shut. UP.
Another, more subtle, improvement was made to the space, but it has made a big change in how the space functions.
"My husband has ripped up the existing tile in the
laundry room/garage door entrance and replaced it with a beautiful cream
colored tile in a great pattern. He also moved the garage door entrance
into our kitchen back a few feet by building an alcove (and we really didn't
lose that much space in the garage to do this). It was a huge improvement
because we no longer hit the pantry doors (which the kids often leave open)
when we come in through the garage door."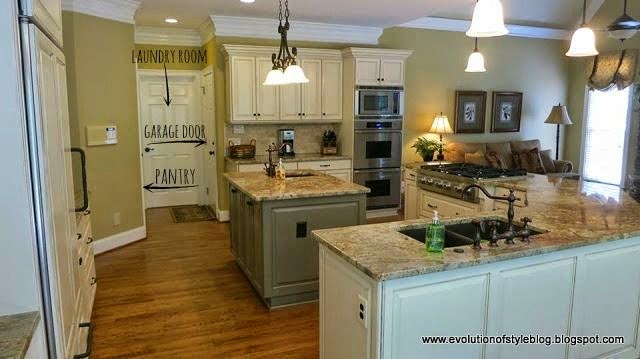 Here you can see how they pushed the entrance into the house back into the garage.
Along with the pretty tile they installed.
So now when they come in, there isn't a cluster of doors to deal with anymore!
Even space for a family calendar.
And here you can see the door leading to the garage. So smart!!
As is this all wasn't fantastic enough, she also fed my DIY addiction by sharing an update to that void of space that you have underneath the staircase.
Before (well, more like, in progress):
After:
So, there you have it! I love hearing from readers who share their DIY projects with me (and even better when they allow me to share them with you!). Have you been working on a big project? Please share in the comments, or send me some photos if you don't have a blog.
Sadly, neither Kelly, nor her husband have a blog. Believe me, I asked. More than once…
Linking up:
Savvy Southern Style – Wow Us Wednesday