I have blogged about the Ballard Outlet before, and went there this past weekend to see if they had anything good. I discovered a whole section of shelves that had slipcovers that work on my Arhaus Baldwin sofa and chair. Better yet, these already-marked-down slipcovers were an additional 50% off.
Which means I got two slipcovers for my Baldwin chair for… (wait for it)… $75. Total.
Say what?
Which also means that my chair looks much better. And, it's better equipped to deal with the boys who wear the crap out of it in the basement. (And I have a backup slipcover in a lovely camel color with white piping).
Dark Brown Furniture = Dirty Boy Friendly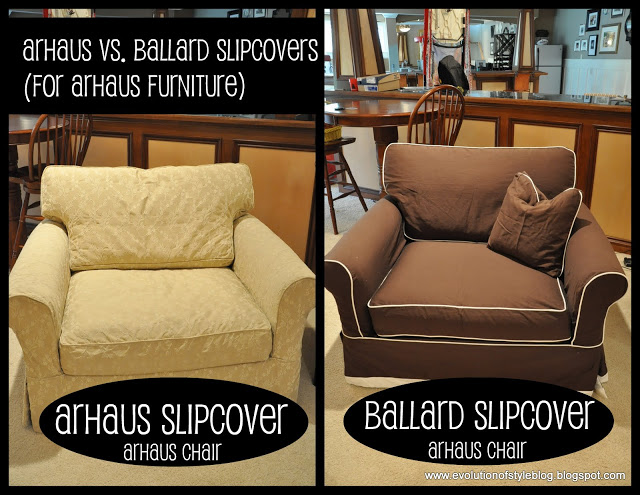 I've said it before, and I'll say it again.
The Baldwin slipcovers from Ballard fit the Baldwin furniture from Arhaus.
I don't know if Ballard and/or Arhaus will ever acknowledge this, but I am. (Actually, when I bought our sofa from Arhaus, it was called "Wake Ivory" vs. "Baldwin". You'd think Arhaus would be a little less obvious about it with the name change.) You can see the slipcover I bought from the Ballard Outlet for my sofa
here
.
So, instead of paying a bajillion dollars for a new, custom Arhaus slipcover, pick up one or two or seven at the outlet for crazy cheap. (Heck, even ordering a replacement slipcover from the Ballard catalog is cheaper). Not that I don't love Arhaus. I do. But I also love deals.
Have you found any deals worth shouting about lately?
Linking up to:
My Uncommon Slice of Suburbia – Tuesday Treasures