Hello!
I have a new project in the works – a furniture piece that I'm doing myself, probably to resell – my favorite kind of furniture makeover. Let me tell you, furniture makeovers are way less stressful when I'm doing them for fun vs. doing them for customers. I get way too anxiety-ridden about custom pieces, so these are definitely my favorite. I mentioned on Friday that I totally lucked out when I spotted this piece on Craigslist.
It needs some love to be restored to its former glory, but I have a plan and I've already gotten started.
Part of the reason I got this dresser for such a steal is because the top of the dresser has some blemishes – some nail polish, and some other marks are visible at first glance.
This is where my amazing Festool Rotex 90 DX sander comes into play – it has an aggressive sanding mode that comes in super handy when tackling blemishes like this on furniture.
And after 15-20 minutes, here is the top of the dresser now. My goal is to stain the top of the dresser, and paint the bottom. I like the mix of stained wood along with painted finishes – the contrast gives it a little more interest.
As for the color, I've been doing a lot of thinking on that one. At first, I was thinking about giving it a high gloss finish. The finished look is so striking. Look at this piece from my friend Kayla at Painted. She has mad skills when it comes to high gloss finishes.
I mean look, it's like glass.
Another glossy paint expert is Sucheta, at The Resplendent Crow. She has great info on her blog, and if you don't feel like tackling a furniture piece yourself, you can buy one from her Etsy shop. You all know my love for all things navy, and this high gloss navy dresser is perfection.
As much as I love this look, I'm looking to flip this piece locally, and I don't know if the peeps in my neck of the woods will fully appreciate a lacquered piece like this. I'm half tempted to lacquer it keep it for myself, quite frankly. But now I'm thinking about the dresser I did in Amy Howard's One Step Paint. Ironically, it was the total opposite of a high gloss finish – it was a beautiful matte finish (which I also love).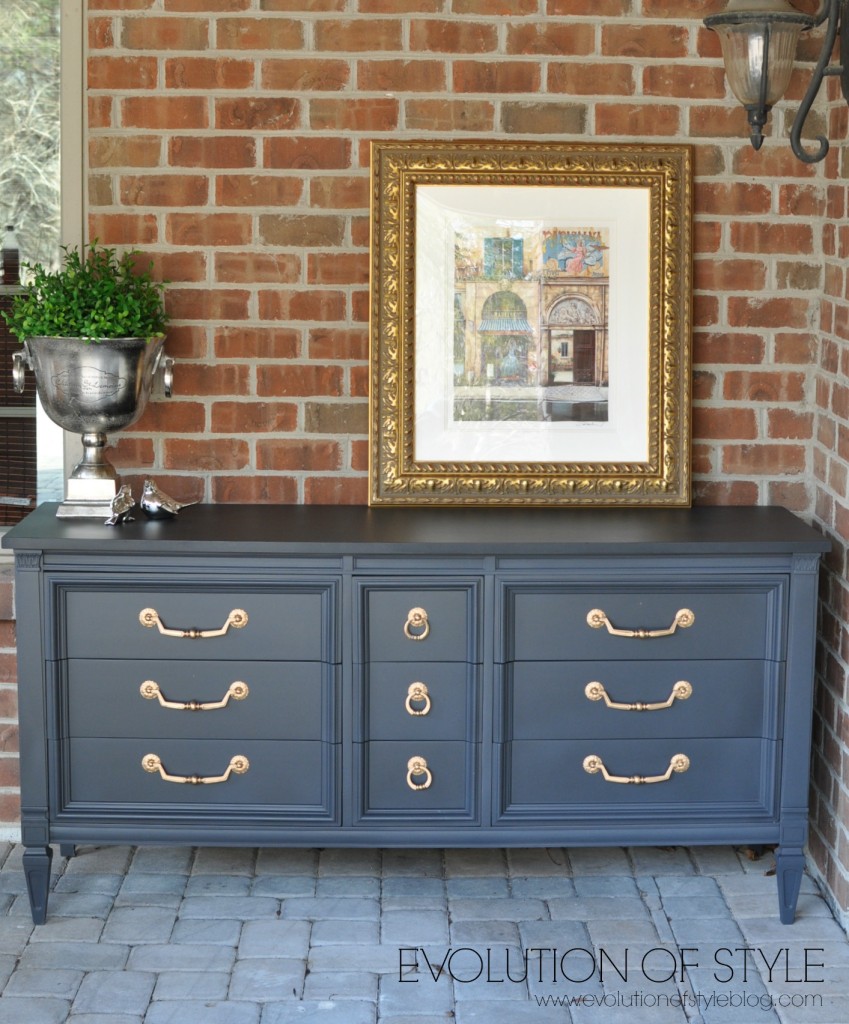 Soooo, now I'm on to choosing a color. I'm looking for something that appeals to the masses, but I'm also wanting a color – not white. I'm thinking blues, grays, blacks, and settled upon a shade of gray. I found some great inspiration on Pinterest. Like this gorgeous gray dresser in Sherwin Williams' Cast Iron from Lily Field Furniture Company.
This curbside find looks brand new courtesy of Annie Sloan's Amsterdam Green and a little bit of love. The keyhole detail was added as a great embellishment, don't you think?
This piece in Benjamin Moore's Black Panther really caught my attention. Again, I'm rendered powerless when I see a stained wood top coupled with a painted finish.
Then there's this gorgeous dresser from Portilla Design in Graphite from Annie Sloan – add the polished hardware, and we have a winner.
Can you see the direction in which I'm heading? So today, I picked up some Amy Howard One Step Paint, and had it tinted in Benjamin Moore's Kendall Charcoal. Yes, you can tint it to other colors! It's a great charcoal gray, and I think it will give me a classic look, when paired with a stained wood top.
I just need to decide on the stain color for the top. I'm leaning toward something in the middle – not too dark. Maybe even something a bit lighter than what I usually do. I think rich grays pair beautifully with light wood tones.
Do you have any go-to furniture colors (or colors in general) that you like? Looking forward to sharing this transformation with you!
This post contains some affiliate links.
Jenny