There are a million different tutorials out there that show you how to paint your kitchen cabinets, and I've contributed my own tutorials (here and here and here are the most popular ones) as well. Since I've been doing this for awhile, I thought it might be useful to tell you what NOT to do when painting your cabinets. And if you're still freaked out, sign up here to stay in the loop on upcoming online cabinet painting courses taught by me. Coaching you through it, holding your hand, talking you down from the ledge, step by step. This post contains some affiliate links.
1. Don't Skimp on Prep
This one is a huge sticking point for me, and I can tell you that I get a little twitchy when I see things out there that tout "No prep necessary" or "Paint Your Cabinets without Sanding or Priming." No. Just no. We're friends here, so I'm going to tell it to you straight. Your paint job is only as good as your prep work. Period. So, if you're going to go to the time and trouble of painting your cabinets, make sure you do it right the first time. That means cleaning. That means sanding. That means priming. I'm sorry to be the bearer of bad news, but if you want the job to last over the long haul, take the time to do the work.
I promise that it's not as terrible as you're making it out to be in your mind. You don't have to sand to bare wood, just enough to take some of the gloss off of it and to get rid of any additional gunk that you may have missed when cleaning. It sounds way worse than it is, but it's a necessary part of the process. Trust the process.
2. Don't Choose Your Paint Color Before Choosing Other Finishes
If you're going to be making other upgrades to your kitchen, in addition to painting your cabinets, base your paint color decision on your finishes. What do I mean by this? It's easier to match a paint color to a new countertop than to choose a countertop based upon a paint color. I know sometimes things need to be done in stages, and I totally get that. But if at all possible, try to work your paint color around your finishes, not the other way around.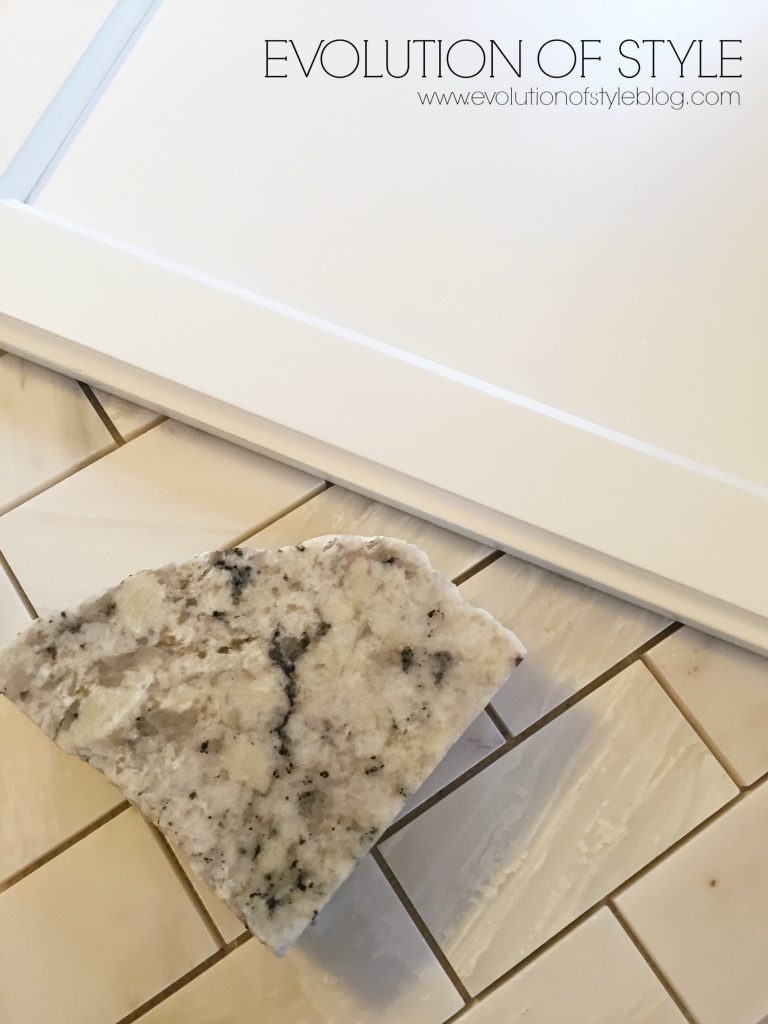 3. Don't Choose a Paint Color from a Small Paint Chip
Choosing a paint color is a big decision when painting your cabinets, and you want to make sure you get it right the first time. My suggestion is to get some paint samples (a lot of them if necessary), and put them on large sample boards or old cabinet doors. I promise you this makes all of the difference. I've seen it many times over – you like one color on a paint chip, but on a larger scale you end up hating it and going in a direction that you might never would have considered. Take the time to carefully consider your options.
4. When You Clean Your Cabinets, Don't Use This
I have nothing against Pledge for polishing your furniture, but if you use it to clean your cabinets before you paint them, you're setting yourself up for trouble. Pledge contains silicone, and silicone doesn't play well with paint. Have you ever heard of fish eye when it comes to painting? It's NOT fun. And this happened after a thorough cleaning and sanding by me.
What do you do when this happens? Sand it down, clean with denatured alcohol and prime again. And my primer of choice is BIN Shellac Primer – it works great at sealing in tannins, stains, etc…
5. Don't Paint Your Cabinets with Chalk Paint
Now before you start throwing rocks at me, hear me out. There is a time and a place for chalk paint. Furniture – yes. Kitchen cabinets – no. It may sounds great, with the "no sanding, no priming" slogan that so often goes along with it, but in my experience, it's not a good idea. With all of the action that goes on in the kitchen, chalk paint isn't the right paint for the job.
6. Don't Seal Your Cabinets with Wax
I know that wax is all the rage with furniture, and I don't have an issue with waxing furniture, as it doesn't get the same amount of wear and tear that cabinets do. But, if you seal your cabinets with wax, over the long term, you'll end up with issues like this.
As you can see, this is a high end kitchen that was chalk painted and then sealed with wax (see Point #3 for why chalk paint is not a good idea.) Do you believe me now? Again, with the types of things you run into in the kitchen (grease, dirt, splatter, etc…), the wax just doesn't hold up over time. And guess what? This homeowner was in the process of moving, and you guessed it, needed her cabinets repainted. Here's the thing with cabinets that are sealed with wax – you can't just clean it off, or even sand it off. It's a huge undertaking to rid a surface of wax so that you can start from scratch. So, save yourself the trouble, and don't do this to your cabinets. Furniture, yes. Cabinets, no.
7. Don't Use Poor Quality Painting Tools and Products
In the same way that poor prep work can impact a paint job, so can poor products and tools – paint brushes and rollers, good primers and paints, etc… For example, if you're painting your frames by hand, good rollers and brushes will give you a smooth, finished look, and can make or break your finished product. I'm a huge fan of Picasso paint brushes and use the Wooster Mohair roller for my primer (and I also used it to apply the the Benjamin Moore Advance on frames). For applying PPG Breakthrough to cabinet frames, I prefer to use a flocked foam roller.
You don't want a thick nap on a paint roller when applying your paint. That's where you'll end up with texture, and it's not your friend if you want a professional finish.
As you know I spray the cabinet doors in the kitchens that I do, so you'll want to be sure that you have a sprayer that's up to the task. I just tested out a great one for DIYers here, so there are options out there that won't break the bank. And it's so simple that you can practically use it right out of the box.
8. Don't Panic if Something Goes Wrong
I know that tackling a project like this one is intimidating. It's big, and it's one that you don't want to screw up (because maybe your spouse will never let you down). But this is what I tell people – it's not a difficult project. It's time consuming, it's sometimes tedious and it requires paying attention to detail. Things will go wrong somewhere along the line, but so far I haven't come across anything so completely catastrophic that all was lost. Problems can be fixed, I promise.
Jenny