Since the holiday season seems to kick into gear right after Halloween these days, I figured I'm not too far out of line to share my 2019 Favorite Things for the holidays. I'm no Oprah (although I did get to go to her show once, and dream that we could be friends in real life), I hope you'll find some of my favorite things fun, useful, practical and a little luxurious. I have gone through some of my own favorites, and have also asked some of my best girlfriends for their favorites, and have rounded them up for you! This post contains some affiliate links.
I'm a huge fan of all things Blue Q – socks, oven mitts, dish towels, all of it. But this year, I'm loving their zipper pouches. They're awesomely funny, and a great way to wrap a gift (i.e., cash or gift cards), but they're equally awesome all by themselves.
The 80's girl in me loves this one…
For your introvert friends…
For my creative friends…

Or you can go for a tote instead. I could carry this one easily.
I'm going to get a Tile assortment over the holidays, specifically for my boys, as they have a tendency to leave the house and then come back in, having forgotten their 1) phone 2) wallet or 3) keys. The Tile Sticker is just that – it sticks to just about anything. If you don't want the sticker, there is the Tile Pro. I may or may not have used it on occasion to locate my car keys.
I have had my weighted blanket for almost a year now, and I have to tell you, I love it. When my son is home from college, he tries to steal it from me, and takes naps in our room with it. One of the main concerns I've heard from people is that they're afraid they'll be too hot with a weighted blanket. With this one, there is a "cool" side and a "warm" side, so that you can use it depending upon your needs. Most of the time, I use the "cool" side, and I love folding it in half for extra weight. I find that when my body is tired or sore, the weighted blanket just seems to ease things a bit and is super comforting.

I love this Athleta Pranayama Wrap so much, I have two of them, and am contemplating a third. I wear it around the house, out to run errands or to the gym, and have worn it out to dinner. It can dress up or down, and I always feel put together when I wear it. I have the navy and the black and am considering the dark garnet. It's soft and comfy, and it has pockets. It's quite possibly, the perfect everyday item I own.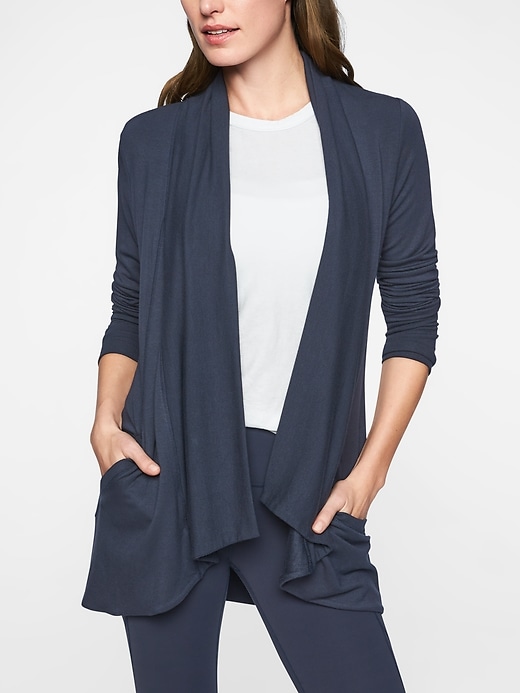 This lip sleeping mask was a recommendation from one of my trusted girlfriends. I think I've been living under a rock, because my lips have been sleeping with no mask whatsoever! Perhaps I should give it a try, because I am most certainly addicted to Carmex and my lips can use all of the help they can get.
Another trusted friend said that she loves her Gua Sha Face Tool. Again, hello rock, nice to see you again. Apparently, this is one of those beauty tools that is supposed to reduce under eye circles and puffiness, and is also helpful in working your skincare products into your skin. Not to mention that it's soothing and relaxing – and we can all use more of that, right? Most importantly, I've known this girlfriend since we were in 7th grade, so I trust her recommendations.
We are incorporating Alexa outlets in our home in ways that just make life a wee bit simpler. Not to mention that we blew the kids' minds just a little bit when we told Alexa to "turn off the living room light." It's the little things. And it's nice to tell this to Alexa when I'm snuggled up in my bed (under my weighted blanket) vs. getting out of bed to do it. The possibilities are endless! Who needs a remote control for their Christmas tree, when you have an Alexa outlet? A great gift for parents or grandparents, who will surely appreciate your cleverness.

The more I use tools, the more I find myself noticing and looking for new ones. In the work that I do, inevitably, there are nooks and crannies that are hard to access, and this flexible drill bit extension would come in handy. If you like tools, or someone you love appreciates them, I'm guessing they don't have this one in their toolbox just yet. A great stocking stuffer!
I am a fan of all things Bose, but this Bose Revolve speaker has been a crowd favorite. I bought one for my husband for his birthday this year, and when we took it on a trip, everyone noticed how it puts out such great sound in all directions, because of its design. It's true – I hadn't really thought of that when I bought it, but it's even better than the Bose portable speaker that I have (and still use regularly).
I spotted these at Lowes last week and had to share. The look of candles in the windows during the holidays has always been a favorite of mine, but when you have kids/pets/chaos, it's not always as easy to do as you might think. I say this having experienced broken bulbs on more than one occasion, despite my best efforts to prevent it. These Show Lights Window Candles solve that problem altogether. They cling to your window, are battery operated, and have a timer. Simple. So now you don't have to worry about the candles staying put, or turning them on every night. It's done.
That wraps up my 2019 favorite things list for this year – do you have any favorite things that you would add to the list? I'm always looking for great new products!
If you want to check out some of my lists from Christmases past, here you go –
2018 Favorite Things Holiday Gift Guide
Have an awesome weekend!
Jenny