Hello!
Since I've started doing more furniture pieces in between kitchen projects, I've been getting more questions about the tools, techniques and products that I use. So, when I was laying in bed one night, the idea of doing a "Painter in Your Pocket" series popped into my mind. The idea is simple – think of me being in your pocket, ready to answer any questions that you have as you're tackling a painting project, from start to finish. So, here we go, I'm kicking it off today with the first installment – A Painter in Your Pocket: Painting Furniture. This post contains some affiliate links.
Finding Your Furniture Piece
The first step in the process is to find a piece of furniture that you want to paint. If you have a piece of furniture in your home already, great. You can skip to the next step. Otherwise, stick with me here. There are lots of places that offer solid furniture pieces for a reasonable price. Here are some of my favorites:
Salvation Army – (by far my favorite thrift store for furniture – my local shop has a great selection of furniture that turns over often, and is reasonably priced, much better than my local Goodwill. I don't even go in there anymore.)
Online Facebook Sales – Check out Facebook garage/rummage sale sites in your area. There are lots of good finds there, and I've had great success selling refinished pieces through this outlet.
Craigslist – Obvious, but still a good source.
Garage/Yard/Estate Sales – I'm eager for the weather to warm up here so I can start scouring garage sales for furniture finds.
Online Estate Sales – One of my favorite online estate sale sources is Everything But The House. They are continuously adding new sites, so keep your eyes peeled for a location near you. If you're in the Dayton/Cincinnati area, I discovered Second Story Auctions. Similar idea to EBTH, but on a smaller scale.
I look for pieces that are solid and structurally sound for the most part. But don't overlook a piece that needs some repairs! Many people overlook furniture pieces that need some TLC, and that's where you can get the best deals! Don't forget to check out my tips and tricks for repairing furniture – it's a life saver for restoring damaged furniture.
Furniture Style Options
Go Classic
As for the style, I tend to gravitate toward the classic and timeless ones. They paint up so beautifully, and they are easier to resell. For example:
This classic desk (and dressers/buffets like it) are a personal favorite of mine.
Look at this gorgeous dresser that Cassie at Primitive and Proper transformed with General Finishes Coastal Blue. It continues to be a piece that I think is a timeless classic, and proves that you don't always have to go with "traditional" colors when painting furniture.
Go Modern
Another popular style nowadays is mid-century modern. The downside is that some sellers of this furniture know how popular it is, and pieces can be a bit pricey as a result. Again, your best bet is to keep your eyes open for furniture that needs a little love, since many people don't have the time or desire to refinish furniture themselves. I'm working on my first mid-century pieces (found on Craigslist), but there are lots of great mid-century furniture makeovers out there that certainly will inspire.
The great thing about mid-century furniture makeovers is that simple is good. You don't want to be distressing mid-century furniture, as it goes against the whole look and feel of the furniture. Think clean and simple. I love the look of pieces that maintain some of the natural wood, while painting some of it as well. This works well when you're dealing with damaged furniture too, since some wood filler and paint can be your best friend in giving a piece of furniture a new lease on life.
Look at this handsome guy from The Painted Drawer. The stained drawers maintain the mid-century feel, and the painted frame gives it a great update. So clean and classic, don't you think?
Look at this amazing transformation from The Weathered Door. Her work is so beautiful, and I'm always inspired looking at her furniture transformations. This dresser had some humble beginnings, but is a show stopper now that she's been refinished. How fun is the graphic paint treatment on the drawers? Love it. Want it.
How about a mix of classic and graphic modern? Again, The Weathered Door knocks it out of the park with this mid-century piece that has an unexpected graphic surprise behind closed doors. Fantastic.
French Flair
French Provincial is another style that has a nice following. While I haven't done any furniture in this style (yet), there are lots of great options out there to give it a fresh new look. This gorgeous graphite dresser from Cuckoo4Design is one that caught my eye:
And what's not to love with this fresh and gorgeous green? I'm itching to do a piece in this color – I just find myself drawn to it like a moth to a flame.
Campaign Style
I'm itching to get my hands on a campaign style piece of furniture, and I think this style lends itself to something bold and unexpected. Like this stunning orange beauty from Phoenix Restoration –
Flip Tips:
If you're looking to flip furniture to make a profit, I try to keep the purchase price on the low side to increase the profit margin. If you want to keep the piece, I wouldn't be as concerned with the piece since you don't have to worry about reselling it.
Stick with furniture pieces that appeal to the masses. I tend to avoid furniture that falls far outside some of the styles I have detailed here. For example – a dresser with a lot of carved detail is very taste specific, and once painted, the style doesn't fade away, if that makes sense.
This is an extreme example of what I'm talking about, but you get the idea. I would not buy a piece like this to refinish to resell because your pool of buyers is going to be small. Again, appeal to the masses.
Choosing Paint
I have experimented with a wide variety of paint brands over the years (and have plenty more that I would like to try), but for the purpose of this post, I'm going to speak primarily to the paints that I have personal experience using.
General Finishes Milk Paint and Stains
When I think of furniture projects, more often than not, I think of the General Finishes milk paint line. Their milk paint sprays beautifully (since I primarily spray my paint), and the finish gives a beautiful matte look. However, I still top coat my pieces with poly after using this paint, and that is what truly will dictate the final finished look.
I also use a variety of their stains in my work as well, and have been very pleased with the color and the ease of use in working with them. Their walnut stain is one of my favorites (and is great when you mix it with their satin poly to spray it), but I have also used their Java gel stain with great results.
General Finishes offers a variety of great colors – which is also important to me – and you have the option of distressing your furniture when using this paint, which is a bonus as well. Some of my favorite colors include the following:
Lamp Black
General Finishes Lamp Black is such a perfect and true black, which is harder to find that you might think. Here it is on a gorgeous dresser from The Painted Drawer and you can see what a rich classic result it provides.
and you can see what a rich classic result it provides.
Coastal Blue
This is another personal favorite of mine. Coastal Blue is a rich indigo blue and works well on its own, or paired with stained wood. Like this piece from Team Sutton Designs – what's not to like? And how about those hardware pulls? Yes, please.
Queenstown Gray
Queenstown Gray is a new color discovery for me in the General Finishes milk paint family, but it's already become a fast favorite. It's just a great gray hue – and we all know how popular gray is right now. It's a nice shade to have in your toolbox. I used it on this dresser, and just love it.
Velvet Finishes
Velvet Finishes paint is another one that I've used that provides a lovely matte finish like the General Finishes milk paint. It too, comes in a variety of great colors (and sprays beautifully). I used it on my daughter's nightstand overhaul for the Fall edition of the One Room Challenge. I got creative and did a little color mixing too, which is fun if you're looking to customize your colors a bit.
Velvet Finishes has loads of options to choose from when it comes to color. For a closer look, click here for their color gallery.
Amy Howard at Home
I'm still getting my feet wet with Amy Howard's paint line, but I'm thrilled to pieces with how my first furniture redo turned out with her One Step Paint. This line of paint gives more of a chalk finish to it, which can be waxed, or you can top coat it with poly. I used the Flat Out Flat poly from General Finishes, and love how it gives a waxed and buffed look.
Amy's One Step Paint also comes in a great variety of mixable colors (I mixed Black and Atelier for the piece above).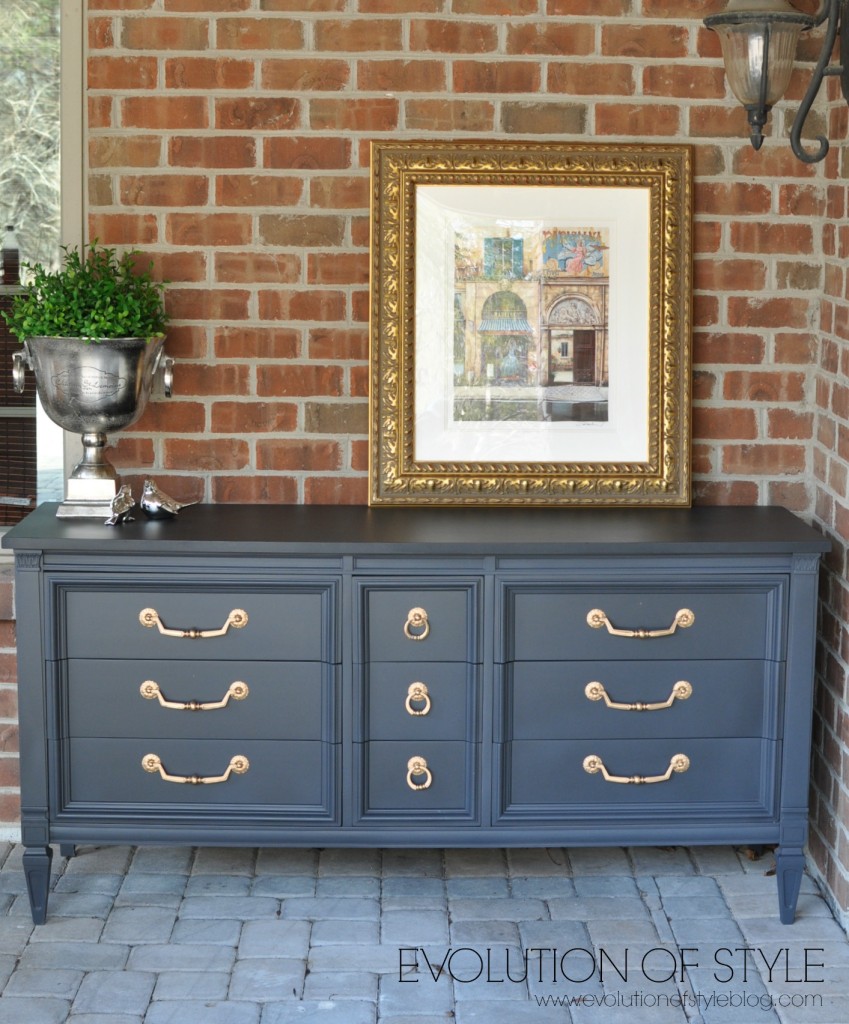 Benjamin Moore
I am still a big fan of Benjamin Moore's Advance paint when it comes to painting cabinets, and it does great work on furniture as well. The only downside is the drying time – 16 hours in between coats, which can be tough when you're working on furniture items. However, the cured finish is rock solid, and a great option for furniture, with more color options than you can count. Added bonus that there is no need to apply a top coat! Great stuff.
Up Next – Tools and Techniques
I was going to try to put everything into one post, but there is just so much information, that I'm going to break it down into separate posts. I'm going to be talking about the best way to get a smooth finish and what you need to get there.
Jenny