I'm so excited to share the top three finalists for my cabinet painting giveaway! This process ended up taking longer than I expected, and I wish I could come to each of your homes and give them a facelift! So many great submissions for kitchen makeovers! Thanks to all of you who entered and shared your stories with me. I've worked on narrowing down the final three (with the help of my panel of family and friends) and I'm excited to give one of them a facelift! You can vote for one kitchen, once per day, and I'm going to keep this giveaway open until February 1st, so there is plenty of time to vote for your favorite.
Kitchen #1
Kitchen #1 has great bones and the homeowner has already done a lot of work – countertops, sealed the brick flooring and installed the backsplash herself (with tile cutting help from her husband). The cabinets as one of the last piece in the puzzle to tie it all together.
Kitchen #2
The second kitchen finalist is one that the homeowner said, "has potential, but it's dark and depressing." It's the first room you see when you walk in the front door, and they would really like to brighten it up so that you walk into something that makes you happy when you walk in the front door.
You can see how the cabinets extend along the back wall as well.
Kitchen #3
The third finalist is a kitchen that has already gotten a little bit of an update with new appliances, new paint on the walls, and they even painted away the little Dutchmen that had been on the backsplash tiles. These homeowners bought their forever home a few months ago and have found that since adding a baby to the mix, tackling their cabinets is a daunting task that just isn't in the cards as a DIY.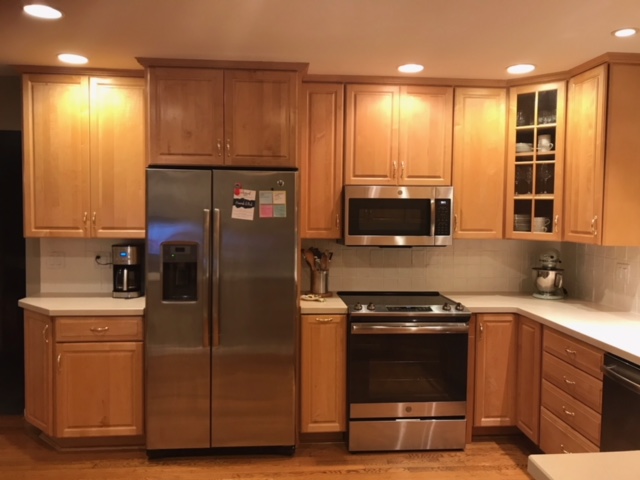 So there you have it. Three kitchens just itching for a refresh! I'm game for any of them, but now, the choice is up to YOU! I'm keeping the polls open until February 1st – you choose the winner! I'm really excited about this project and look forward to getting to work!
Click and vote on the kitchen you think should win a refresh!