Hello!
Here we are again, ready to kick off the Day One of the 12 Days of Holiday Homes tour. I've joined forces with 11 Magnolia Lane, so it's going to be the best tour yet! Amanda from Dixie Delights is also sharing her home today, so buckle up and check out the line up of bloggers that we have in store for you! I'm so excited! We're also welcoming Lynch Creek Farm as our sponsor, and I can't tell you how much I love the wreaths that they put together for me (and all of the bloggers). They are second to none!
While we're talking about Lynch Creek Farm, let's kick things off with my home, starting at the front door, decked out with their City Skyline wreaths, designed by Kate from Centsational Girl, no less!
These wreaths are seriously gorgeous, lush, and so substantial. I love how they greet you as you arrive at my home.
I really don't have much in the way of a traditional foyer, so once you walk in the door, you're greeted with my family room. I have made some updates for the holidays – new rug and ottoman from Bargains and Buyouts (total steals – $225 for the rug, and $120 for the ottoman), and a new mirror from Ballard Designs Outlet. That tall mantel is a tricky one to decorate, and while I wish this mirror was a wee bit taller, I love the shape and style, so it's a keeper!
The kids were in charge of the Christmas tree decorating this year, since I spent an inordinate amount of time dealing with sections of lights not cooperating on our "pre-lit" tree. I was just done, and ready to let go of my OCD tendencies when it comes to the Christmas tree this year.
For the ottoman decor, I took this round basket from Pottery Barn Outlet, and was able to drop in a boxwood wreath with a bowl of pine cones and mini lights (affiliate) Voila – easy, pretty and festive.
I picked up this cute little reindeer pillow from Homegoods for fun.
In my breakfast nook, I added some fresh greenery from my front yard to my big glass vase from HomeGoods. I love adding fresh greenery during the holidays, and it's even nicer when it's free and comes from your own yard, right?
In our formal dining room, I added the "Joy" letters that I've used several years now, in different places each year. I love it in the dining room though, even though my son informed me that it says "Yoj" from the outside. Thanks, son. But, I'm adding wreaths to the outside, so it should cover it up, right?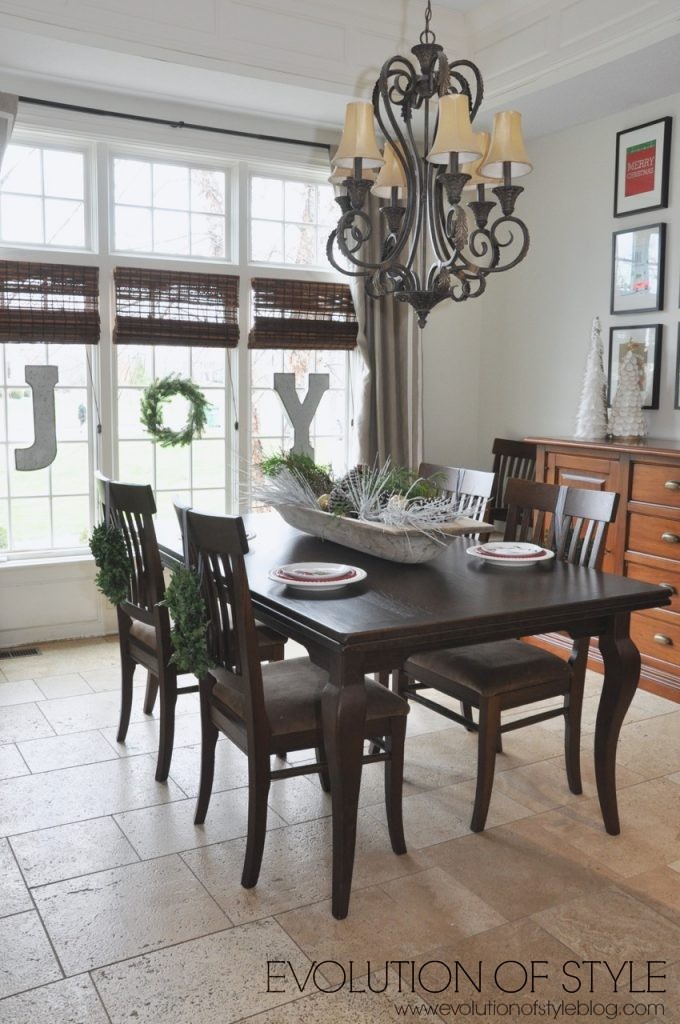 I updated my gallery wall as well, using gift bags as my artwork. I was inspired after seeing some adorable gift bags while shopping at HomeGoods. Sometimes inspiration just strikes you out of nowhere, doesn't it?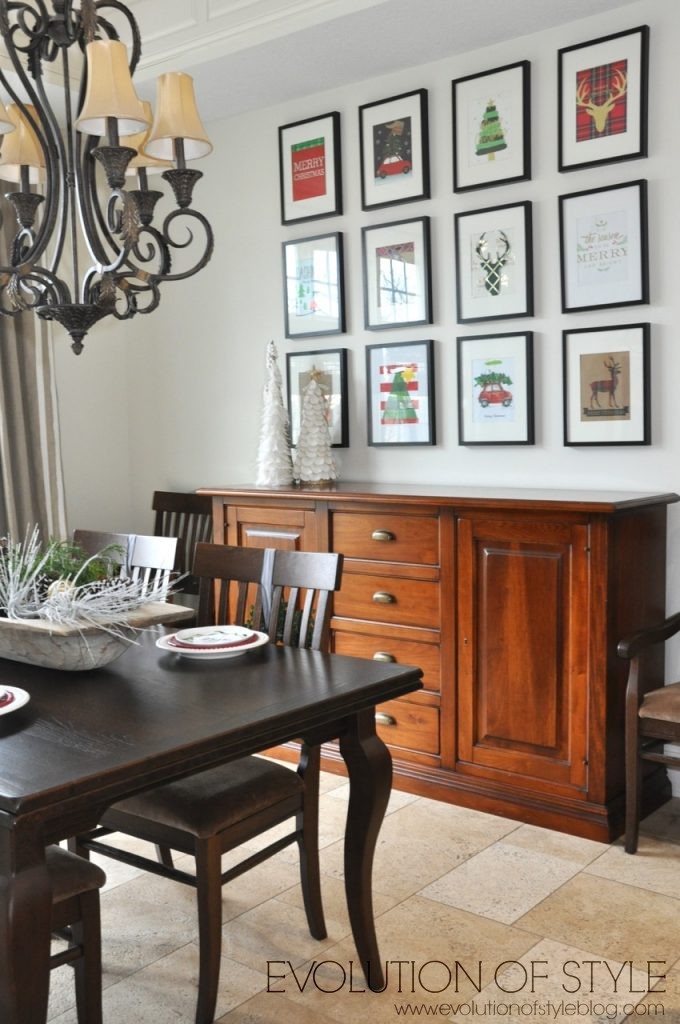 And yes, I still love anything cars/trucks + trees.
I bought a dough bowl when I went to the Country Living Fair in September, and it's a lot of fun to dress up for the seasons and the holidays in particular. I am loving pine cones this year, so I added some pine cones, fresh greenery, some fake greenery, and some ornaments to mine.
These cute little plates make for a great accent on any dining room table. Also from Target. 🙂
In the past, I've never shared bedrooms decorated for Christmas, but this year things are a-changing. After finishing my son's room for the One Room Challenge, I was excited to add some Christmas touches. It was really simple, and I used items that I already had on hand from Christmases past. I'm still smitten for that truck and tree reclaimed wood sign that I bought last year from a local antique shop. It's adorable and makes such a statement.
Gray, red and green really work well together, don't they?
In my daughter's room, we went a different direction altogether. Since her room is done in more muted pastel colors, we went with that vibe and added some pretty holiday decor that works well with what she has.
How cute are the little car and tree decals that I picked up at Target? I love them, and the colors are just perfect for in here. The "Joy" theme continues, with a cute throw pillow (also from Target) that was just made for this room.
We added a tree to her room, but I'm thinking we might have to upgrade to a tall, skinny one, that's flocked with white next year. But for now, this one does the job, and she had fun decorating it.
I added a cute little light up house that I found at Hobby Lobby, which continues the light and fresh holiday mood.
A couple of additions to her shelves (including another car decal tucked away on the bottom shelf to the right), and we call it a day.
I still have more work to do, I'll admit. The basement is still coming together, and we moved the tree next to my favorite Christmas movie poster. It's so pretty at night – a great place to curl up and chill to get away from all of the holiday craziness.
Don't forget to check out Amanda's tour at Dixie Delights today, and all of the tours coming up over the next twelve days. You won't want to miss any of it – get ready to be inspired!
Jenny from Evolution of Style
Amanda from Dixie Delights
Saturday December 3
Christy from 11 Magnolia Lane
Brenna from Domestic Charm
Sunday December 4
Amy from 11 Magnolia Lane
Amanda from The Tale of an Ugly House
Monday December 5
Kelly Elko
Jen from Stylehouse Interiors
Cyndy from The Creativity Exchange
Tuesday December 6
Cassie Bustamante
Rachael from This is Our Bliss
Wednesday December 7
Heather from Southern State of Mind
Erin & Tricia from The Suburban B's
Thursday December 8
Paige from The Pink Clutch
Becky from This Is Happiness
Vel from Life & Home at 2102
Friday December 9
Lisa from Shine Your Light
Pam from Simple Details
Sarah from Thrifty Decor Chick
Saturday December 10
Julie from Less Than Perfect Life of Bliss
Cindy from Rough Luxe Lifestyle
Kris from Driven by Decor
Sunday December 11
Heidi from Home by Heidi
Shirley from Housepitality Designs
Monday December 12
Erin from Sunny Side Up
Heather from The Heathered Nest
Tuesday 12/13
HOLIDAY HOME LINK UP
I hope you enjoyed my tour – looking forward to sharing more as I whip everything into shape around here. Nothing motivates me more than a pending holiday party!
If you want to check out my tours of Christmases past, take a peek:
Jenny