Hello!
I survived the whirlwind of last week, getting my house tour ready, and then my cookie exchange over the weekend, and enjoyed a tiny bit of downtime before things kick back into high gear for the next round of activities. I'm also tackling two kitchens in the mix as well. I think my new mantra for 2017 should be something like, "Learn to say no". It's hard for me to say no sometimes, because I can relate to wanting projects finished in time for the holidays. Heck, I'm the Queen of Projects when the holidays roll around. I seem to remember installing board and batten on December 23rd, shortly after we bought this house six years ago…
Here is another kitchen that fell under my "Four Kitchens Before Thanksgiving" umbrella. The family could not have been more lovely – a young family from Italy, who moved here a couple of years ago. They looking to give their kitchen a more modern vibe, by painting the cabinets, adding new hardware from D. Lawless Hardware, along with switching out light fixtures, refinishing the floors, and making some changes to the countertops.
Here are some before photos that I found from the real estate listing.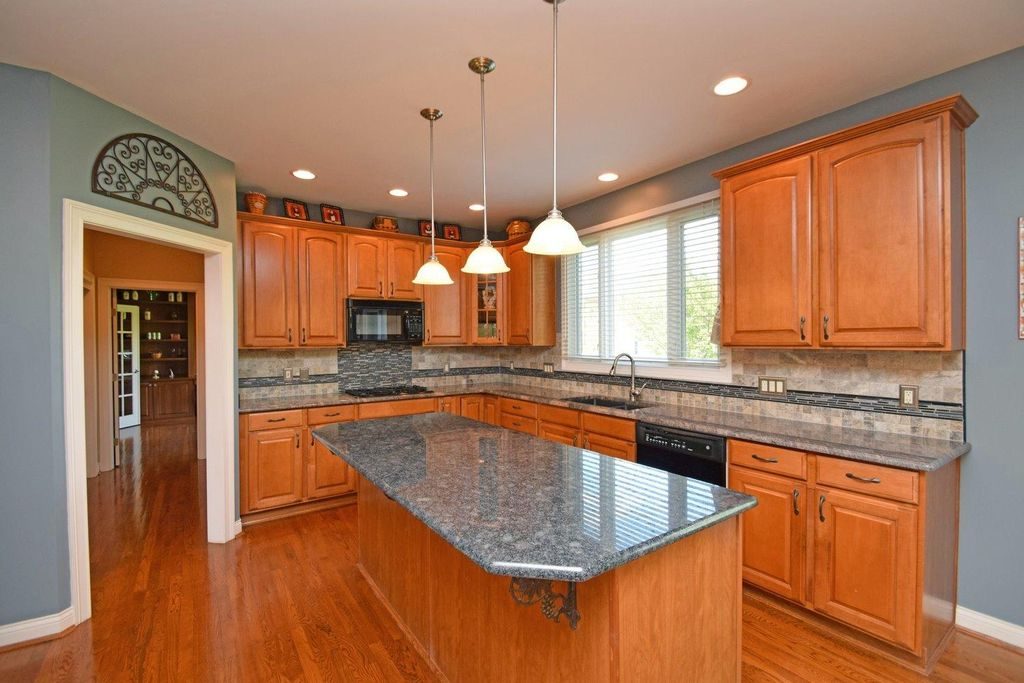 It appears that somewhere along the line, the counters were changed, and the floors were redone before I got to work.
And here it is now:
I think the chrome pulls from D. Lawless Hardware really take it to the next level in giving it a more modern vibe. I really love the look of chrome hardware – it's just so polished and sharp.
It's really been a great transformation, and it's always fun when you're working with nice people.
Now that the Thanksgiving kitchens are done, I'll be focusing on these Christmas kitchens.
This kitchen is going to be quite a transformation when it's all said and done. We're removing the centered hardware and painting the cabinets, and the homeowner is also doing some other remodeling work to give this house a fresh new look.
I started working on it today, taking down the doors, and you can see that a new floor has gone in, and new appliances are in the works as well. Already looking better!
Here is the second home I'm working on – it's mid-remodel, as you can see. Looking forward to seeing it all come together!
Have you been following along with all of the 12 Days of Holiday Homes Christmas tours so far? In case you missed any of them – here is my highlight reel of favorite holiday spaces – so much beautiful inspiration!
Christy's tour at 11 Magnolia Lane:
Brenna's tour from Domestic Charm:
Amy's tour from 11 Magnolia Lane:
Amanda from The Tale of an Ugly House:
Kelly's perfect front porch at Kelly Elko:
Jen's gorgeous holiday home (that's currently for sale) at Stylehouse Interiors:
Cyndy's stunning home at The Creativity Exchange filled with lush greenery throughout and a perfectly decorated Christmas tree:
Cassie's eclectic home tour at Cassie Bustamante:
Rachael's metallic and gold tour at This is Our Bliss:
Heather's beautiful Blue Christmas Dining room at Southern State of Mind:
At Suburban Bee's – you get two gorgeous tours in one post!
Do you have a favorite? Have you decorated for the holidays yet?
Have a great day!
Jenny