Hello friends!
Seriously, don't you feel like clutter and disorganization weighs you down? I think I've reached a breaking point with some areas in my home, and am tired of spending so much time looking for things! I know I'm not alone in feeling like my mental health is tied to the state of my home. When it's a hot mess, so am I. So, as part of my 2013 goals, I'm riding this wave of organizational energy, and I'm hoping that I can continue throughout other rooms in my home.
I have been reading the New Year's Organizating Revolution series at A Bowl Full of Lemons, and I. am. hooked! Seriously, I can't tell you how much time I spent studying all of the photos of her beautifully organized home – it's so inspiring!
This is the amazing closet I have in my home office – complete with organizers and everything. But, it had gone by the wayside where organization is concerned. Here is proof that our Friday night destination organization trip to IKEA was worth it!
The closet already had built-in organizers, (as you can see below), but I had these great organizing cubes that I had purchased at Michael's years ago, to house my scrapbooking supplies. I adjusted the shelves in the closet, so they fit in beautifully.
I purchased some chalkboard tags for my baskets, and I'm finding myself labeling everything in sight.
I scored the last package of vinyl chalkboard labels at Hobby Lobby and used them to label IKEA jars filled with fabric swatches and rolls of ribbon.
I used a wine crate for organizing wrapping paper and other hard to manage items (like the house plans that we found hidden away in a closet! What a great find!).
I added a little basket (TJ Maxx) to corral my desk supplies (and more labeling, just in case you didn't realize that bucket was for pens and pencils).
I can't resist – one more shot of the finished space. It just makes me so happy! See what I mean about feeling better when the clutter is contained? Organized = Good Mental State.
It's funny, one of the items I came across in going through all of this was a JCPenney catalog that my grandmother gave me from the year I was born – 1971. Talk about a good read – it's hysterical! Apparently matching outfits for couples was quite the rage.
The woman in the overalls is cracking me up. "Why am I wearing the same outfit as this guy?" Or maybe she's thinking she could have had a V8…
How about this sexy little number? You can see on the top left side of this photo, that this outfit comes in two stylish color options – purple and yellow or pink and blue.
I'll share more of this space, once I get it all together. Is it just me, or are you feeling the urge to empty your house and get it all in order?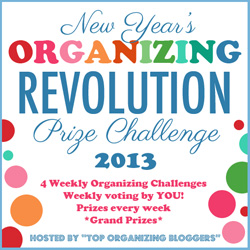 Linking up to:

Savvy Southern Style – Wow Us Wednesday
The Shabby Creek Cottage – Transformation Thursday