Hello!
I mentioned here that I had the opportunity to visit and meet Amy Howard late last year to learn more about her new line of paint and finishing products, and I'm excited to share my first project with you today. I have been on a big time furniture painting kick lately, and I think you'll be as amazed as amazed as I am with how this thrift store dresser was transformed with Amy Howard's One Step Paint. I am in love with the finished look, and find myself always looking for more furniture pieces to restore as a result. This post contains some affiliate links.
Let's start with this little lady who is rock solid and just in need of a little TLC. Great bones, solid wood, made by Thomasville. I think my heart skipped a beat when I spotted it.
Choosing a Color
While Amy Howard's paint line offers a variety of great colors, I stumbled upon this image on Pinterest of a gorgeous bookcase that had been painted in a mix of two of Amy's paint colors – Black and Atelier. When I saw this, I knew I had found my match. How can you not love this, right?
So, that was my plan. When I attended Amy's blogger workshop, she showed us a variety of their products and techniques, and I was excited to learn that her paint could be sprayed. You know me, and how much I love the smooth finish of paint when it's sprayed, and I figured this would be a good way to get my feet wet in using her paint for the first time.
I cleaned the dresser with Krud Kutter and even though Amy's One Step Paint doesn't require sanding, I sanded anyway to make sure I didn't miss any extra dirt or grime. I've become a bit of a sanding nut now that I have a great sander. It doesn't feel like work anymore. Plus, I had to do a little bit of repair work on the top. While it was fine when I bought it, it sustained a little bit of damage somewhere in the transport process. This is where Minwax High Performance Wood Filler is your best friend.
Remember how I repaired my daughter's nightstand with it? It's magic when it comes to furniture repair.
Painting + Topcoat
As for the paint, I mixed the two colors and then thinned them with water so that the consistency would work well for spraying. Here is a shot of the drawers. Let me tell you, this paint dries crazy fast, which is nice, because you can get work done quickly, rather than sitting around watching it dry. If you look closely, you can see that when it's dry, it has a chalky finish to it.
For the top coat on this piece, I decided to try General Finishes Flat Out Flat, as the guys at the Woodcraft store said it's flatter than the "matte" finish of other polycrylics out there.
Oh. my. goodness. I absolutely love the finish it gives. It looks like it's been buffed and polished, but I can spray it (which is a win-win) for me.
I gave the hardware a refresh with the help of some Rub 'n Buff – love this stuff. It seemed wrong to replace it with all new hardware, since it just needed a little love.
The Result
And here is the final finished look – I love it!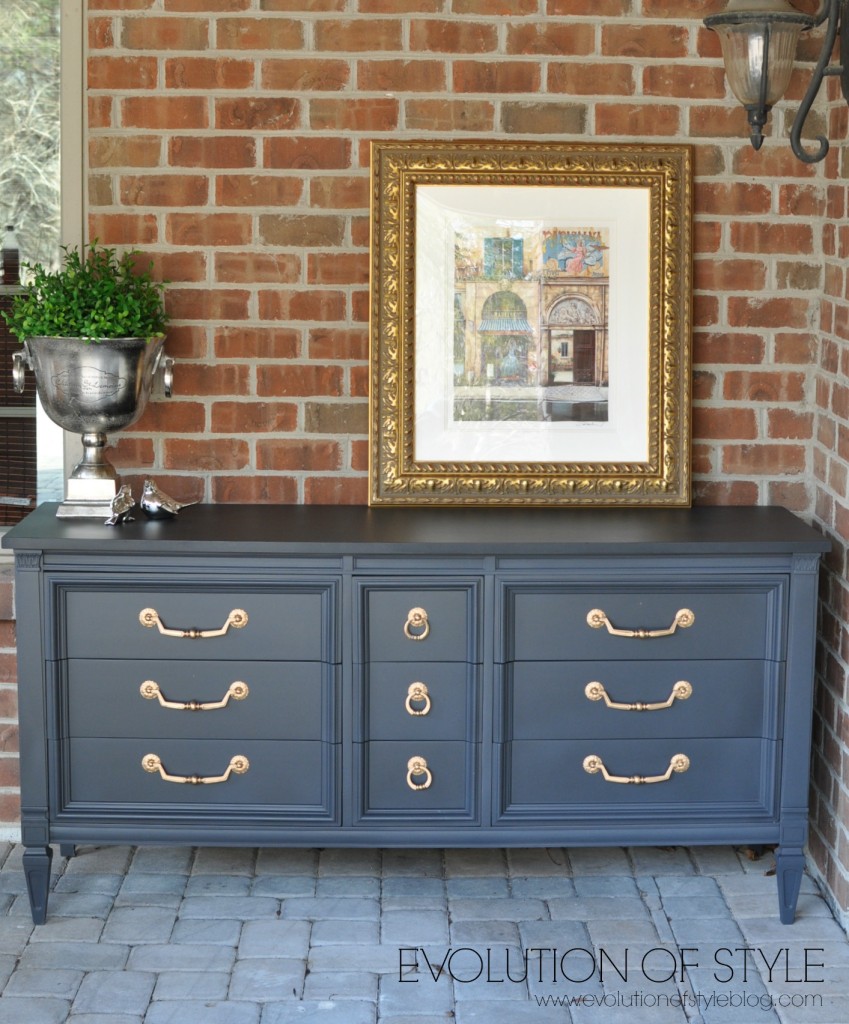 I ended up painting the top of this piece black, which gives it a bit of contrast. And you can't even see where the piece was repaired, can you?
Here you can see the process in motion – I'm thrilled with how this piece turned out and will be on the lookout for more pieces to transform!
Have a great day!
Jenny
SaveSave