TGIF Everyone!
If the big blizzard is coming your way, I hope you're stocked up on food (and wine) and ready to just chill out and relax.  At least it's coming in on the weekend, which should make it a little more bearable, right?  It's a great opportunity to cozy up under a warm blanket and catch up on your binge watching.  Allow me to help, as I kick off this week's Friday 5+1.  This post contains some affiliate links.
Morgan Spurlock's Inside Man
I liked Morgan Spurlock after watching Supersize Me, and I stumbled upon this series on Netflix that he's put together called Inside Man.  It's a series of mini-documentaries on different subjects, where he spends a week on one topic, working inside an industry and learning more about different issues.
The series covers topics from celebrity paparazzi to pets, bankruptcy to elder care – I guarantee you'll find several episodes that you'll enjoy.  And you just might learn something.  A couple of the episodes got a wee bit political, but on the balance, I thought they were very interesting and insightful.  Watch "United States of Trash" and I guarantee you'll look at your garbage differently.  I need to order a bigger recycle trash can.
General Finishes Flat Out Flat Top Coat
I was refinishing a dresser this week and ran out of poly, and when I picked up my usual satin poly, I was chatting with the guy at Woodcraft, and asked about a flat poly and he told me about General Finishes Flat Out Flat.  It's supposed to be a poly coat that keeps the flat finish of chalk paints and the like.  I bought some, and am excited to try it.
I'm thinking it would be great over top of General Finishes Milk Paint.  I love the finish that it gives when sprayed out of the can.  Here's a peek at the dresser I just finished – I'm in love with how it turned out!  This is pre-poly, but I would love to keep this same finish after I apply the poly.  I will keep you posted, but it looks promising.
Pocket Door Baby Gate
I saw this on an organizing website and couldn't help but share, even though my baby days are long gone by.  How cool is this pocket door baby gate?  This would actually be fantastic as a puppy gate too – which is my current reality. 🙂  Not the best picture, but you get the idea.
Felted Wool Mittens
Now that winter has finally arrived and we've been getting some bitter temperatures, I've pulled out my felted wool mittens.  They are by far the warmest, coziest mittens that I've ever had.  I wore gloves out to walk the dogs in the cold recently, and my fingers about froze.  These mittens get the job done.  I found mine at a local festival, and they're made out of old sweaters (which I appreciate even more after watching the Morgan Spurlock "United States of Trash" episode) but they have similar versions available on Etsy.  I now have two pairs of these mittens, just in case I lose one, I love them so much.
Here's a pair on that reminds me of mine.  Aren't they cute?  I love that they're not like what you normally see in stores.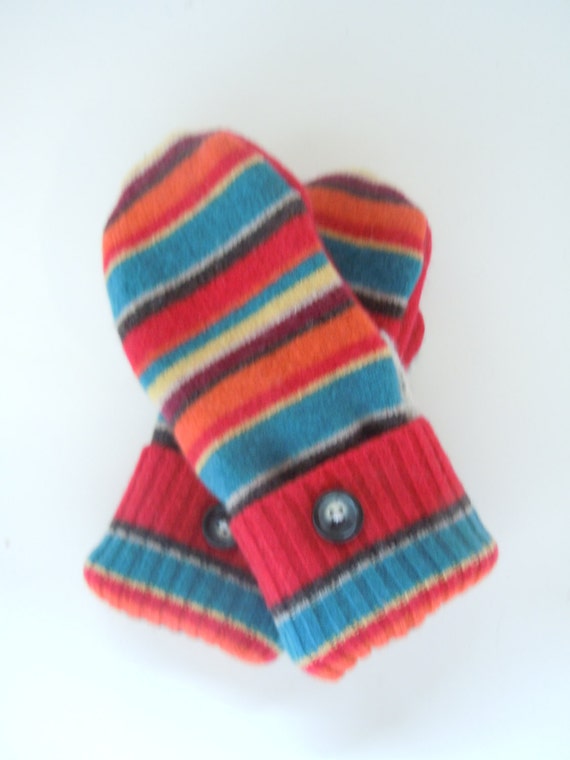 Scrapbooking Weekend
This weekend is my annual scrapbooking trip, which I look forward to every year.  We're staying at an amazing place, where we get to just sit and be creative, while meals and snacks are taken care of by someone other than me.  Heaven.
My +1 for the week is the kids being off for a snow day right after they were just off for a four day weekend.  I love a snow day as much as the next gal, but is it so much to ask to have it snow on a day they're already going to be home?  But like a friend of mine said, "a snow day on a day off is a crime against children." 🙂
Have a great weekend!
Jenny