Hello!
I'm headed to the Country Living Fair today, and I can't wait to see what this year holds.  I'll be sure to share my favorites with you (and you can always follow along on Instagram) if you'd like.  We're getting an early start, so hopefully we'll be able to see and share the goodies.  Speaking of the Country Living Fair, the winner of the Country Living Fair tickets is Beth Adkins (who has been notified and tickets have been sent!).  Congrats!
Let's get on with this week's Friday 5+1!  This post contains some affiliate links.
I spotted this cool idea when I was at Lowes recently, and given my love for all things paint, I had to share.  It's a kit that allows you to create paint sample decals that you can use when you're trying to decide on a paint color.
It's a lot easier than plastering your house with paint samples like I did here: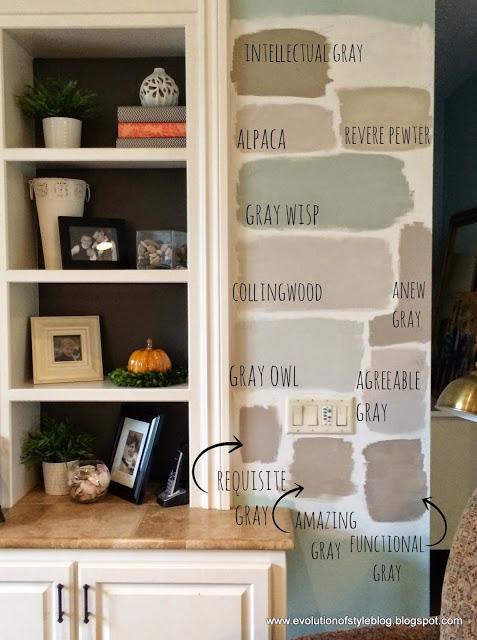 I know this is probably old news, but when I go into a house that smells amazing (yet not overpowering, or fake), inevitably, they have a Scentsy product of some sort.  I think I need Scentsy in my life.  Do you have it?  Do you have a scent that you love?  Please tell me, because I want to order some!  There are so many options!
While we're on the subject, a good way to give your house a "I just cleaned" smell is with an awesome orange scented candle like this one.  My mom had an orange scented soy candle (that I can't find at the moment), but whenever I walked into her house, and it was burning, I thought they had just cleaned the house.  That's never a bad thing, right?  I'm definitely drawn to citrusy scents when it comes to my home.  Unless it's the holidays, then I go with Thymes Frasier Fir which is my all time favorite holiday scent.  I'm just counting the days until I can fill my home with this glorious holiday smell!
My Daughter's Creativity
My daughter is a creative girl, and I had to giggle when I went out to the garage and saw her bike with its new "basket" –
If you're thinking that it doesn't look like your traditional bike basket, you're right.  We had an issue with an electrical outlet in the garage, which meant our fridge wasn't working correctly, so I cleaned it out (which ended up being a smelly and disgusting job, and is probably why I'm so hung up on fresh scents right now) and took out the basket that was in the freezer, which she promptly taped to her bike, and put it to work. 🙂
Kitchen Charm
Charm for days with these stenciled drawers in this pantry from Humphrey Munson.  Love it.  Why is it that all of the kitchens I'm really drawn to are somehow located in the UK?
My +1 for the week – empty boxes in my pantry
I know this sounds relatively innocuous, but it ranks up there with finding clean (and sometimes folded) clothes in the dirty laundry.  Empty boxes in the pantry – is it so hard to just throw them away?  I think it's probably as hard as changing the toilet paper roll.  It must just be too taxing for the children in my house…
Have an amazing weekend!
Jenny