Hello All!
I hope you had the same sun-filled weekend that we had here. I have been enjoying the blue skies and sunny days that we've been getting this winter, as it's usually gray and depressing.
I must have a touch of premature Spring Fever, because I'm acting like a hummingbird with A-D-D and have temporarily flitted over to a new project – my kids' Jack & Jill bathroom. My apologies for the design whiplash you may be experiencing as a result of my gnat-like attention span.
As in the other rooms throughout the house, this room had flat paint. Flat paint. In a kid's bathroom. Why? So, as you can imagine, it didn't take long for my kids to fingerprint this place up in style, and this room was screaming for a new paint job. But, since it's on the opposite side of our master bedroom, I didn't hear its cries for help until recently. Cry no more – I hear you.
Mind you, I have more plans for this bathroom, but it's off to a fresh start. Here is what I started with – not terrible, but let me repeat, there was flat paint in here, and there is no window in this space, so I wanted it to be lighter and brighter.
The towel bar had come halfway off the wall, so I pulled it off and patched the holes. The idea of a towel bar in a kid's bathroom is kind of an oxymoron isn't it? You can my meager attempt at getting my kids to hang up their towels in the photo below.
I'm going with a different approach moving forward. I have a plan.
This little over-the-toilet thingamajig was here when we bought the house. I have more ideas for this area as well.
First things first. Paint!
The color is looking more blue in these photos, despite my efforts to the contrary. It's Sea Salt by Sherwin Williams – a pretty blue-green color. I'm planning on putting up some beadboard wallpaper that I've had forever awhile. Then, I'm going to top it with molding and add some hooks in the hopes of making hanging up a towel as easy as smuggling candy possible for my children.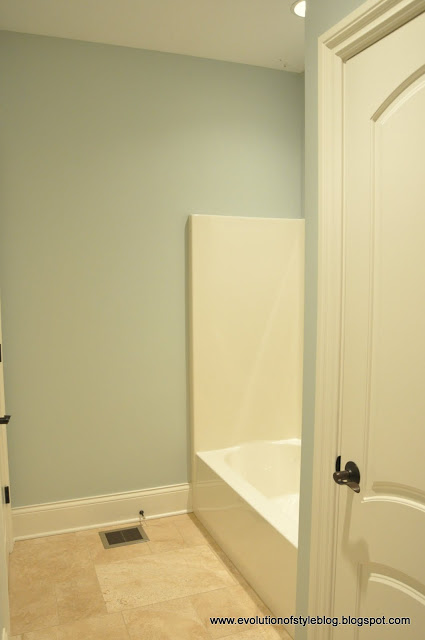 In the midst of all of this paint madness, I even reorganized the linen closet. I didn't take a before picture, but you can use your imagination. If you've seen one cluttered linen closet, you've seen them all, right?
So, that's where I'm at now. More to come!
Did you have a productive weekend?
Linking up to: