I've been sharing the tours for the week so far, and today it's my turn to join the party. If you're coming from 11 Magnolia Lane, or popping in as a regular reader, welcome! I'm sharing our 2020 holiday home family room, and I'm especially excited about this year's tour because we got new furniture at the beginning of the year, so things look different in here now. I loved our sectional (and it's now in our basement), but in reality, sectionals are limiting. It's nice to have some options when it comes to furniture arrangement. Especially at Christmas. This post contains some affiliate links.
We opted for a large, comfy sofa and two chairs for the room, both from Arhaus. I really like it so much better. It's more conducive to guests (when we actually start having guests again, that is), and I even find myself sitting in different places with this furniture setup. Sadly, this is the first time that I've actually taken the time to photograph this room! Oh well, it's looking its best, so why not?
This year I opted to decorate the Christmas tree to actually coordinate with the room. It's 2020, so I'm going to do what I want this year, dammit! Usually we have this tree as the one with all of the family ornaments. But I'm thinking of putting all of those on their own special tree this year, so we can still enjoy them.
I added a couple of different ribbons to my mantel this year – a green and navy plaid, along with a solid navy velvet. I love it. Jingle bells finish it off, along with some added touches of gold with the Christmas trees and reindeer.
Much time was spent searching for a large ottoman to accommodate our new furniture arrangement, and I ended up scoring a huge leather ottoman from an auction at Everything But the House. I love this thing. Is it huge? Yes. It's basically like having a twin bed as your ottoman, no joke. But you can prop your feet up on it from any spot in the room, and that's a win for everyone. That said, it is a little tricky to decorate for the holidays. I need to invest in a really large tray, but for the moment, a huge dough bowl filled with Christmas swag does the trick. Add battery powered twinkle lights, and they're just the right extra touch when everything is lit up at night.
I love fresh greenery at this time of year, and following my winter porch pot tutorial, I threw together some fresh greens in a pretty mercury glass vase.
The built-ins are dressed up with some winter accessories that pop against the pretty indigo blue backdrop. Again, more jingle bells.
I'm embarrassed to say how much time, thought and effort I put into my tree topper. I wanted to do a bow with the navy velvet ribbon, but I ran out, and couldn't find it anywhere. So I opted for some flower picks with gold glitter branches and some white berries (and will be cleaning up glitter well into 2021 as a result).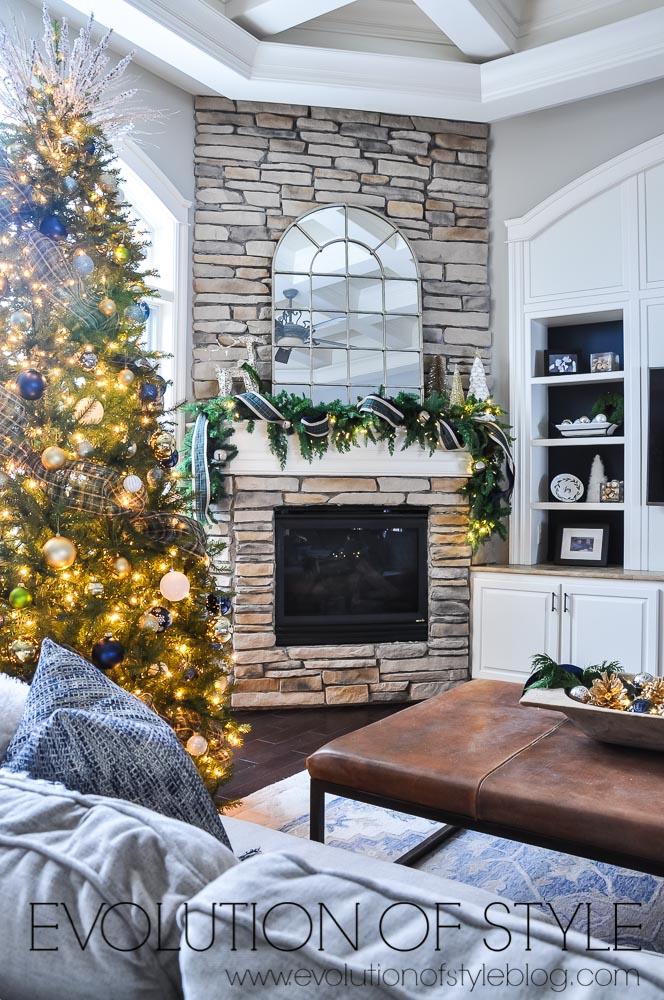 My husband and I have been spending an inordinate amount of time parked here watching "The Great British Baking Show" lately. I started it – my husband got sucked in by the cake. Now he wants me to bake a fancy cake with layers of fruit and cream. Have you watched it? It's such a fun show! The contestants are all so sweet to one another, and the judges are very kind in their critiques as well. Quite civilized, and I love it.
Before I sign off, I have to share a photo of this room at night. It really does feel magical, and makes me want to curl up and hunker down for winter. We hung lights outside around the fence in our backyard, so you can see them out the window. So easy, and such a nice impact for the amount of work involved (which is practically none).
Enjoy the rest of today's tour! Off you go to Dixie Delights!
Full tour lineup below…
Monday, November 30th (Front Porch/Outdoor Spaces)
Southern Hospitality | Setting for Four | Southern State of Mind | Less Than Perfect Life of Bliss | Most Lovely Things | Cindy Hattersley Design | The Creativity Exchange
Tuesday, December 1st (Entries/Dining Rooms)
11 Magnolia Lane | Home by Heidi | A Stroll Thru Life | This is Our Bliss | Summer Adams
Wednesday, December 2nd (Living Rooms/Dens)
11 Magnolia Lane | Evolution of Style | Dixie Delights | Jessica Welling Interiors | Sincerely, Marie Designs | Classic Casual Home
Thursday, December 3rd (Kitchens/Laundry Rooms/Misc.)
Citrine Living | Quarters One | Style House Interiors | A Blissful Nest | Painted by Kayla Payne | A Stroll Thru Life
Friday, December 4th (Master Bedroom/Kid's Rooms)
Sincerely, Marie Designs | Pink Peppermint Designs | The Heathered Nest | Bloom in the Black | Evolution of Style | Dixie Delights
Jenny