Hello!
I think I'm being tested, in that some of the jobs I've recently completed and am working on, involve some bad faux painting attempts, which I'm now being hired to fix.  My message to you on this subject is clear – I implore you – don't do this to your cabinets.  What did they ever do to you to deserve to be treated this way?  This post contains some affiliate links.
Exhibit A – This kitchen island that was painted by a previous homeowner, and the current homeowner asked me to repaint it. I don't think this photo does justice to the bad faux attempt here.  It was a hot mess.

After a lot of clean up and work, the island now represents the homeowner's design aesthetic – much more modern.  The color is Suede Gray (Behr color, mixed to match Benjamin Moore paint).
Exhibit B – a peek at the corner of a door that I picked up this week for a kitchen job where the homeowners just bought the house, and the previous homeowners painted them.  It appears that the technique involved a fat, nappy roller, for texture, and a coat of glossy polycrylic as a top coat.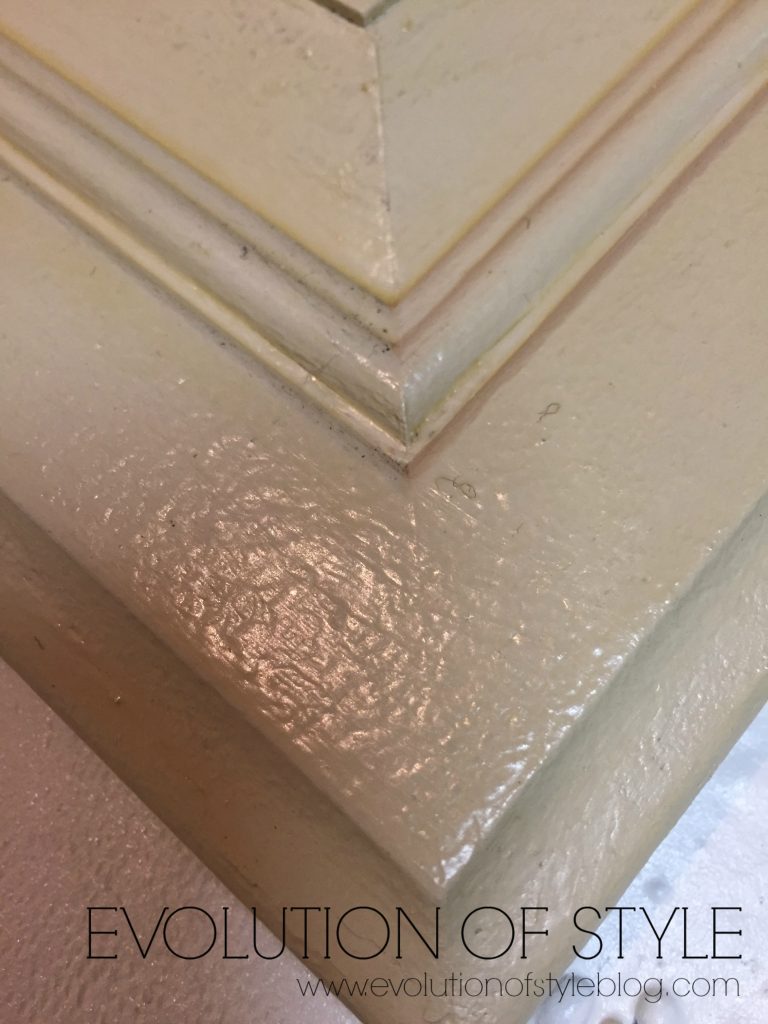 Why?  WHY??  The only upside to this situation is that I declared that it was time to pull the trigger on a tool that I've been wanting to buy for awhile now.  Enter Festool Rotex 90.  I remember when I first saw this tool and asked questions about it, and there is a comment that stuck with me.  This tool could "take the bark off a tree with a 40 grit piece of sandpaper."
Hello, handsome.
You'll notice that there is a round sanding head and a triangular sanding head as well.  One of the great things about this tool is that you can swap out the heads, depending upon your need at the time.  If you're working on small corners, use the triangular head.  Larger flat surfaces?  The circular head.  I love how I can get into small corners with the triangular sanding head.  And they're smaller in size than the Festool Orbital Sander that I have (and love), which is exactly what I need when it comes to some of this detail work.
Let's consider another set of cabinets I'm working on, where had been  a small grease fire in the kitchen.  Suffice to say, some of the doors have seen better days, and I didn't fully appreciate the effects of the grease fire until I got a closer look at the doors.
So it turns out that this new tool is coming in handy for more than one cabinet project.  Bonus!
This sander has two modes that make it stand out from regular sanders.  There is an "aggressive" sanding mode, and a "fine finishing" mode.  The aggressive/coarse sanding mode setting changes the motion of the sander to where it more easily removes the finish you're working on, whereas the fine finishing mode functions in the way of a typical sander.  That's another big value add of this tool in my opinion.
You can see that this door has curves, nooks and crannies that are difficult for the average sander to reach.
Using my new Rotex, I am able to get into the nooks and crannies and fully prep this door to get it ready to be primed and painted.  Dare I say that sanding is a wee bit fun with this tool?  There's something very gratifying in watching paint/stain being easily ripped off a surface that you wish to paint.
This tool is going to make fast work of deconstructing the bad faux work on my plate right now.  If you need me, I'll be tear paint off of old cabinets, furniture, etc…  If you have anything that needs to be sanded, drop it off on my front porch. 😉
Have a great day!
Jenny