So, I'm diving in to the One Room Challenge from Calling it Home for the fourth time, and I'm already questioning my sanity (you can see my master bathroom, my daughter's room and my son's room here). But, I'm reminding myself how awesome it feels to have a room finished at the end of this whirlwind, and my dining room has been needing some love. As an added motivation, I'm hosting Thanksgiving this year, so it would really be nice to have a refreshed dining room when it's all said and done. Let's take a look at where things stand, and the dining room plan, shall we? This post contains some affiliate links.
Dining Room History
This room has gone through some changes since we bought our home seven years ago, but it's looking tired and is in need of another revamp. But for fun, let's take a walk down memory lane and see how it looked when we first bought it, empty and everything. Wallpaper, wallpaper, wallpaper. I did take down the wallpaper, and you can probably understand why I have a bit of PTSD in that regard.
Here it is after we moved in and added our own furniture:
Then I took down the wallpaper, repainted the walls (twice), and added banded drapes and a rug.
This was good for awhile, but then we got a puppy. My poor drapes took a beating, and we had changed out the rug at that time, which also took a beating. (Puppies are cute, but destructive). Here are some photos from last Christmas that show my dining room in its more recent state – rugs gone, drapes replaced, and I added my gift bag gallery wall. It looks pretty good, right?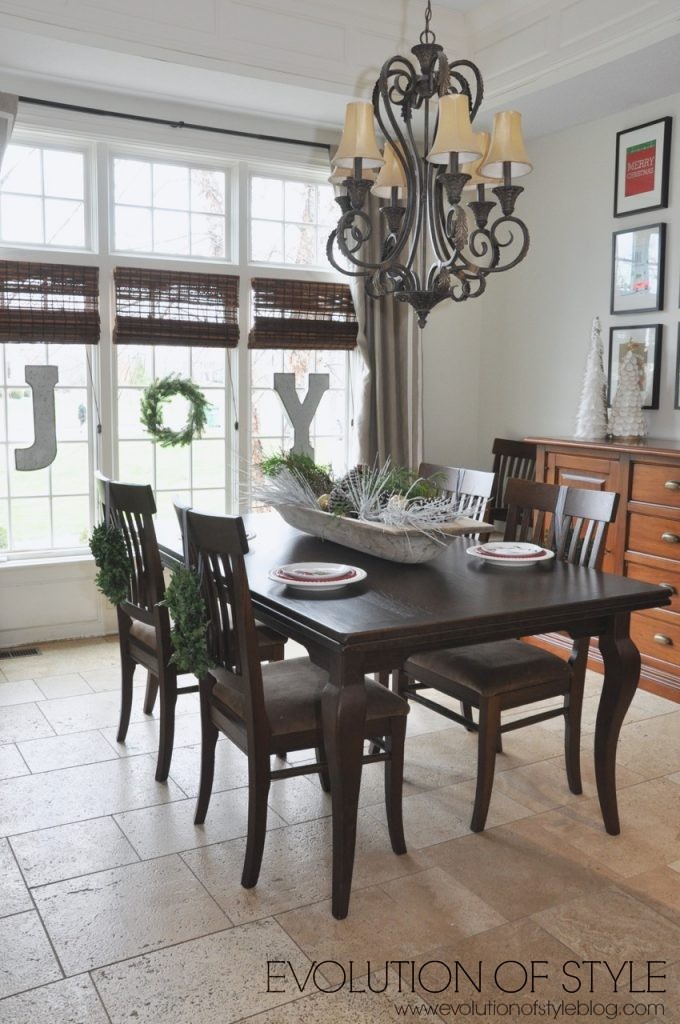 But in the interest of full disclosure, here's how it looks now (bad picture, I know – ugly day when I took it). And yes, the dog cage is in the left corner…
I'm just not loving all of the brown that's going on in here – flooring, drapes, furniture, walls – everything. And while I love the gallery wall during the holidays, I struggle with what to swap it out with the rest of the year. So it's a big blank wall full of holes at the moment. I still like my furniture (it will NOT be getting painted), but I want to bring in some other elements to change things up as far as my dining room chairs go. I'm considering adding a rug again, now that the puppy isn't (quite) as destructive, the drapery rod is about to fall down, and I'm not in love with the drapes either. And then there's the chandelier. I've never loved it, but I want to be sure that I find "the right one" – as I don't anticipate replacing it again any time soon.
The Plan
To be honest, I go back and forth as to whether I want to go darker on the walls in here. I would love a deep color on the walls, but it needs to flow with the rest of our home, and with dark furniture, I don't want it to feel like a cave either. So, I haven't committed to a wall color yet, but here are other elements I'm looking to incorporate as part of this One Room Challenge project.
Slipcovered Dining Room Chairs
Regardless of the wall color, I want some slipcovered dining room chairs – probably just at the heads of the table. But I have been scouring the internet, looking at all of the possibilities, and this is something I consistently find myself wanting in my dining room.
SaveSave
Save

Save

Chandelier Options

I'm on the fence with chandeliers, quite honestly. I'm debating between one bigger fixture (I'm thinking rectangular) or two smaller sized fixtures – maybe lanterns of some sort. I can tell you that this stunning chandelier keeps me coming back for more.
It would work with the size and shape of our dining room table, and I love the clean look to it.
I'm also finding myself drawn to the idea of two chandeliers in here – although it will be a bit messier to do since we're talking about changing the whole look in there – more holes in the ceiling, etc… But it's so eye catching.
SaveSaveMaybe something like this lantern – not sure of the finish that I'm most drawn to at this point.
Or do you like the looks of this polished lantern better?
Big Artwork
I know that I've done a lot of gallery walls, but I'm thinking of more high impact artwork this time around. With any luck, I'll find something that I love and can use it as a guide for a color palette. I should be so lucky.
And yes, I would love to incorporate some touches of navy.
Drapes
I think the direction I go when it comes to drapes is going to depend upon the rest of the room as a whole (which means I need to get my plan in order fast). But I am so drawn to photos like this one – and yes, that wallpaper even gives me an itch to add it to my own home again.
And yes, I know that this dining room is nothing like mine, but I love those drapes paired with the bamboo shades and brass light fixture.
Well, there you have it. A general idea of the direction my brain is going for this dining room makeover. I love that the One Room Challenge forces me to make decisions quickly vs. dwell on the options and then get distracted to do something else. Remember the TED Talk I shared on procrastination? Let's hope that I can keep my inner monkey at bay, and that the panic monster's appearance is limited. 🙂
What do you think about the plan? Any suggestions?
Jenny
SaveSave
SaveSave