Hello!
My schedule is quickly filling up with lots of client projects, and I mentioned that I just wrapped up a couple of kitchens as well.  Both of them are doing additional remodeling work – backsplash tile, new countertops, etc…, and I'm hoping to share some "final reveal" photos when they're complete, but in the meantime, I wanted to share some "in progress" photos of this pretty kitchen refresh.  I love that the colors are a bit different from the current trends, but yet it's still a bright and fresh new look.  I love Revere Pewter on the walls, but this is the first time I've painted cabinets in this beautiful color.  It's proving to be equally stunning, so I'm excited to share the progress on this Revere Pewter kitchen cabinet makeover (with final reveal photos to follow).
Let's go back to the beginning, as there have already been some great changes in this kitchen.   This kitchen has great nine foot ceilings along with great natural light that comes in from the windows (making it tricky to photograph when using my iPhone).  As for the bones of the kitchen, we started with builder-grade oak, and formica counters.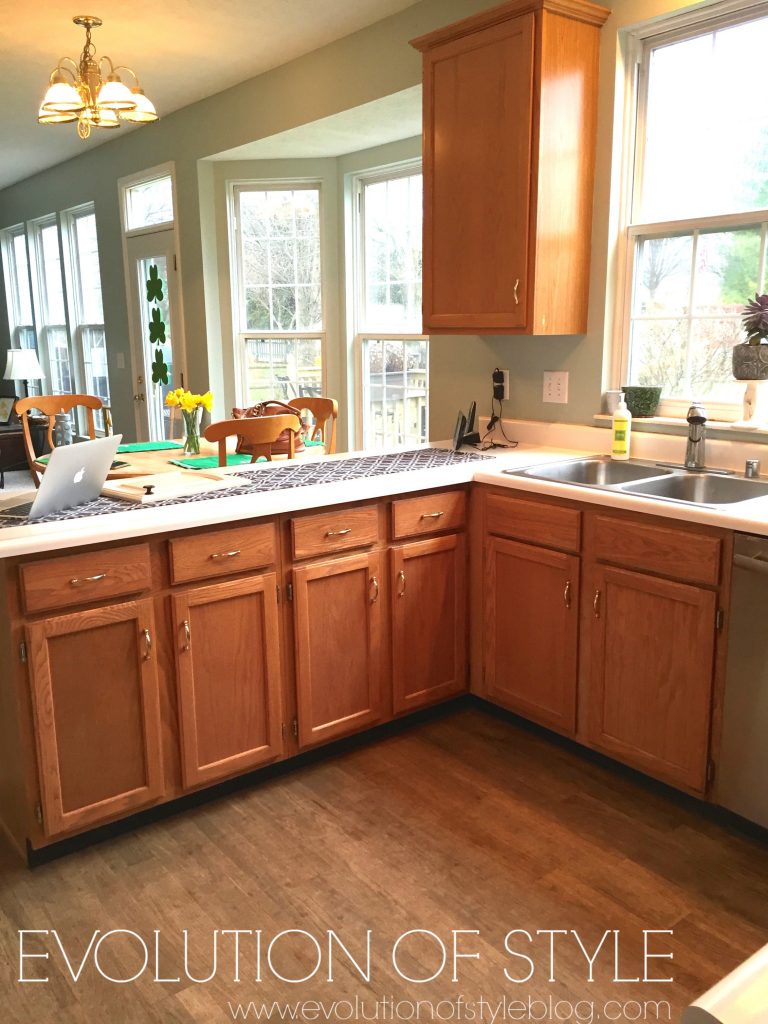 The walls are already a great color (I believe they're painted in "Quiet Moments" by Benjamin Moore), and painting the cabinets is going to make that color shine even more.  We discussed options, and needed a color that would work with the new granite that was being installed.
As you can see, there are lots of great colors to consider in this granite, and my clients didn't want to go with white, which is fine, because again, this kitchen gets tons of light, and with the granite, it was begging for something different.  That's when the idea of Revere Pewter was born.  We did look at some lighter neutrals, but with all of the light in this kitchen, the color seemed to just wash away.  Revere Pewter is a great mid-tone neutral to work with the granite and the existing wall color.  I love it!
Of course, we had to update the hardware in this process, and what a difference that made in this space.  It really kicked up the wow factor, and made everything look finished.  The hardware is courtesy of D. Lawless Hardware.  They went with these beautiful satin nickel cup pulls, and these knobs in the same finish.
So pretty, yes?
You know I can't resist a good cabinet hardware shot – love this hardware!
A couple more photos so you can see the progress that's been made so far –
If you look closely, you can see the backsplash that the homeowners have chosen, sitting on the counter. 🙂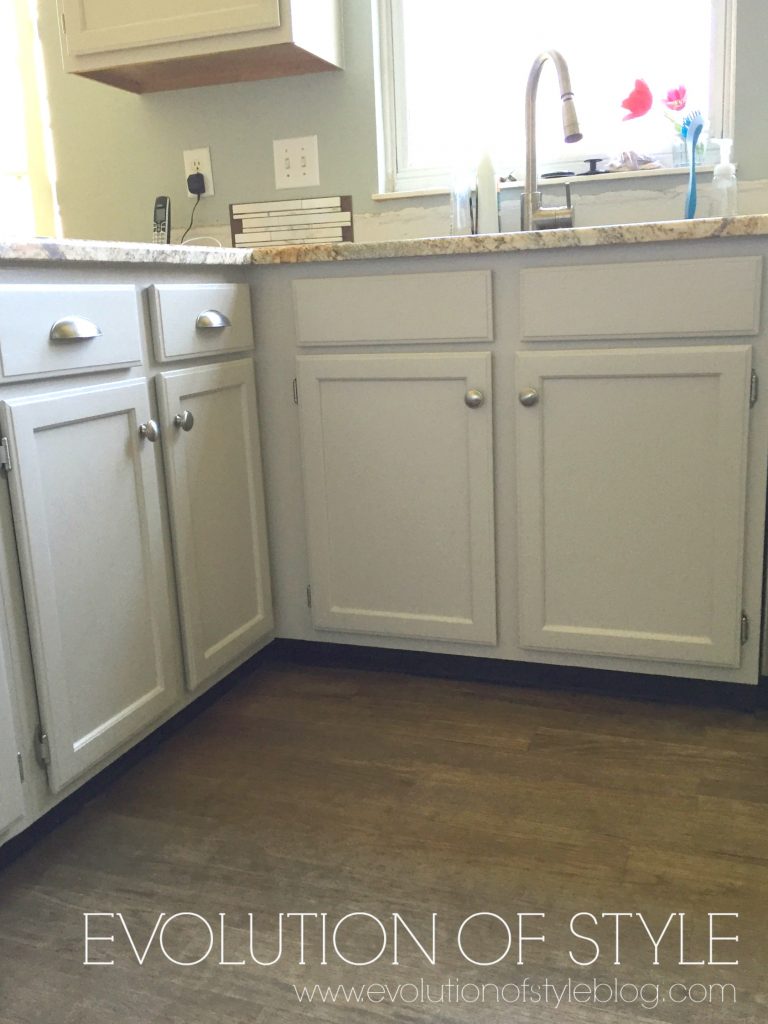 So again, I promise more photos of the finished look, but you can certainly appreciate the progress, right?  Let's face it, most of us don't do a complete gut job on a kitchen and get it all done at one time.  It's a process, one thing at a time.  But stepping back, you can really appreciate the process and the progress.  More to come…
And check out this amazing kitchen that is on my schedule for May!  We'll be saying good-bye to the blue, and it's going to be a fantastic redo, (not to mention that it's for a great friend of mine, which makes it even more fun). 🙂
Have a fantastic day!
Jenny