Hello!
I have prep on the brain since I have been dealing with massive amounts of prep on these bookcases, so I thought it would be a great opportunity to do another installation of the Painter in Your Pocket Series – Prep School. I know prep isn't fun, and no one likes it (myself included – I'd love to hire a helper to do just prep). But if you learn nothing else from this, just remember, your paint job is only as good as your prep work. So don't skimp on the prep – an ounce of prevention is worth a pound of cure. This post contains some affiliate links.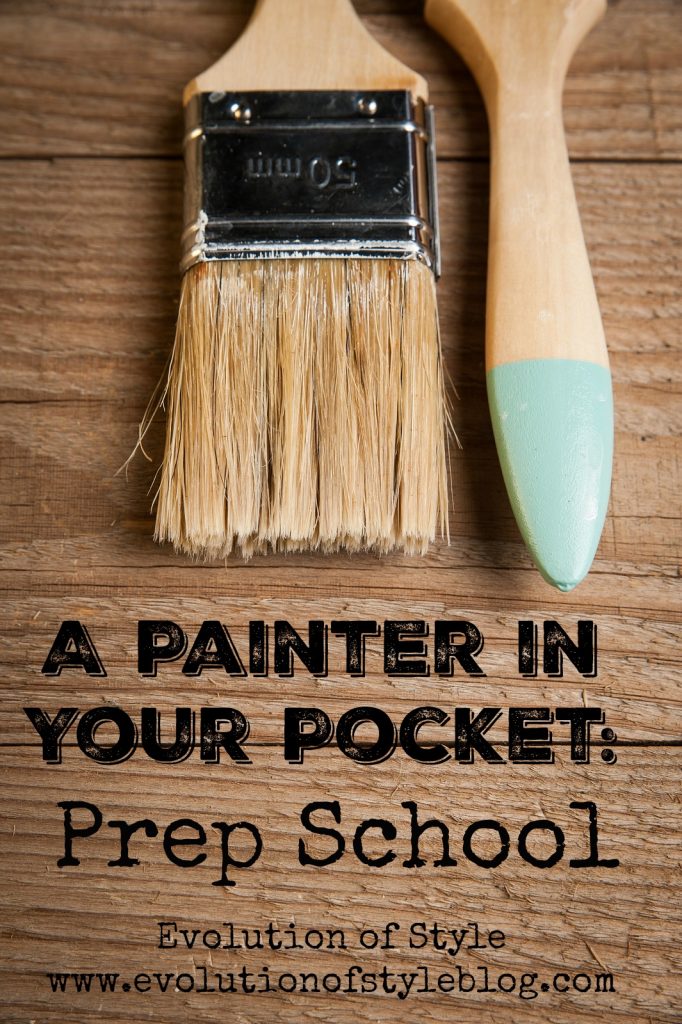 I figured since this job was prep-intensive, it would be a good opportunity to share some tips and tricks with you – and I even took pictures. You're welcome.
In this case, one set of the bookcases was unfinished wood (which resulted in way more prep). However, since this job was part of a big remodel, I didn't have to worry about taping off the walls and floor, so I guess it all comes out in the wash. For unfinished wood, sand it within an inch of its life. And then sand it some more. Lather, rinse, repeat. Make sure you continue to sand in between coats when dealing with unfinished wood – it's a tricky process – much more challenging than pieces that have been previously finished.
The other set of bookcases was an existing set of oak bookcases, which didn't require as much prep, thank goodness. I still gave them a good cleaning with Krud Kutter, and sanded them as well.
Since I was spraying the bookcases, I had to tape off the stained wood top and the areas where the doors and drawers will be reinstalled. I'm finally figuring out the secret to doing this. I'm a little slow on the uptake sometimes, but in case you are too, hopefully this will help you. The first thing you need to tape off spaces like this is one of these hand-masker dispensers.
This contraption is a life saver in lots of ways. I use it to tape off drawers when I spray them so that I don't get any overspray on the sides.
But in the case of taping off openings in built-ins like these, or for kitchen cabinet frames, it's an awesome tool to have in your toolbox. To tape off an opening in the bookcases, I start by putting a line of Scotch Blue Edge Lock Tape around the perimeter of the frame. I like to do this to ensure a clean line, and it's also an extra layer of defense against overspray.
This is where the hand masker comes into play. If you haven't used one before, don't be intimidated. It rolls the tape on to the paper so that it all works together seamlessly. I ripped a section of the taped paper from the hand masker and place it slightly behind the tape line that I already created. Again, the reason I do this is because the paper can get kind of crazy for these sorts of applications, so the extra tape line ensures a crisp line along the edge. The paper is helping to shield the rest of the opening from overspray.
I do the same thing along the sides – pressing the taped paper to the back of the cabinet frame.
Repeat along the top and other side of the frame, and then tape the edges together like a puzzle to seal the opening. If necessary, add another sheet of paper to the center of the opening. And there you go – done! You can see that I use regular masking tape to seal them all together – it sticks better than the painter's tape, which is what you need here.
Another prep job that can sometimes go overlooked is caulking. Again, it's not my favorite thing to do, but it's part of a polished finished product. Having good tools makes the task a little less annoying, and this light and ergonomic caulk gun is my favorite.
As for caulk, I'm an impatient sort, so I go with this caulk from DAP, because it's paintable within 30 minutes (vs. two hours like most). Make sure the caulk you use is paintable! Silicone is like kryptonite when it comes to painting.
I usually do the caulking after I prime, because that's when you can see all of the gaps that need to be addressed. Take a look at the backs of the bookcases that surround the fireplace –
See how everything looks so much more cleaned up and seamless once they're caulked? It's the little things that make all the difference.
Make sure you fill nail holes while you're at it – because those seem to show up all over the place once you prime. I like this 3M Patch and Primer because it has everything all in one place and doesn't dry out like some of the tubs of spackling that I've used in the past.
If you take care in following the steps and putting in the prep work, you'll end up with a polished end result. Here's a sneak peek at the second bookcase – in Urbane Bronze – so pretty. Can't wait to share it when everything is put back together.

I hope that you're able to put some of these tips and tricks to work. Whether you're hand painting or spraying, a good prep job goes a long way in the end!
Jenny