I shared some of my favorite non-white paint colors for cabinets recently, and focused on a lot of mid-tone paint colors in the beige, gray and greige color spectrum. I'm also noticing trends in paint colors (for both walls and cabinets) that are rich and moody cabinet paint colors as well. So, I thought it would be fun to do a round up of some of my favorites in this part of the color wheel as well. There are a lot of gorgeous ones out there from which to choose!
Iron Mountain – Benjamin Moore
Iron Mountain is a great go-to dark gray that is gorgeous on walls, cabinetry and even doors (interior or exterior). But here you can see how gorgeous it looks on cabinets in this butler's pantry. It's a warm, rich gray and I love how beautifully it pairs with that gorgeous countertop.
Kendall Charcoal – Benjamin Moore
Kendall Charcoal is another long-time favorite of mine that is a versatile and especially pretty on cabinets and doors. It also pairs well with light or medium stained wood as you can see in this kitchen. I really love the look of a rich gray and a light wood, whether it's on the floors or even in furniture. Something to think about if you have oak in your house that isn't going anywhere.
Graystone – Benjamin Moore
With the popularity of light countertops these days, you can see the appeal of some contrast and interest with some color on the cabinets vs. going with an all-white kitchen. Graystone, from Benjamin Moore is another color that gives that contrast, and it looks really sharp with the white upper cabinets as well.
Purbeck Stone – Farrow and Ball
Farrow and Ball just seems to have the most sophisticated colors ever, and I never tire of them. Purbeck Stone is the epitome of class, pictured as part of a stunning built-in hutch/buffet. This whole kitchen just exudes elegance, doesn't it?
Gravel Gray – Benjamin Moore
Gravel Gray by Benjamin Moore is another color that delivers when it comes to working with existing finishes in your home. Look at how the oak floors and trim (which I'm assuming are original to the home) are a feature in this kitchen, not something that had to be torn out and replaced. I'm all for keeping what you have and making it work if at all possible. Let's face it, most of us can't just rip out the floor because we don't like it. Budgets are real, and you have to work with what you have, and this kitchen proves it can be done. You don't have to tear out everything to get an updated look. Just choose your colors and finishes carefully so that the existing finishes are taken into account.
Hague Blue – Farrow and Ball
Hague Blue has been a long time favorite of mine, and from this photo, you can understand why. So chic and bold – it's not for the faint of heart! But my love of navy and high contrast living is swooning over this one! I don't know if I could go this bold in a kitchen, but it would be so striking in a butler's pantry or a powder room. And it's also a gorgeous wall color.
Farrow and Ball – Mouse's Back
I follow a lot of kitchen painters and remodelers in the UK, and the style and elegance that they pull off is second to none. They too, very often work with existing finishes, and find colors that work with those finishes (similar to this kitchen), to give the kitchen a brand new look. Mouse's Back by Farrow and Ball is rich paint color that works well with the floors and the butcher block countertops, while still bringing some history and character to this kitchen. The island is a contrasting color called London Clay (Farrow and Ball).
Studio Green – Farrow and Ball
I'm going a little bold and out of the box with this color, but like some of the rich grays, this rich green works beautifully with the light floors, black island and rich wood window trim. There's something to be said about going bold and standing out from everyone else, don't you think? It really works in this kitchen don't you think?
Off-Black – Farrow and Ball
The one thing about dark, rich paint colors is that they don't have to result in a dark room. You'll notice that while many of these colors are rich and moody, the spaces that they're used in, don't necessarily translate in kind. Many of these spaces are still bright – not a black hole of darkness. Look at this gorgeous kitchen in Off-Black, a Farrow and Ball color. It feels modern, sophisticated, and dare I say it, bright and beautiful. Even with black cabinets. It's all about balance, and mixing your finishes and paint colors to create a polished look. This kitchen does just that. Bright walls, gorgeous floors and finishes, lots of natural light. It all works together in a way that you might not expect.
My friend Jess at Bright Green Door painted her kitchen cabinets black, and the transformation is unreal! I reached out to her about sharing her kitchen and the cabinet paint color, and it turns out that hers is a custom black color, which goes to show that you can always do something out of the box if you can't settle on a paint color, or know specifically what you want. So crisp and gorgeous!

Indigo Batik – Sherwin Williams
Indigo Batik is another pretty and perfect rich navy color. It looks fresh and crisp paired with a white subway tile, and is like a pair of blue jeans in that it's a perfect neutral.
And the WINNER of my cabinet painting giveaway is…
Kerry and her dated maple kitchen!! Congrats! And again, thanks to all of you who entered and voted during this process! I'm so excited to give this kitchen a makeover!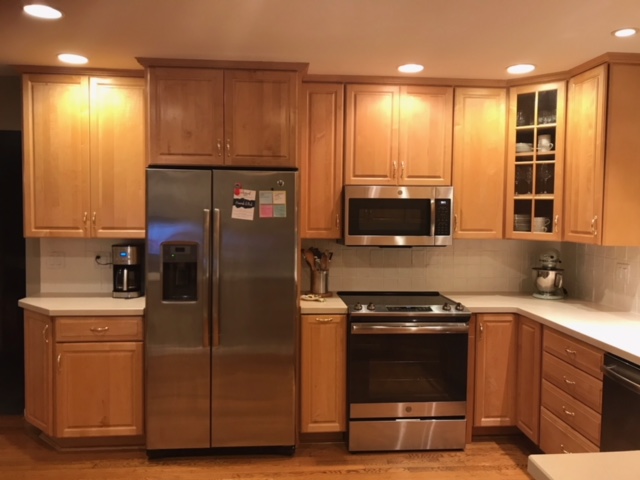 Jenny