Gearing up for Easter Weekend here, and the forecast is calling for mixed rain and snow for Sunday evening. Can someone remind me, why I live in Ohio? I find myself asking this question a lot lately. At any rate, let's get on with this week's Saturday 6+1, shall we?
I plowed through Once We Were Brothers over the past week, and really loved it. I enjoyed the narration, and felt like I really got to know the characters, if that makes any sense. I'm sad that this book is over! An Amazon excerpt about the book is below:
Elliot Rosenzweig, a respected civic leader and wealthy philanthropist, is attending a fundraiser when he is suddenly accosted and accused of being a former Nazi SS officer named Otto Piatek, the Butcher of Zamosc. Although the charges are denounced as preposterous, his accuser is convinced he is right and engages attorney Catherine Lockhart to bring Rosenzweig to justice. Solomon persuades attorney Catherine Lockhart to take his case, revealing that the true Piatek was abandoned as a child and raised by Solomon's own family only to betray them during the Nazi occupation. But has Solomon accused the right man?

Once We Were Brothers is Ronald H. Balson's compelling tale of two boys and a family who struggle to survive in war-torn Poland, and a young love that struggles to endure the unspeakable cruelty of the Holocaust. Two lives, two worlds, and sixty years converge in an explosive race to redemption that makes for a moving and powerful tale of love, survival, and ultimately the triumph of the human spirit.
How cute are these Rae Dunn Inspired Easter eggs? Check out the post and a full video tutorial over at The Kim Six Fix. Too clever!
I bought my Nutribullet awhile ago, and have been using it more frequently lately, as we've been making smoothies and even blending up ingredients for a half batch of "clean muffins" like these blender oatmeal muffins or even some homemade dressing. I don't know about your experience with blenders, but the ones that I've had in the past, pretty much don't blend. It starts out like it's going to blend, but then the blades spin, and my ingredients stand still. No blending with my blender. So, I don't even have a blender anymore. I'm sure I could drop some coin on one that actually blends, but honestly, my little Nutribullet gets the job done.
Container Gardening for Dummies
Gardening is definitely not my strength, and I need all of the help I can get. All of the yucky weather we've been having lately has me wanting some pretty spring flowers in abundance this year. I really like the look of pretty pots spilling over with flowers (don't even get me started on window boxes – someday). If you love the look, but then wander around aimlessly when you get to your local gardening center, fear not. Proven Winners is your recipe book for beautiful gardening ideas. I love their Container Gardening Recipe Book which gives you pictures of potted flowers and then the "flower ingredients" showing you how to get the look. It's like paint by numbers for people with a black thumb. 🙂
See this pretty planter? All of the flowers are listed and laid out for you to create your own gorgeous outdoor look.
While you're at it, sign up to receive their gardener's idea book – they'll send you a book in the mail, filled with gorgeous planting ideas (and recipes) that you can take with you when you head out on the search for the perfect plants.
Big Transformations
I'm working on the Mother of All Kitchen Redos right now, and am excited to share the progress as I get closer to completion. I'm working on the kitchen as part of a larger remodel of this home, and I'll admit, it's a bit intimidating to say the least. Here is a photo of the kitchen from the real estate listing. Suffice to say, it's going through some big changes, and the cabinets are just one piece of the puzzle. Say a prayer for me.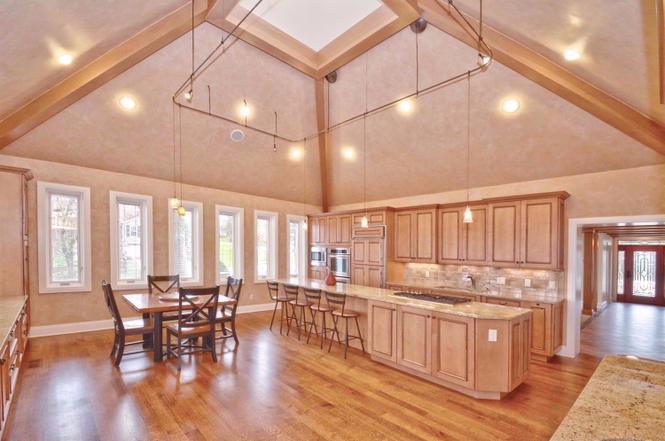 Diving into the Spring 2018 One Room Challenge
I'm on the fence about jumping into the Spring One Room Challenge, but my basement office has turned into a storage room of sorts, and I get twitchy whenever I have to go down there. Something has to be done, and I have found the One Room Challenge to be the remedy to my procrastinating tendencies. Even though things are a bit crazy busy around here – sometimes jumping in is the best way to get it done.
That said, I'm still trying to figure out how I want this room to function. An office? A guest bedroom? A combination of both? So, I'm browsing around for ideas to inspire me.
Even though my windowless basement office looks NOTHING like this, I love this look.
Or this beauty…
Or this beauty from Vanessa Francis at Vanessa Francis Design. A stunner!
Yes, you can see that I'm completely out of touch with reality, but that's ok. Sometimes you just need some inspiration to get the ball rolling.
My +1 for the week – My Facebook feed when everyone else is in Florida for spring break, and I'm not
Needless to say, I'm wishing we had planned a warm weather trip for spring break this year. I need some Vitamin D in a bad way, and instead, I'm going to have to look at photos other peoples' toes in the sand, beachside cocktails and evening sunsets. Perhaps I need to just take the week off of Facebook to save myself some angst. I don't begrudge anyone their vacation time, I'm just sad that I'm not there too!
Happy Easter!
Jenny