I know you guys all love a good house tour, and sadly they seem to be harder to come by around here in the winter. I always look forward to the local Homearama Tours and love sharing them with you. This modern farmhouse home tour is one that I've been thinking about for awhile, as I have driven by this house on a regular basis during the construction process, and it's had my attention. The exterior curb appeal was fun to watch as the house came together, and when I discovered that this home was going to be a model home, I knew I had to check it out. So, let's get to it!
The builder for this home is Catalyst Homes. This post contains some affiliate links.
Modern Farmhouse Exterior
You can see by looking at the exterior photo, why I was drawn in by this home in the first place. I love the exterior details – the stone, the wood siding, the porch, the roof/window details. And of course, the black mullioned windows.
Even the garage doors are pretty.
Design note – the hinge and handle details are exactly like these magnetic decorative garage door accents that I have shared with you. You can add this look to your own home without breaking the bank.
And let's not forget a pretty front door with a charming magnolia wreath always catches my attention.
Modern Farmhouse – Main Floor Interior
Once inside, there is a room to the right that would be ideal for an office. I would prefer something a bit larger, but it's roomy enough to where you could get things done if you're organized. You'll notice that the wall panel design mirrors the outside architectural details.
Just beyond the office is the powder room. I love everything about this cute little bathroom. The wall color, the finishes, the floor tile, the sink and vanity – all of it.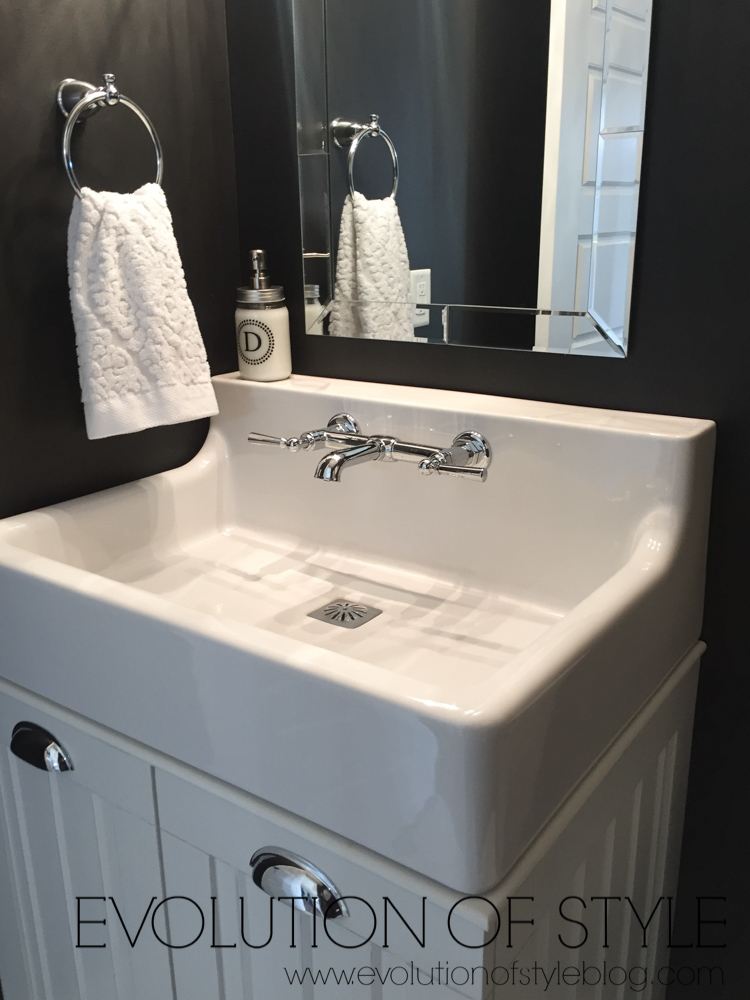 I don't know the wall color, but it's an inky blue-black. Really stunning, and a great backdrop for the patterned tile.
If you continue straight ahead, there is a great room that is open to the kitchen/dining area.
I have to say, as much as I love a brick backsplash, this one fell a bit flat on me. I would have rather seen an actual brick veneer backsplash, than this brick tile. I think it was some sort of ceramic – not my favorite.
I wish I had gotten a photo of what was behind me – more cabinetry and the fridge, as well as a pantry.
There is no real formal dining room in this home, but the eating area off the kitchen gives quite a bit of space on its own.
I like how they were able to warm up this space with the wood mantel and the beams on the ceiling. And the floors are beautiful.
Beyond the kitchen, you'll find the laundry room, which was super-cute, and it connected with the master bedroom, which was also convenient. I particularly loved the floors.
And this fun little sink.
Right off of the laundry room is the master bathroom.
On the opposite side of the main floor are two bedrooms that are connected with a Jack and Jill bathroom. As you head to this side of the room, there is a bench built-in in the hallway. This is cute, but if I had it in my home, I'm guessing it would be piled with laundry and other stuff that needed to be put away, vs. pretty throw pillows. But, a girl can dream, right? Worst case, you can throw things into the bench, as it looks like the lid opens. 🙂
Modern Farmhouse Tour – Lower Level
The basement in this home is finished as well, giving you even more living space. On the way down the stairs, the builder added a nice little display niche. Normally I'm not a fan of niches, but this one is functional, with shelves and a purpose, and I like that it makes use of space that otherwise would have been just a blank wall.
Here's a view from the bottom of the stairs.
As you come downstairs, the space is divided up – once space for lounging and watching tv, and another space to hangout
A great entertaining space.
A great space to entertain.
There is an additional bedroom and bathroom in the basement as well.
There is a playroom (see glass doors below) as well, but it wasn't an accessible area for the tour. But how cute is this little table and chairs for the kiddos?
That wraps it up! While I'm kind of "over" the whole farmhouse look, I do think there are elements that are timeless and can carry forward – pretty flooring, crisp trim and cabinetry, mixing finishes, etc… What do you think?
Jenny