Hello!
The more kitchens that I work on, the more intrigued I am at the kitchen upgrades people are implementing, that don't involve a total remodel.  So today I thought I would share some of the upgrades that I've seen that can give a kitchen a custom look, while keeping many of the existing elements of the kitchen in place.
Enclose Your Fridge
Taking your fridge from exposed to enclosed is a great way to give a kitchen a custom look.  Better yet, if you're looking at upgrading your appliances, consider a counter depth refrigerator.  No one wants a huge fridge sticking out in the middle of their kitchen, right?  But, even if that's not an option, enclosing the fridge still gives your kitchen a more upscale and finished look.  Take a look at this client kitchen before and after of how they changed things up to update their kitchen.
Before –
And here it is after.  Big difference, yes?
Check out this kitchen redo, which includes a fridge enclosure (among other things – an amazing transformation from top to bottom over at Fisherman's Wife Furniture.  Here are its humble beginnings –
And WOW –
Fridge enclosure in progress, trimmed out to up the custom look even more:
And the completed look.  Gorgeous.
Repurpose and Reinvent
Many older kitchens have outdated elements that need to be reinvented and repurposed to work the way we do today.  One thing that comes to mind is the planning desk.  While the planning desk seems like a good idea in theory, in reality it ends up being a dumping ground (well, it was when we had one), and I know a lot of homeowners are getting rid of them as well.
I love how the homeowner in this epic client kitchen makeover completely repurposed her planning desk, making it look like a custom built-in hutch.
Another repurposing option is to add a wine fridge or mini-fridge of some sort.  This setup is much more conducive to entertaining, and I can imagine this area set up with appetizers and drinks ready to go for guests, can't you?
Trim it Out
I touched on this idea in this post, but it bears repeating when we're talking about making a kitchen look more custom.  Trim out your end cabinets, peninsulas and islands.  It looks so much better than the builder grade laminate material that you see so often. I really don't get it – is it that much more expensive for a builder to put in something that is a little more substantial and visually attractive?
It makes such a difference!
Add Some Crown
While we're talking about trim, let's not forget the power of crown molding.  Whether you're using it to top off your cabinets, or adding some detail to the ceiling surrounding your cabinets, the impact is huge.  Remember this builder grade turned custom made kitchen?  By building up the cabinets to the ceiling and trimming it out with crown molding, it instantly creates a custom, high end vibe.
And who can forget Sarah's stunning kitchen transformation, which included building her cabinets up to the ceiling.  You can see how she did it in her post here.  Absolutely gorgeous, and such a high end look.
Before she got to work –
And after:
Even if you don't build your cabinets up to the ceiling, adding crown molding to the top of unfinished cabinets does wonders.  Remember this oak kitchen redo?  Lots of updates going on here (including an updated and trimmed out island), but notice what a difference adding some simple crown molding does to the overall look.
Before:
After:
Add a Furniture Feel
The last item on the list is one that is one of my favorites because I love that such a small detail can make such a big impact.  It's all in the details, isn't it?
In this client kitchen makeover, the homeowners took a boring island and made it custom by adding trim to the outside of the island, while also giving it a furniture feel along the bottom.
Before:
After: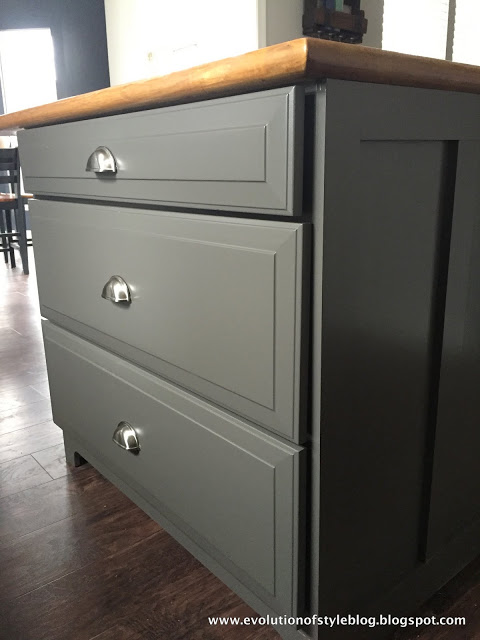 Now I want to add some furniture trim to my kitchen cabinets…
Just Add Glass
Glass front cabinets are a feature you often see in high-end kitchens, and is one that can be incorporated to create that same high end look.  Ideally, you'll want to have a cabinet that you can spare to be pretty, and not just functional.  But it's also a great way to break up the look of solid wood cabinets with something that offers a lighter look and feel.
If I had my way, I would add glass cabinets like these from one of the Homearama tours I shared.  Seeded and leaded glass doors in the kitchen?  And a mini-fridge?  Yes, please.
But you can still get this look on a budget, like Christy did at Confessions of a Serial DIYer.  She went from this:
To this:
And shares all of the details in her post here.
So there you go – have you added any of these elements to your own kitchen?  Do you have any other suggestions?  Do tell!
Jenny