Hello!
I'm showing my age here, but I'm a child of the 80's through and through, so when one of my best friends shared that Samantha Baker's house from "Sixteen Candles" was for sale, my eyes and ears perked up and took notice.  Never mind that the two of us can practically recite that entire movie by heart, or that when my son declares that he's going to be a sophomore, I chime in with "Sophomore, dude. Sophomore.  Full aged sophomore meat."  I love this movie.
And we all remember their house –
And here it stands for sale today – listed for $1.49 million.
I remember this house having wallpaper everywhere, so I was curious to see what it looked like inside.  Remember this?
Nice and updated (although looking at the walls up the stairs, it looks like they must have wrestled with that wallpaper to get it down.
But you can see that the angled door in the background remains.  And the carpet is gone – hooray!
In the movie, it's a closet, but if you look at the photo for the listing, it looks like it leads to the kitchen.
You can see into the dining room from this shot as well.  We all remember the dining room from this scene:
The wainscoting looks like it is the same as in the movie.
Then there's the living room.
It looks like the fireplace detail is still in tact.
Remember the kitchen?  Oh boy.  Those cabinets.  That wallpaper.

It definitely got an upgrade.  Love that chalkboard wall.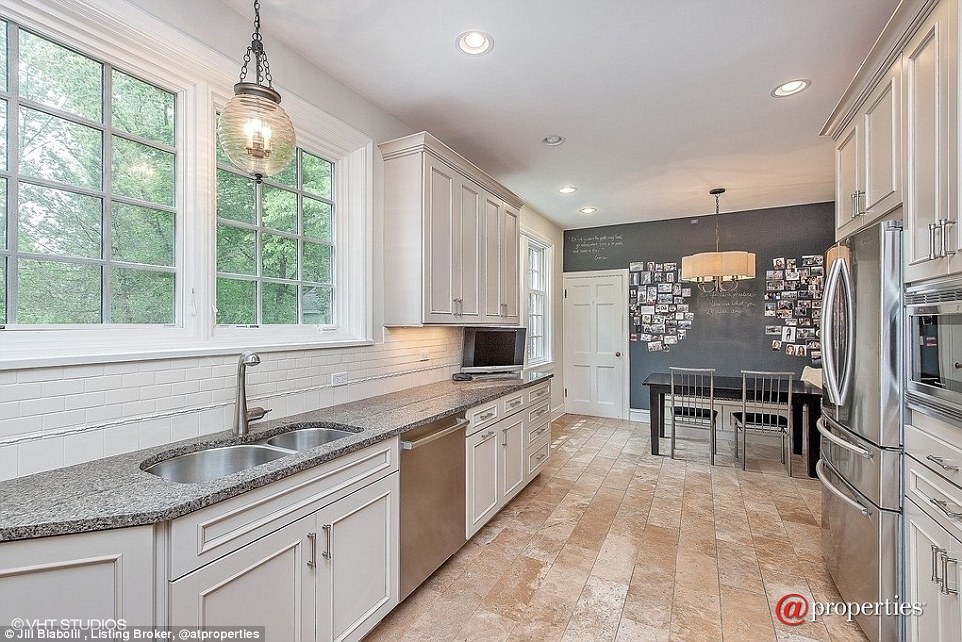 Gorgeous!
Upstairs, you'll remember the bathroom (that Grandpa Fred "totally polluted") –
I love that the doors remain as they were in the movie.  The mix of the dark wood and white trim just works, doesn't it?
I remember loving Sam's room on the third floor.
It was almost like her own little apartment.
This is the third floor bedroom, but it's hard to tell how they worked it in the movie since there appear to be more windows.
There's also Jenny's room, which I remember being really big in the movie.
Could the master have been her room?
Or maybe this one:
And then there is Mike's room, with Long Duck Dong.

I don't think this was his room, but you get a peek into another one of the bedrooms.
To see more photos of this iconic 80's home –  click here for the full listing.
Did you love Sixteen Candles as much as I did?