I hope things are fall beautiful in your neck of the woods, because they sure are here. I wish we could hold on to October weather and fall colors a bit longer. It's always so fleeting, and I fear that this winter is going to be more depressing than usual. But, let's focus on the joy of today and some fun things to share in this Weekend 5+1 edition! This post contains some affiliate links.
I don't know about you, but I'm a huge fan of all things Studio McGee. Shea McGee (the founder) has a design sense that is just so clean, timeless and gorgeous – I don't think I've ever seen anything of hers that I didn't like. So, I've been eagerly anticipating her new Netflix series, Dream Home Makeover. There are only six episodes, so make sure you pace yourself. I blew through all of them way too quickly. But she and her family are genuine and endearing, making me love Studio McGee even more than I already did.
Gorgeous Laminate Countertops
I was browsing through a new home/kitchen store nearby, and had to do a double take when I saw this display.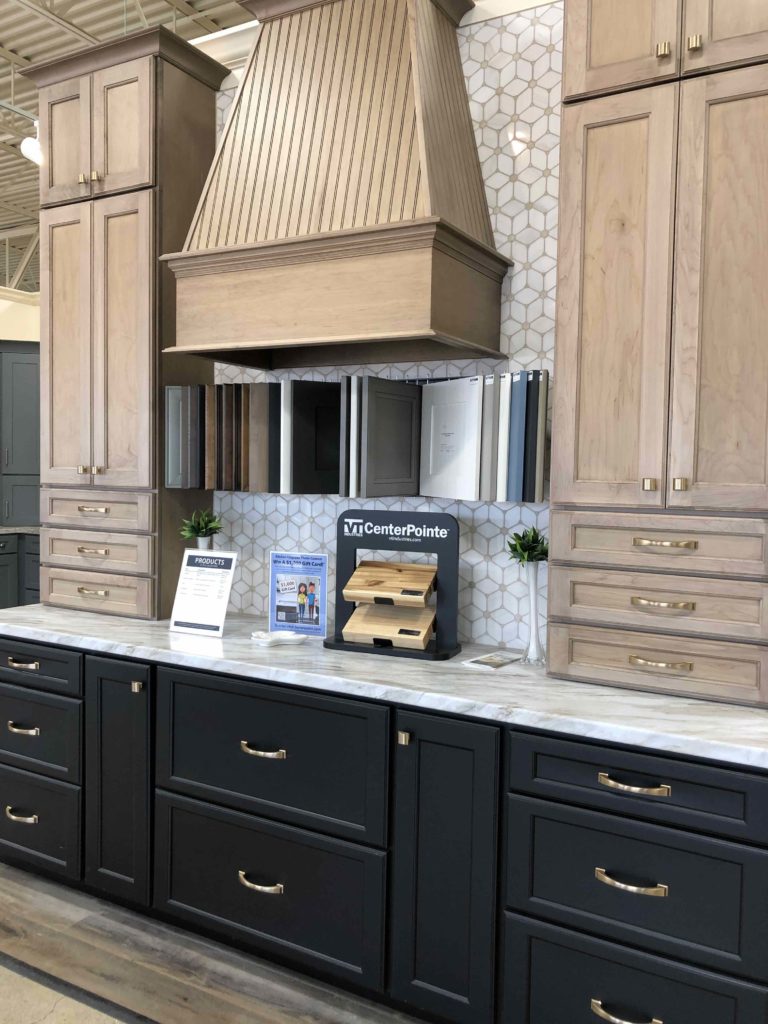 Can you believe these counters are laminate? I had to touch them to believe it myself, and even then, I had to do a double take. They are absolutely stunning! What a great budget option for counters with a gorgeous high end look. I had to go back and make sure I got the name of the manufacturer – it's Hartson Kennedy. I had never heard of them before, honestly. But they are beautiful in person.
White Eucalyptus Sage Candles
I am really particular about the kinds of scents and smells that I like in my house, and it's probably no surprise that I gravitate towards clean, fresh scents. I'm not a fan of floral or overly perfume-y types of scents. They give me a headache and feel overwhelming. So, if you like clean and fresh, I can't say enough about Bath & Body Works' White Eucalyptus Sage candles – assuming you can find them. I think other people are on to how awesome they smell, because I've had a harder time getting my hands on them lately. But it's a fresh, clean and soothing scent. I wish they would make wallflowers out of them, or even those car scent things that they make!
I think we can all agree that in this day and age, we're spending more time on our digital devices that we'd like. At least I know I do. I've been putting time restrictions on some of my social media apps even though I still blow through my own restrictions and ignore my own rules. So perhaps you fit this profile, or know someone else who does. I spotted these Digital Detox cards in a store when I was shopping with my daughter recently. Perhaps they might be a great gift or stocking stuffer for someone you know who is trying to break some bad habits.
Supporting a Friend
This is one of those things that bridges the area of things I love along with the +1 side of the coin. A roommate of my oldest son, Sam, suffered a freak accident this summer while on vacation with his family in August, shortly before school started. He was diving into a wave in the ocean, and it ended up being more shallow than what he realized. He broke his neck, and also suffered a spinal cord injury. We have known him much of his life, and Sam played baseball with him, even when they were little. He's a great kid – kind, outgoing and athletic. He's been in the hospital, and in a rehab facility in Philadelphia since the accident. He's a strong kid, and I know he is putting his full efforts into his recovery. A Gofundme as been set up for him and his family to help defray some of the medical costs involved. I don't normally put things like this out there, but this one is especially close to my heart and my own family.
Ok, on to something a little lighter…
My +1 for the week – Rebates
I continue to kid myself into thinking that I will submit the forms and documentation necessary for rebates on certain products. I even started to fill out the forms for a rebate on my son's contact lenses, only to discover that I needed a UPC from the contact lens box, which of course, I didn't have because he took them to school. So, I quit with rebates. Maybe someone will come up with a business that will take my rebate info and do it for me for a fee. I would be down with that, because I just don't do it, despite my best intentions.
Am I alone in this?
I hope you're having a great weekend and have a great week ahead!
Jenny