I am so excited to share this kitchen with you all today. I've said it before, and I'll say it again – I love a white kitchen, but when you do so many of them, you get kind of burned out on white. So when a client chooses something other than white, it's just fun. Plus, I feel like this is the direction that trends are moving (granted, Ohio is not known to be a trend setting state), but I love the look that some color gives a kitchen, even if it's subtle. The look is still bright and modern, and in my opinion, super sophisticated. That said, I think you're going to love this kitchen with painted cabinets in Valspar's Frappe (color matched to the paint products that I use). This post contains some affiliate links.
The Before
The great thing about this kitchen is that the other finishes are on point, so painting the cabinets will bring it all together. The homeowners added beautiful quartz countertops and a subway backsplash, so that's a good starting point.
The other great feature in this kitchen is the island that was actually purchased in a furniture store. You can see a peek of it here, and it fits in seamlessly with this space and gives it a sophisticated vibe. The original top was butcher block, but the homeowners switched it out with quartz when they added new countertops. It's so pretty, and the black is really crisp and a gorgeous contrast in this space. (I didn't get a good before shot with the full island in the photo, but I promise you'll see it in the after photos). It's also what we used as inspiration for new cabinet pulls. These cabinets are tall, and the existing pulls just didn't have enough weight to them.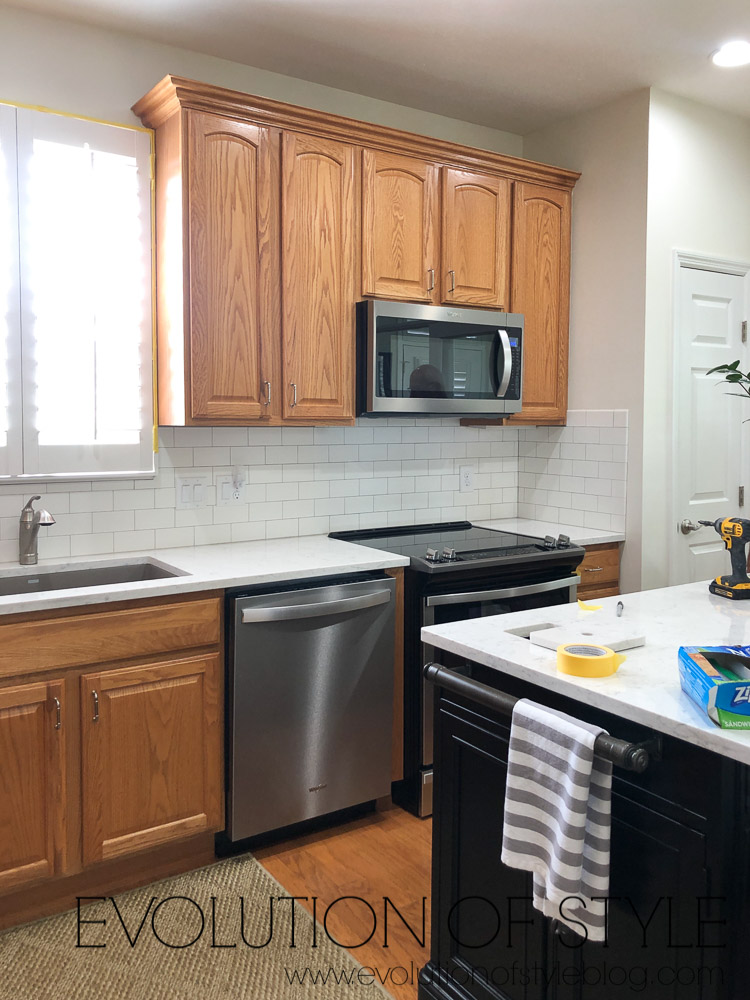 These oak cabinets were a bit on the grainy side, so I ended up doing a bit of a grain fill to minimize the grain, and ultimately, make the job of painting the cabinets a little easier, with a more polished finished look. I prepped, primed and hand painted the frames, and they turned out beautifully as well. I recently tried these flocked foam rollers for frames, and they really give an amazing finish.
The After
The after speaks for itself doesn't it? Who says that you have to go with white for a classic, bright kitchen?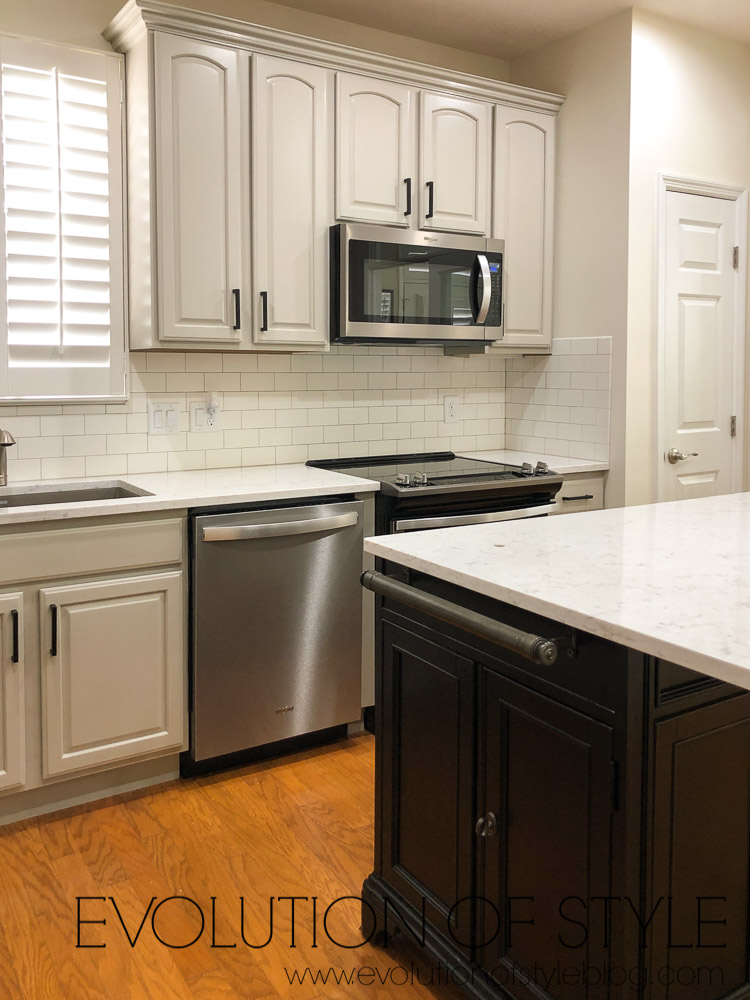 Here you can see how beautifully the island fits in with this space. It's a perfect addition – like it should have been there from the start. And aren't the cabinet pulls a great upgrade? They really tie everything together in here.
I have been fortunate to work with some truly lovely people, and these homeowners made me feel right at home. I feel so lucky, as it's a pleasure to work with nice people – it really makes my job feel a lot less like work.
What do you think? Are you onboard for something other than white? Would you choose painted cabinets in Valspar's Frappe like my client's did?
If you're looking for more paint color and cabinet painting ideas, check out these posts:
My Favorite Non-White Kitchen Cabinet Paint Colors
How to Paint Kitchen Cabinets Like a Pro
Tips and Tricks for Painting Oak Cabinets
Do you love the look of gray/greige cabinets like I do? Check out these makeovers for some more great ideas.
Benjamin Moore's Most Popular Grays
Painted Kitchen Cabinets in Repose Gray and Gauntlet Gray
Kitchen Cabinets in Mindful Gray
Are you in the Dayton/Cincinnati area and looking for a quote? Contact me!
Jenny