My most popular post, by far, has been "How to Paint Your Cabinets Like a Professional." As a result, I have gotten a lot of questions, specifically, about how to paint oak cabinets. I have tackled a great deal of oak cabinet client projects, so I thought I would share some tips and tricks for painting oak cabinets that I have learned along the way, if you're looking to give yours a refresh. If you're interested in ONLINE VIDEO TRAINING, with a pro coaching you through the process, click here for more information. If you'd like a one-on-one consultation before tackling this project, click here for details.
Questions about Painting Oak
I know there are a lot of you out there who are unhappy with your oak cabinets, whether they're semi-new and builder grade, or from an era long gone. You don't want to spend the money on new cabinets because 1) that's expensive and 2) there's nothing wrong with your cabinets, they're just not your style.
Am I close? Let's get things started by getting pumped at how you don't have to gut and remodel your entire kitchen in order to get a new look. Below are some of my favorite client kitchens that I've done. And these are all oak kitchens! Have hope! I'm looking to answer some of the common questions that come about when painting oak cabinets:
How do I prep oak cabinets?
Do I have to sand oak cabinets before painting them?
What kind of paint do you use to paint oak cabinets? What sheen should I use?
How do you minimize the grain when painting oak cabinets?
What color should I paint my oak cabinets?
Should I spray or brush and roll my cabinets?
Don't worry! I have you covered!
Minimize the Grain
The biggest issue with painting oak cabinets is how to minimize the grain that comes with that type of wood. If you have maple or cherry cabinets, they paint up beautifully. Oak can have a similar result, it just takes a little more effort to get there. The wood grain can manifest itself in two ways: through the texture of the wood and also the grain bleeding through the paint. Check out this post on ways to minimize the grain when painting oak cabinets.
One product I have used that has helped with both of these issues is Zinsser's Bull's Eye Seal Coat sanding sealer. This aids in minimizing the wood grain of oak cabinets to a certain degree, but primarily helps to keep the grain from bleeding through your primer and paint. Very key in giving your oak cabinets an update.
The first set of oak cabinets I painted, I didn't use this product, and it took several coats of primer to cover the grain, which is labor and time intensive.
With the next set of oak cabinets, I used the sanding sealer. It definitely helped with the grain – especially with the issue of the grain bleeding through, and eliminating the need for several coats of primer. I applied the sanding sealer after I had cleaned/sanded/deglossed the oak cabinets, and before I applied my primer and paint.
Grain Filling Products
If you are looking to try and eliminate the wood grain look altogether, I would suggest investing in the help of a professional. There are wood grain filler and putty products out there that can be used for this purpose. I don't have any personal experience with them (yet), as it appears to be a tricky and time intensive process, that may not be for the DIY faint of heart.
That said, if you are a daring DIYer, and want to try to fill the wood grain on your cabinets, there are options when it comes to grain fillers. Some grain fillers are easier to work with than others, Aqua Coat is a great option, in that it's really easy to work with and you can work it into the wood grain fairly easily. You might need to do 2-3 coats of it to fill the grain to your satisfaction though, since it has kind of a gel consistency and isn't as thick as some other grain fillers.
Here is a photo showing the process used to fill the grain on a piece of oak – quite impressive! Wow!
I gave Behlen's Grain Filler a test drive myself, which you can read about here where I dove deeper into saying good-bye to the oak grain. Pretty compelling, yes?
Another option to using the sanding sealer, is to go with a shellac primer like Zinsser BIN. Fair warning, it stinks to high heaven, but it dries quickly, seals in the oak grain, sands easily and gets the job done. Using the Zinsser BIN primer can save you the added step of using the sanding sealer, if you'd prefer to go that route. And if you apply 2-3 coats (depending upon the graininess of your cabinets), it does a great job in filling the grain to a large degree.

Painting Oak Cabinets – To Spray, or Not to Spray?
When I painted my own cabinets, I went all in with the Wagner HVLP (high volume, low pressure) conversion spray gun – doors, drawers and frames. There are two main reasons for this:
You truly get a professional, factory finish with a spray gun, (with a lot of control using an HVLP gun), no brush marks!
My cabinet frames have raised panels, and I wanted the same factory finished look that I had with my cabinet doors and drawers.
If you don't know where to start when it comes to sprayers, take a look at my guide to paint sprayers as part of my "Painter in Your Pocket" series.
That said, if your cabinet frames are relatively flat and don't have a lot of nooks and crannies to worry about, you can save yourself some time and trouble and paint the frames by hand vs. spraying them. I still recommend spraying the doors and drawers, because the finished look is second to none, but there is some flexibility on the frames. Plus, it saves you the hassle of having to tape off your kitchen to avoid overspray.
If you choose to do your frames by hand, here is another tip for getting the best finish. Use a mohair paint roller like this one by Purdy or this one by Wooster. That is what I used for some of my projects, and the finish turned out beautifully – it looks like a sprayed finish.
Customize It
Another way to give your oak cabinets a new look is to add custom woodworking elements. Build them up and trim them out with crown molding. Add panels to the ends of your cabinets or to your island. Add furniture details to give them a high end look.
Kristin's kitchen is living proof that builder grade oak kitchens can be transformed into something high-end and custom. Notice how the cabinets were built up and trimmed out with crown molding and the furniture look they have with the addition of cabinet feet to the lower cabinets.
I'm still amazed that her kitchen started with this:
Pam, at Simple Details, added custom panels to her stock kitchen cabinets used in her kitchen island, to give it a high end look.
Custom woodworking details definitely help to kick it up a notch and pull the space together when you're painting your cabinets.
Add New Hardware
It seems kind of obvious when you're in the midst of redoing a kitchen, but it bears repeating. New cabinet hardware can really step up the look and feel of your kitchen – even if you're not painting them. Old knobs and pulls just make a dated kitchen look even more dated, so consider some of the options out there. And if you're changing out your hardware, don't forget this cabinet hardware mounting kit to make the job easier, if you're starting with a clean slate.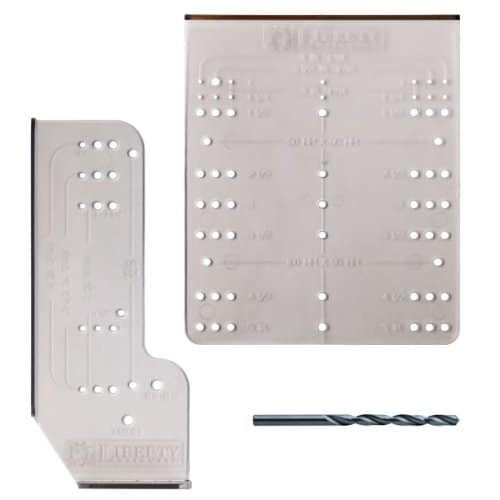 Hardware Trend
Bin pulls remain popular in kitchens – in just about any finish. I am also a big fan of changing things up with a mix of knobs with pulls. Step away from all knobs, or all pulls. I think it gives a really polished and finished look.
Choosing a Color
One of the biggest decisions that comes with painting kitchen cabinets is choosing a color. There are so many options out there, it's hard to figure out which one is right for you and works with your home's decor. I know that I agonized over paint colors for more time than I care to admit.
My advice? Samples, samples, samples! And I'm not talking about the little paint chips here. Spend the money on some sample pints/quarts and paint sample boards so you can get a feel for what the color will look like on a larger scale. I have done this for clients with foam core boards, so they can compare the colors and live with them awhile before making a decision. The color is something you want to get right.


Color trends in cabinetry right now seems to gravitate towards white, gray and black. But, there are so many options within those colors, it can be overwhelming. We know there are Fifty Shades of Gray, but who knew there were so many different shades of white?
Here are some great go-to colors to consider when painting cabinets white.
White Dove – Benjamin Moore:
Decorators White – Benjamin Moore:
Cloud White – Benjamin Moore:
Swiss Coffee – Benjamin Moore:
Super White – Benjamin Moore:
Marscapone – Benjamin Moore:
Acadia White – Benjamin Moore:
Mountain Peak White – Benjamin Moore:
Galveston Gray – Benjamin Moore
My friend Cyndy, over at The Creativity Exchange, is brilliant when it comes to paint colors, and has pulled together a couple of gorgeous gray color palettes to consider in the selection process:
Island – Kendall Charcoal – Benjamin Moore:
This beautiful kitchen from Elements of Style, is a perfect example of two-toned cabinetry done right! The upper cabinets are painted Classic White, and the lowers are Cape May Cobblestone (Benjamin Moore). Absolutely gorgeous!
I don't have the exact colors in this amazing two-toned kitchen, but it's too beautiful not to share.
I have done some two tone looks for clients too, and while I love a fresh white kitchen, the two toned ones are a lot of fun to pull together as well.
A big transformation with Gauntlet Gray (lower cabinets) and Repose Gray (upper cabinets).
And another two toned look with Urbane Bronze and Alabaster in this kitchen. What's not to like with Urbane Bronze? One of my favorites. The homeowners also trimmed out their island for this redo, giving it a more custom look.
If you have a hard time deciding on a cabinet color, visit a kitchen showroom and take a peek at their cabinets. I was able to get a sample of a cabinet that I liked and had it color matched. That's how I decided upon my kitchen cabinet color, and I've used it for several clients as well. This oak kitchen that I did for a client is that same custom color. I think I need to get it patented. 😉
Before:
After:
Jane's kitchen makeover at Modern Jane, includes the addition of two-toned cabinets. The upper cabinets are Natural White (ICI) and the lower cabinets are Whale Gray by Benjamin Moore. I love how fresh and modern they look and the chrome pulls and glass knobs work beautifully with the cabinet colors.
If you happen to come across a cabinet color/sample that you love, don't hesitate to take it to your local paint expert and have it color matched. That's exactly what I did when I painted our kitchen cabinets and island, and I got the exact look that I was looking for as a result.
Hinges!
If you're refreshing your cabinets with paint, it's a great opportunity to change something that you don't always think about when updating kitchen cabinets – the hinges! Many older homes with builder grade oak cabinets have exposed hinges. Swap them out with hidden hinges, and take the transformation to the next level! (Or hire someone to do it for you). Read more about what a difference hinges can make in this post.
Check out this amazing kitchen reveal at Everyday Enchanting. The doors are original – they painted them to give them a fresh look. But look at the hinges – they swapped them out for hidden ones, which completely modernizes the kitchen (along with all of the other amazing updates). Gorgeous!
If you'd like to read more about a comparison of a couple of paints that I have used for painting kitchen cabinets, you can read more about PPG's Breakthrough vs. Benjamin Moore's Advance here.
And don't forget to check out my full tutorial on How to Paint Your Kitchen Cabinets Like a Professional.
Did I miss anything? Do you have any suggestions you'd like to add in tackling oak cabinets? I hope you find these tips + tricks for painting oak cabinets helpful, should you choose to tackle your own!