I know you all love a remodel as much as I do, and I have a gorgeous 1960s ranch house remodel to share with you that will blow your mind! A big thanks to my friend/reader who emailed me this amazing whole house remodel – I know you'll love it as much as I do. It's quite a transformation!
NOTE: Before we get started, if you have a remodel that you would like to have featured, please contact me and we can chat about it.
Before and After – Side by Side Comparison
You can see by looking at the exterior, that the home was suffering from some neglect. Great roof lines, but just needing some TLC.
And here it is now. All cleaned up with new landscaping and fresh paint (and a new deck along the side).
So welcoming, don't you think?
Once inside, you can see the extent of the work that is needed in this 1960s ranch house remodel. Flooring, paint, lighting – a mess. But oh boy, what a difference those things make!
And here it is now. You can see that they also added a window and opened up a cut out wall, which really work wonders in giving this space natural light. What a difference.
And here's a view through to the back of the house. From the looks of it, I'm guessing there were a lot of walls opened up in this place.
The old kitchen was sad and kind of creepy, but look at all of the space!
And here it is now – fresh, bright and beautiful. I have to keep going back and forth to really appreciate every detail! It looks like the cut out wall was modified to incorporate a railing – much more stylish and modern. The whole space is welcoming and ready for entertaining a large group of friends and family.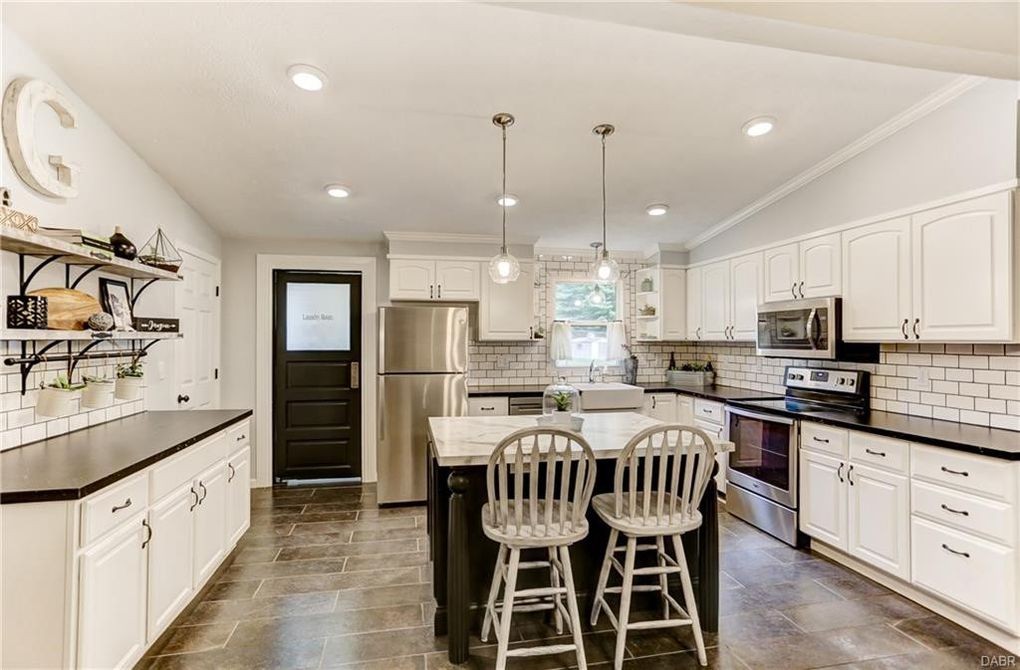 It's such a huge makeover that it's hard to reconcile the original photos to the new ones, so bear with me. If you look closely at the photo below, it looks like there was some sort of rounded fireplace tucked away back there. My only guess is that they took down LOTS of walls to give it the open feel that it has now.
Apparently this the room that had that funky fireplace. It's HUGE! I can't find any photos of this space in the original listing, so I'm thinking some walls were removed to make this room what it is now. If I didn't know better, I would think it was an addition!
From what I can gather about the footprint of the home, I think this is the master bedroom. Only because of the little nook on the right.
And here it is now – a beautiful master bedroom getaway.
And a bright and modern master bathroom to0 (I think I see some pretty patterned tile on the floor).
This home has four bedrooms in total, and all of them were revamped and made new.
The vaulted ceilings really give these rooms some interest and make them seem bigger than they would otherwise.
From scary to sweet. A perfect little nursery.
And a nice extra room (looks like my daybed from my last One Room Challenge).
This is the only bathroom in the original listing, and it looks like the reconfigured it to make better use of the space. A corner vanity just doesn't make any sense, does it?
I love the look of the butcher block with the vessel sink and painted cabinets.
I don't have a before photo for the laundry room, but rest assured, this home has one that's ready to go.
If you want to look at more photos of this home, you can see the original listing here, and it's current listing here. I love seeing these home renovations and sharing them with you, so again, if you have a transformation, contact me and let's talk about sharing it!
What do you think about this 1960s ranch house remodel? Quite astounding, don't you think? Amazing what some vision and hard work can do for an old home.
Looking for More Remodels?
If you're looking for more home remodeling posts, check out this Tri-Level Home Remodel or this unbelievable Julian Price Mansion Hoarder House Remodel.
Jenny