Hello!
I'm not sure what housing looks like in other parts of the country, but here in the midwest (well, in Ohio), the tri-level home was very popular in the 70's and 80's.  In fact, I grew up in a tri-level, as did many of my closest friends, now that I stop and think about it.  Tri-levels are great in that you get a good amount of square footage, and they're great family homes.  There are a lot of them on the market around here nowadays, and it's always interesting to see if they've been updated, and if so, how.  Yesterday I stumbled upon a home that is very similar to my childhood home, but it's been updated like none I've ever seen, and I love how it is designed to accommodate how families live today (and in ways that I had never considered!).
I'm pulling some photos from different real estate listings to give you an idea of what these tri-levels look like, so that you can compare the before to the after.  Just bear in mind that the updated one I'm showing you is not the same home as the "befores" I'm showing you.  I'm just trying to give you a frame of reference, so that you can full appreciate the changes.
Let's get started – it's a little crazy how excited I am about this remodel, so I hope you enjoy it as much as I did.
First, just a peek at the exterior, so you can get a feeling for what a tri-level looks like, in case you're not familiar with the style.  On the right (upstairs) are the bedrooms along with two bathrooms (master and a shared bathroom).  Then, there is a basement below the bedrooms.  The center area traditionally includes a formal living/dining room, family room, kitchen and a breakfast nook, along with a powder room and a laundry room.  This is the remodeled tri-level, FYI.
Here is another version – but you get the idea.
Or a Spanish-style tri-level:
Now let's take a look at the inside.
At the time these homes were built, formal living and dining rooms were still the trend.  As we all know, many people have no use and no desire for these spaces.  I personally don't want spaces in my home that go unused, and right now the only one that sort of falls into that category is my formal dining room.  If I had my way, I would transplant that space to my kitchen/breakfast nook and have it all one big space.  But, I digress.
In a the non-renovated tri-level, you walk in to something like this – sunken living room to the left (which I thought was SO cool when we first moved into our tri-level as a kid), family room straight ahead, stairs leading up/down to the right.
Now let's look at the remodeled version.  Everything has been updated – flooring, molding, doors, light fixtures, you name it.  And if you look to the left, you'll see a peek at the wall that was partially knocked out.  More on that later.
Back to the "original" tri-level – if you turn to the left, you'll see the formal living room and dining room areas.  Lots of space, but admittedly, it goes pretty much unused for most people, right?
In the remodeled tri-level, they closed off the formal dining room and added built-ins to make it into a cozy family room, which also opens up into the kitchen on the right.  Growing up in a home that has a similar floor plan, can I just tell you how much I love this?  You're asking, "What did they do with the dining room?"  Oh, just wait…
I mean, just look at these built-ins.
If we go back to the entry area and continue to walk straight back, you'll find a family room that looks something like this.  Sometimes the ceilings are vaulted, sometimes not.
Or your family room could look like this:
In the remodeled tri-level, when you walk straight after coming through the front door, you'll walk into this space.  Say what?  That's right people, the family room is now a roomy and inviting dining room (where you can still host Thanksgiving) that is connected to a gorgeous open kitchen.
That is also open and connected to the family room that used to be a formal living room.
If you're wondering what the old kitchens looked like in these tri-levels, they were small, and in many cases, closed off from the rest of the house.  Like this – complete with drop ceilings and fluorescent lighting.
And then you had a breakfast nook that was connected to it.
Or it might look something like this – a bit more updated, but still not open to the family room, like so many of us want in our homes today.
So what does the remodeled tri-level look like?  You won't believe it.  Well, I couldn't believe it.
Is this a functional family home, or what?
What was the breakfast nook in the original tri-level homes, has been turned into a much-needed mudroom.  So smart.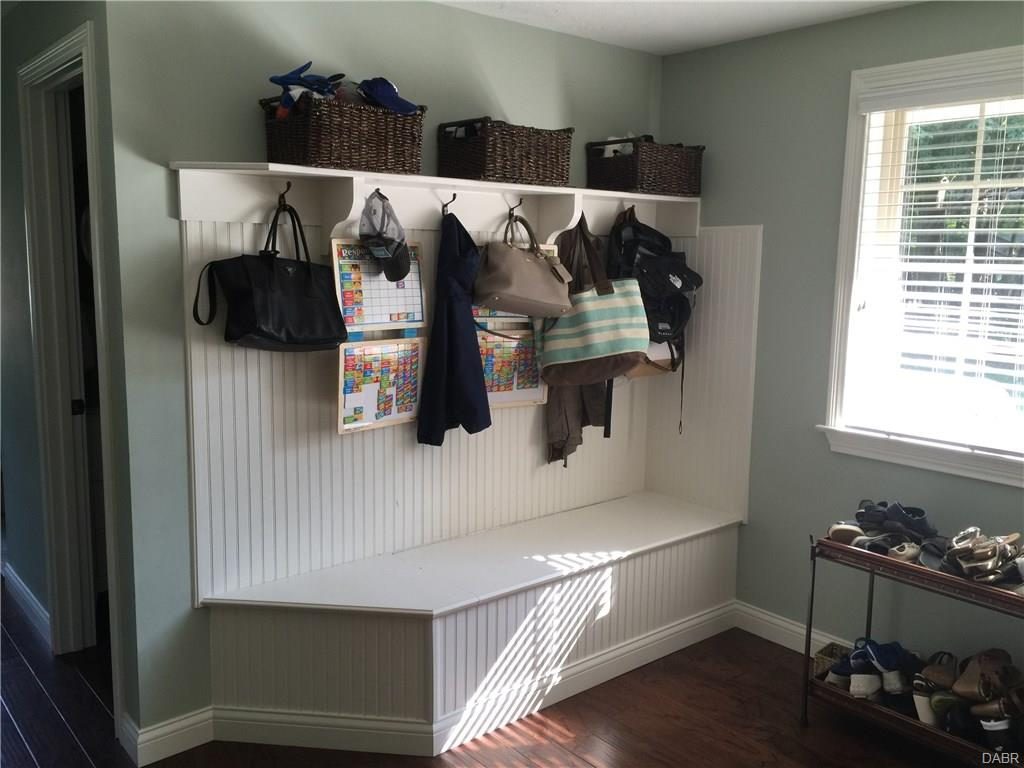 And the dining room that went missing?  Where is it?  They closed off the wall (where the built-ins were added), and turned it into a perfectly placed little office.
The laundry rooms in these tri-level homes were tucked into the back corner of the house.  The original one looks something like this:
And in the updated tri-level, they maximized their space with a stackable washer and dryer and a stylish sink.
The other big change in the updated tri-level is upstairs, in the master bedroom and bathroom.  To be fair, they did take the upstairs from four bedrooms to three, but I think the payoff made it worth it.
But first, a peek at what an "original" tri-level might look like:
Or perhaps this:
And here is an updated tri-level (with added closet space).
The master bathrooms can vary, and while I would imagine this updated tri-level probably resembled my parents' old master bathroom, which looked like this before they remodeled:
But here are some other possibilities: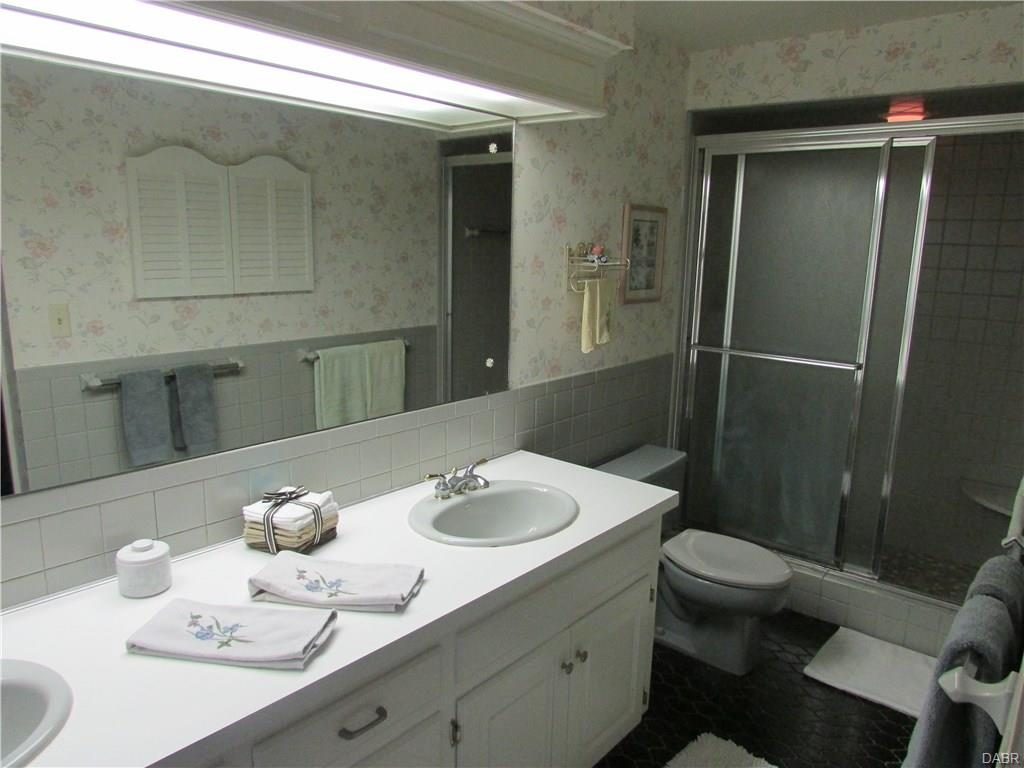 Here is the updated master bathroom in the remodeled tri-level:
I'm blown away at how they made this tri-level current and updated for the way people live today.  I have contemplated ways that my childhood home could be updated to make use of the formal living areas, but this exceeded anything that I had ever come up with over the years.  Now I want to buy a tri-level and remodel it to sell.  It's no surprise that this updated tri-level is already "sale pending" and it just came on the market.
If you'd like to look at the full listings for these three homes featured in this post, here are the links:
Did you grow up in a tri-level?  Has your childhood home changed over the course of the years?
Jenny