I hope you're all enjoying the 2018 Homearama tours so far, and I will preface this post by saying that the interior of this house is one of my favorites. Beautiful finishes, and very on trend, with a classic look that's made for entertaining. The exterior is another take on the modern farmhouse, very pretty, albeit a bit boxy compared to the modern farmhouse exterior on day two. But I know there is a lot here that you're going to love, just as I did.
If you missed any of the tour so far, you can click here for Day One and Day Two.
The Woodburn
Square footage: 6,500 sq. ft.
Price: $1.5M
Builder: Sterling Homes
Website: www.sterlinghomescincinnati.com
While I like all of the exterior finishes – the stone, the black mullioned windows, the wood beams, it seems a little too … boxy, and maybe even a bit modern, at first glance. But, I will say that I got over my issues upon setting foot inside.
I love the gas light exterior fixtures. The charm just gets me every time.
Upon entering, the stairs are to the right, with a cute, exposed brick powder room too.
How awesome is this powder room? Notice the black and gold finishes in here, and tuck those in your mind for future reference.
To the left of the main foyer is a masculine study (and I'm of course immediately drawn to that cute plaid ottoman).
As you go straight ahead, you walk into the dining area, which opens up to a gorgeous outdoor entertaining area. This home had some great lighting fixtures that just kicked up the wow factor even more.
The kitchen is to the right, and I don't know if you can tell, but the cabinets are not white. They're a gorgeous shade of taupe that is perfect in the space, and works beautifully with the wood tones in here as well. A gorgeous mix, still bright, but not stark.
And the gold finishes are just the jewelry in this beautiful room.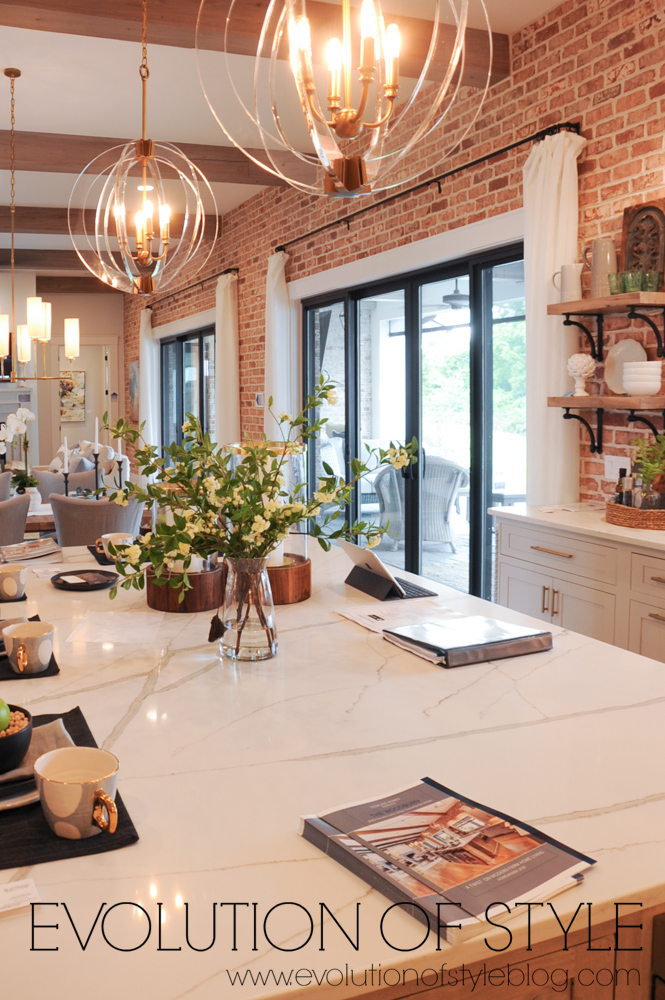 The entertainment space carries into the living area with more sliding doors that also take you outside.
Here's a peek at the backyard, looking towards the back of the house.
Notice the retractable screens they have here. How perfect – you can put them down if it's buggy outside, essentially doubling your entertainment area.
And a huge fireplace area too.
Back inside, the master bedroom is off the living room, with another eye catching light fixture. It's not huge, but it's bright and cozy, with the beams carrying through here as well.
This master bathroom was one of my favorites – so spectacular with the black cabinets and gold finishes, and molding for miles.
Then there is the bling of the chandelier and this super-striking black subway tiled shower wall. I love this unexpected element so much – the pattern of the tile is unusual and interesting too. Almost like a herringbone pattern on the diagonal. Subway tile in all different colors, sizes and textures was also a big thing this year, which proves to me that subway tile really is timeless.
As we headed upstairs, the striking chandelier and molding was highlighted.
Laundry upstairs (although in most of these homes they had laundry on more than one floor).
A pretty girl's room with another dark accent wall and a sharp chandelier.
Another one with a mural on the wall, and an uber-cool light fixture. I want to redo all of my light fixtures in the house after seeing these.
A cool boy's room with corrugated metal sheeting as a backdrop for the bed. Clever, and it works in the niche of wall space for the bed, don't you think?
A pretty indigo bathroom.
A cool surprise space that this house has is off the kitchen, toward the back of the house. A separate staircase leads you upstairs (this is a shot from the top).
It's like it's own little separate apartment – perfect for guests, with every amenity they could possibly need. A living and eating area –
And even a kitchen space.
The bedroom is pretty darn sweet for a "spare living area", don't you think? Wow.
And I even love the bathroom – how fun is that tile? Big and small hex tiles in a classic black and white.
Even with this bonus space, this home still has a basement.
I really love this simple shiplap bathroom with the floating wood counter. Classic and striking all at once.
So what do you think of this house? How does it rank for you so far?
Jenny