One of the projects I really want to focus on is my office. I'm thrilled that I have a space that's all mine and has doors, but it's really lacking in the interest department right now. It's a poo brown color for starters, which is why I'm anxious to get to work.
So, I decided to go all
Sarah Richardson
on this project, and start with fabric. This warranted a trip to a wonderful place today –
The Fabric Shack
. Don't let the name fool you, it's not a shack by any stretch. Chateau, perhaps. Let's just say it's every fabric lovers dream. And yes, they have all of their fabrics online too! (Excuse the picture quality – only had my iPhone).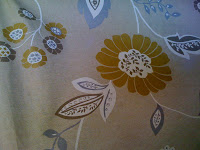 I have a chair that I want to reupholster that was a hand-me-down from my parents that needs a little love…


A bit saggy and sad, but the bones are there

The possibilities are endless!!


I have a lot of good options to to choose from, it's just overwhelming trying to figure out where to begin! I want the room to be bright and cheerful, especially since it's lacking in natural light. But the space is GREAT and I think I can make it into something really wonderful that's all mine. 🙂
My office before we moved in – notice the poo walls and no windows

But, I have this attached area with a wonderful closet that holds all of my crafts/scrapbooking supplies. Love it.

All things considered, the space is GREAT and I think I can make it into something really wonderful that's all mine. 🙂
Jenny