Ohio may not be near the ocean or the mountains, but we do offer one thing that many other states don't – a plentiful supply of outlets. Frontgate Outlet is one that I frequent often, because it's near the Ballard Outlet and the Grandin Road Outlet. A one stop shop, if you will. I made a trip down to Frontgate in the hopes of finding some gorgeous garland, since their catalogs always boast how full and pretty they are. I figured it would be an investment, as I watched this YouTube video sharing an amazing Christmas garland, and knew that my flimsy old garland wasn't going to fit the bill.
Full transparency: You never know what you're going to get at the outlets, and many times, I am disappointed with the selection and/or prices. But this year it did not disappoint. I think I got there early enough to where things weren't completely picked over, and they also moved all of the Christmas stuff into what is usually the Grandin Road Outlet. (There were some Grandin items in there, but it was primarily Frontgate). If at all possible, I recommend going during the week, because there is hardly anyone there, and it's a much more enjoyable shopping experience since it's so packed in with goodies.
Since I know many of you can't get to the Frontgate Outlet, I'm linking to some of their products online as well. This post contains some affiliate links.
Frontgate Christmas Trees
We bought our current Christmas tree from Frontgate Outlet eight years ago, since we needed something taller due to our higher ceilings. If memory serves, I think we paid $350 for this tree at the outlet. Not too shabby, right? I remember it being a serious deal. You can see that Christmas Home Tour here.
I have to say, I think Frontgate has some pretty amazing trees, and you can at least get them at a discount at the outlet. When I was there, they were 40% off, lots of selection there as well (and there was more there than what I was able to capture).
Frontgate Christmas Wreaths and Garlands
I love that they have colorful Christmas wreaths mixed in with their options as well. I'm feeling like I need a colorful tree in my house somewhere.
While on my hunt for Frontgate garlands, I came across these beauties. I think they might be considered "swags" – you could hang them to flank your front door. See how full and gorgeous they are?
They have you covered if you're looking for oversized outdoor decor as well.
Holiday Entertaining
I love that they have tables set out with different colored decor options and vignettes. The blue and silver tableware and Christmas decor is so striking.
Just look at how stunning those ornaments are (the photos really don't do them justice). They're not plastic – old school glass, people. The colors are unique too – so soft and muted, but striking.
Frontgate Stockings
We always go with our traditional holiday stockings, but these stockings certainly caught my eye.
If you're looking for all things gold – they have you covered there too.
And don't even get me started on the ribbon.
Like I said, their vignettes had me doing a double-take. I love the gold stands with the brass tops on this table. So many holiday entertaining options.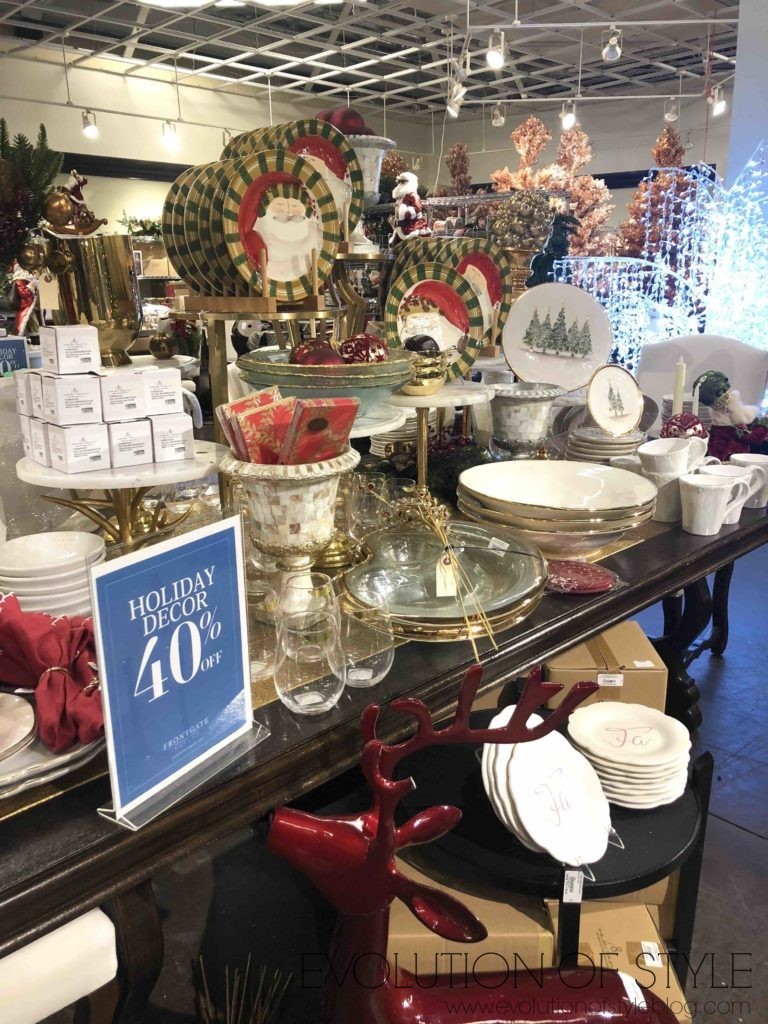 Like I said, I was there for Christmas garland, and ended up digging through these boxes to find what I wanted.
But this is the garland I ended up finding and buying. To give you an idea on the discount – they're currently on sale at Frontgate.com, and I got an extra 40% off of the sale price. So, considering that it's something that I expect to have a long time, I think it's a pretty good deal.
Have you ever been to a Frontgate Outlet?
If you're interested in visiting the Cincinnati, Ohio Frontgate Outlet, you can find it here:
8939 Union Centre Blvd, West Chester Township, OH 45069
You just never know what you'll find. I'm looking forward to sharing this garland with you on this year's Christmas tour!
Jenny