I hope you're enjoying the Homearama 2017 Tour of Homes so far. I've found that each home has something to offer, even if you don't like everything. If you've missed any part of the tour so far, you can check out Day One here and Day Two here. Now we're on to the third day, and the third house.
Eagle Ridge – Hensley Custom Building Group
Price: $1.2M
Square footage: 5500 sq. ft.
Website: hensleyhomes.com
The traditional colors and materials on this home makes it an eye-catcher for me. I love a white house with black shutters – I think it's so classic and timeless.
Double front doors under an ample front porch, with beautiful stone detail. So pretty.
Once inside, there is a well-equipped home office/craft room/study room space. So much storage, and so many options on how to use this area.
Straight ahead is the great room. The fireplace kind of threw me for a loop – it seems awfully modern for this house, not what I expected. This goes along with why corner fireplaces are a good idea in theory (for me anyway). They just take up too much room. I'd rather have one wall with a fireplace and built-ins like in this house. And there's no mantel.
To the right, we went to the master bedroom. This room needs a bigger headboard and larger scale side tables and accessories, but a nice room overall.
The master bathroom was different from others that we've seen in that it's kind of a "galley" style, but it works for me. It's missing a tub, but that's not a deal breaker for me. I can live without, and am a shower kind of girl. For others, I know a tub is a high priority.
The shower is gorgeous. Love the blue tile detail on the wall too.
Still plenty of room for two people to get ready in here, and the three windows along the wall let in plenty of light without sacrificing privacy.

The master bedroom has a door that leads out to this enclosed porch area. I say enclosed porch, but it's not an "outdoor" porch like others on this tour. You can see the vents in the ceiling – it has heating/air conditioning like the rest of the house, but still has an outdoor vibe to it. The only thing that was a little odd was that when you walk outside from here, you walk out to a staircase that takes you downstairs. So there really isn't an outdoor space on this level. But the porch is great, really. I think I would get a lot of use of this area.
You can also access this space from the kitchen. It's a nice kitchen, good floorplan, but I kept thinking that the ceilings should be higher. I think it's because the surrounding rooms have such high ceilings that it feels that way.
Some open shelving with a non-traditional backsplash.
I don't have a photo of it, but there is a "grilling patio" off of the kitchen, with steps that lead down to the fire pit. All of the main outdoor entertaining spaces are on the lower level.
Powder room.
Heading upstairs, a quick view from the staircase.
Upstairs, there was a perfect bedroom for a growing girl. A great little sitting area that connects to the closet.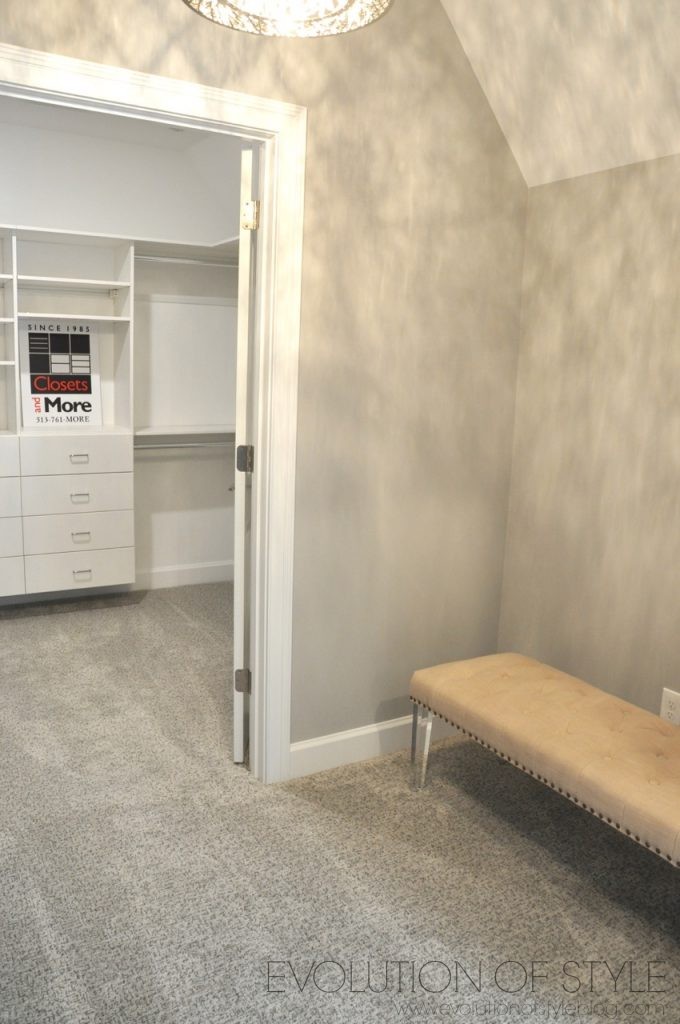 With a perfect sized main bedroom area.
A Jack and Jill bathroom is connected.

And then another bedroom/office adjoins to the bathroom.
From here, we made our way downstairs. I love the flooring down here. It flows beautifully with the staircase and the other wood flooring throughout the home.
My boys would appreciate the double TV setup that is downstairs.
Pool table area for parties.
Great bar area downstairs too.
I love the barstools down here. They're a great size, but yet you can get a good number of them down here as well, and they tuck away so they're out of sight.
And more seating at this table so you can pay attention to what's on the TV(s).
And a perfect nook for playing cards. Really, it has everything you need to have a great party.
There's a powder room down her too, and it reinforced my love of a dark and dramatic color in a bathroom. So pretty.
There is also a huge bedroom down here – this photo doesn't do it justice. Almost like another master bedroom.
Large bathroom attached to it as well.
My daughter asked about the "low sink" in here, so I had to do a little explaining… Haven't seen a bidet in awhile.
HUGE shower with lots of jets and really cool tile.
Take a closer look – it almost looks like fabric. Really cool.
We headed back upstairs and got a look at the laundry room before we left. I love the layout, just not a fan of the laminate cabinets.
But for a laundry room, I could live with it, right? 😉
And this landing spot is located off of the garage. Great place to drop your keys, sort the mail, etc…
Yet there is still a place to hang your coats, and kick off your shoes.

That wraps up the tour for House #3. What do you think? Any favorites? More to come tomorrow!
Jenny