Since I'm in the throes of kitchen remodeling plans, and spend a lot of time painting kitchen cabinets in general, I thought it would be a good time to talk about some of the kitchen cabinet trends I'm seeing in 2021. While a majority of the kitchens I paint are still some shade of white, I have done more cabinets in some shade of color this past year than I have any year prior. That said, in following kitchen trends online, there are definitely changes that I've been noticing as well. Let's talk about them!
White Cabinets are Still Classic
The general rule still holds that white cabinets aren't going anywhere anytime soon. They are still classic if done correctly, but I am noticing some push back on the whole "white on white on white" look that I see very often. White cabinets, white (subway) backsplash and white (quartz) countertops. I'm in a kitchen remodeling group, and see a lot of people still doing that look, but many people wanting something different. There is commentary that those kitchens appear too sterile and generic, and they're looking for something different. A way that their kitchen will not look cookie cutter. Whether it means incorporating some color, or some warmth with wood tones, I suspect that all white kitchens will shift a bit to incorporate some of these elements moving forward.
This kitchen, designed by Studio McGee, incorporates wood elements, great texture, and brass finishes to add some visual interest. It's a fine line, but well done here.
A Case for Contrast
I am seeing a lot more in the way of rich, moody colors and a lot more contrast in kitchen trends. Indigo blues, blacks and even some rich greens are making their way on the scene, along with stains along similar lines. As a lover of contrast and rich, moody colors, I am enjoying the trend in my Instagram feed and Pinterest pages.
The key for making this look work, lies with the other elements in the kitchen. Bright counters and light floors seem to accompany them, along with a lot of natural light. Without these elements, you risk the kitchen feeling too dark and cave-like. It's definitely a fine balance. But when it's done right, it is a show stopper.
I love the look of these beautiful cabinets from Pike Properties, and it is a perfect example of the mix that you need to achieve to make this look work. If you haven't checked out their Instagram, I highly recommend it. Lots of great home inspiration in their feed. And this cabinet color (since I know you're wondering) is Benjamin Moore's Soot. I actually painted my basement bar cabinets in this color.
I'm also seeing a lot more in the way of black cabinets. I've seen it in the form of an island to help break up an otherwise white kitchen, or on its own with a kitchen full of black cabinetry.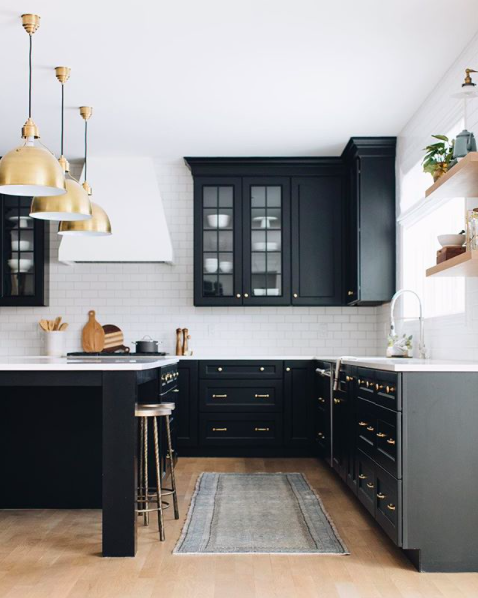 I love seeing black cabinets combined with wood elements and other light finishes. It equates to a well refined look in my opinion.
Warm Wood Tones
Stained wood is also making a comeback, but in a new way, as trends always do. I'm seeing it in perimeter cabinets, in the form of islands, or in simple accents that bring warmth to the kitchen as a whole. In many cases, the warmth of wood is paired with painted cabinets, and the end result is beautiful.
This kitchen from High Street Homes is a perfect example of adding the warmth of wood in the stained island with painted perimeter cabinets. Still bright and sophisticated, but far more interesting than a white-on-white-on-white kitchen.
I'm seeing the pairing of different colors for upper and lower cabinets incorporating this mix of finishes as well. I have to say, it feels more trendy with uppers and lowers painted different colors, but with a painted and stained combination, it lends itself to a different vibe altogether. It feels a bit more curated, if that makes sense.
If you have Discovery+, I recommend checking out Jean Stoffer Design – an offshoot of Fixer Upper/Magnolia Network. She has an amazing ability to create a new kitchen that looks like it's been there forever.
In some cases, all stained wood is being incorporated into a space. This laundry room is a perfect example of how warm wood tones can still look fresh and modern.
What's Going Out (My Opinion)
Gray Kitchens
I'm seeing less in the way of gray kitchens these days. At least the ones where grays seem to dominate the look – gray floors, gray cabinets, etc… People seem to be gravitating towards warmer looks overall, thus the trend towards stains. I think a subtle shift is happening towards greiges, warmer grays, or on the opposite side of the spectrum, deep, rich grays, trending towards black.
Floating Shelves
Floating shelves are another look that I expect to fade. While they are useful in some circumstances, the idea of eliminating all upper cabinetry and replacing it with floating shelves just isn't viable for most people. Storage is important. And aside from having some smaller, more functional uses for floating shelves, I don't see this trend having a whole lot of staying power.
Farm House
I think the whole farmhouse style is trending out, although it has shifted somewhat, with the "modern farmhouse" twist. I do think that barn doors and shiplap are things that are going to date a kitchen pretty quickly. I've barn doors used in pantries, which I understand and appreciate, but aesthetically, I don't see them having the staying power (nor do they function well when they're used as bathroom doors, for example.
So, there you have it. My two cents on kitchen cabinet trends for 2021 – take it for what it's worth. 😉
Am I missing anything? What's trending where you live?
Other articles you might enjoy –
Favorite Non-White Cabinet Colors
Jenny