While I love kitchen cabinets in non-traditional paint colors (like this post about my favorite non-white cabinet paint colors), the fast number of kitchens that I do are a shade of white. One of the most common questions that I'm asked is, "What is the most popular white paint color for kitchen cabinets?" Let's face it, white kitchens are classic, timeless and popular, and I don't see them going out of favor anytime soon. I have some favorites of my own, but there is not a one size fits all answer to this question. The most popular white paint color might not be the right one for your kitchen.
I have reached out to other professional refinishers to help answer this question, so I have a great source of expertise to share with you today. I'm really excited to share my favorite white kitchen cabinet paint colors, and I hope you'll find it useful. Generally speaking, I stick to Benjamin Moore and Sherwin Williams white paint colors. I know choosing a color can be overwhelming, and I hope this guide helps. This post contains some affiliate links.
IMPORTANT NOTE: When choosing a white paint color for your cabinets, don't choose it without taking into account your hard finishes – counters, floors, backsplash, etc… These need to be your cues in choosing the white paint color that will work best for you. I also highly recommend large sized paint samples from places like Samplize, or even your local paint store (worst case, buy a quart to test the color). That gives a much better idea of what the color will look like, and is an invaluable resource when choosing a color.
Sherwin Williams Alabaster
Alabaster is one of those whites that is a classic and a great go-to color for cabinets. It's a bit of a warmer white, but not in a yellow-ish way. It's soft and subtle, and great for trim as well as cabinets. If you have existing finishes that are warm, but are looking to update the look of your kitchen, consider Alabaster, as it plays well with others like that.
This kitchen from Tiger Lily Designs and Interiors speaks perfectly to the beauty of Alabaster. Warm tones in the floors, counters and backsplash, but still fresh and gorgeous.
My friend Kayla at Painted by Kayla Payne does some great cabinet makeovers, including a few in Alabaster.
A beautiful redo in Alabaster from Bella Via Design.
Sherwin Williams Dover White
Dover White (SW6385) is another white that falls into the warm category, as far as whites go. I think one thing that people need to keep in mind when choosing a white for cabinets, is that you have to work with the finishes that you already have (if you're not changing them). This is crucial to pulling together a cohesive finished look. When you choose the right white for your finishes, the look is seamless. The wrong color sticks out like a sore thumb. Dover White is a great color when you're working with warm undertones in your countertops.
This kitchen from Hampton Fine Finishes puts Dover White in the spotlight beautifully.
Again, Kayla rocked out this kitchen in Dover White. It really does well with warm finishes, and I'm working on a kitchen in this color right now. Such a pretty, warm white that doesn't feel stark at all, but still gives you the look of a bright kitchen.
Benjamin Moore Chantilly Lace
Chantilly Lace (OC-65) falls into the category of more of true crisp white, without any undertones that you find in other white paint colors. It's crisp and clean and looks great with some of the quartz and marble countertops that are so popular these days.
Sherwin Williams Pure White
Sherwin Williams' Pure White isn't a "true white" like Chantilly Lace, but it's pretty darn close. It has a bit of a blue undertone, making it a great pairing for marble or white quartz countertops.
It looks great in this kitchen paired with the gorgeous countertops. Great work from Moore Painting & Pressure Washing.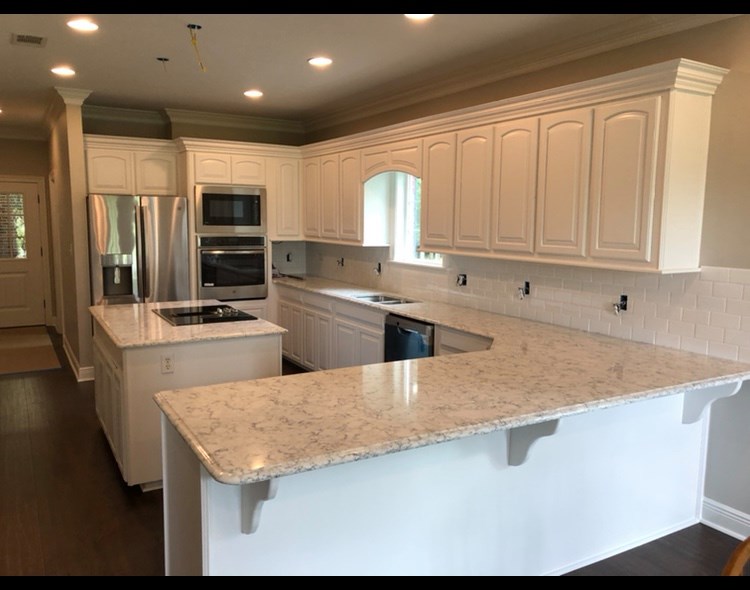 And it's a great contrast against the black countertops in this kitchen from J&L Vintage Decor.
This kitchen from Bella Via Design pairs Pure White with Lazy Gray for a soft and subtle look.
I did a kitchen last year in Pure White as well. Again, it is another that plays well with grays and clean whites in a kitchen.
Sherwin Williams Snowbound
Snowbound is another gorgeous go-to paint color that is very popular in the refinishing world. I've done kitchens in this color, and it's one that I can trust to work with many of the newer finishes out there, while it also plays well with some of the existing finishes in a home. It's a warm, soft white.
I've done quite a few kitchens in Snowbound, and it's never disappointed me.
This one from Amy Murry Designs is a stunner.
In this kitchen, you can see that it's soft enough to play well with the gray tones in the tile, but still goes with the wood tones in the flooring.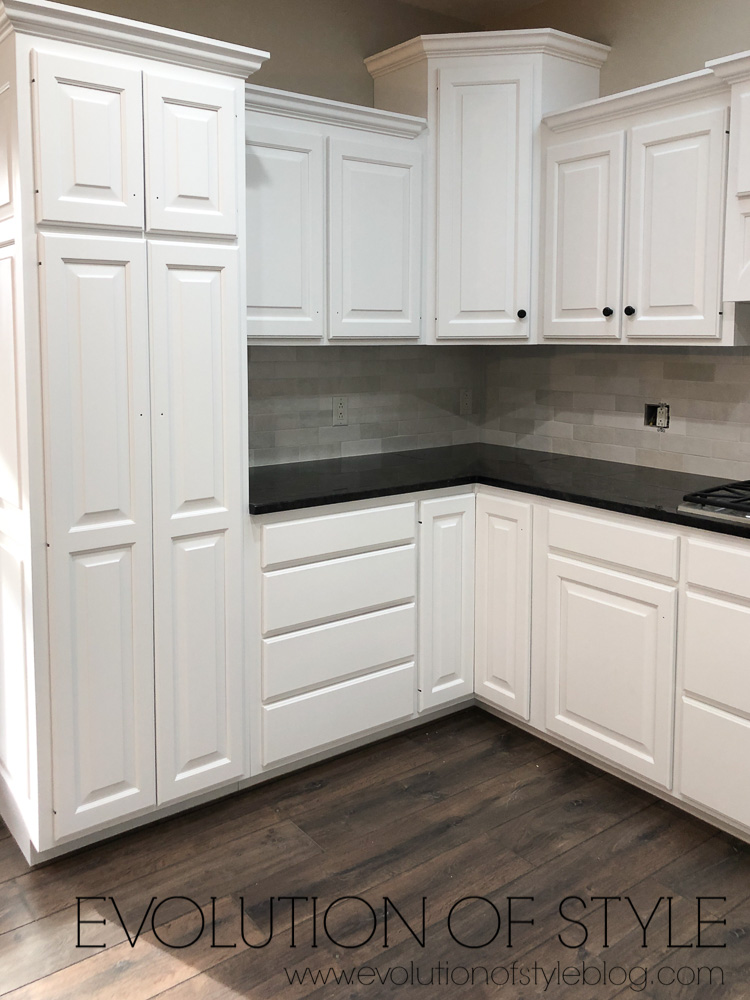 Benjamin Moore Simply White
Simply White (OC-117) has been one of my stand by paint colors for a long time now. It's not a true white, but has enough colorant in it that it works well in lots of kitchens. It's also a popular one for a lot of cabinet painters. Here it is in a kitchen from Wet Paint Professional Painters.
Here is a kitchen I did in Simply White awhile back (with a pretty island in Chelsea Gray).
You can see that Simply White is a pretty choice in this two-toned kitchen (also in Chelsea Gray). Go figure!
Benjamin Moore White Dove
White Dove (OC-17) is another color that I can always count on. It's a warm white, but not so warm that it looks yellowy. It's not as warm as Dover White (I know, it's easy to get them mixed up), but it's warmer than Simply White.
I love it in this kitchen, paired with an island in Urbane Bronze (which is another color favorite of mine).
It's a great choice for a home where you have warm colors that aren't going anywhere. Like this kitchen – the warm countertops and floors call for a white that isn't too stark.
Benjamin Moore Decorator's White
Decorator's White (CC-20) has the smallest of undertones and works beautifully with white counters and backsplashes. So, if you know that you want to do your counters in a marble or something similar (but perhaps don't have the budget yet), this is a safe choice if you choose do paint your cabinets first. This kitchen was my giveaway kitchen, and I know they have plans to change the counters in the future, so Decorator's White was their paint color choice. It also works beautifully with their brass hardware.
You can see how beautifully the color works in this kitchen with the countertops. (The island color in this kitchen is Cheating Heart, in case you're wondering – a stunner!).
Sherwin Williams Creamy
Creamy (SW 7012) falls into more of the "off-white" shade of white, and definitely lives up to its name as a creamy white. It's very rich and gorgeous, and is a beautiful warm shade. Sometimes your kitchen finishes just require a warm white, and this is a great option. And don't worry, it will still brighten things up in your kitchen. I think sometimes it's easy to worry that it won't look white enough, or you can be set that you want a "white kitchen", but again, you need to consider your existing finishes and key off of them.
What Sheen Should I Use?
The question of sheen is another one that I see often. So many people immediately jump to "semi-gloss" for ease of cleaning. But I firmly disagree. If your cabinets are being painted with a product designed for cabinets, go with a satin/eggshell sheen. I have seen cabinets painted in semi-gloss, and the sheen is just too harsh, and it will show every flaw that you might have in your cabinets.
So there you have it – some of my favorite white kitchen cabinet paint colors. If you're looking for a "perfect white" for your kitchen cabinets, this is at least a good start, right? Am I missing one of your favorites? I hope at least you found some inspiration and ideas if nothing else.
If you're tired of white, check out my favorite non-white paint colors for cabinets here. Are you looking to learn how to redo your cabinets yourself? Check out this post. Are you looking for a course that walks you through the process step by step, check out this video course by my painting friend, Kayla. You can check out my favorite tools and products, here. If you're looking for someone to paint your cabinets, here is a list of questions to ask before you hire them.
Jenny