This project was part of a big remodeling overhaul. New flooring, new backsplash, fresh paint on the walls, new lighting, etc… A fun remodel (for me anyway, since I'm not living through it). The homeowner was looking for a fresh look, and decided on going with Snowbound – a Sherwin Williams color. Snowbound is a great go-to color for cabinets and trim. It's fresh without being too stark. Let's get to the before and afters of these painted kitchen cabinets in Sherwin Williams' Snowbound. It's quite a transformation, and it was fun to see the transformation take shape.
The Before
This kitchen has great bones, but just needed some updating. The homeowners were doing a complete overhaul throughout much of their main floor. Replacing the flooring to make it all a continuous flow, painting the walls, replacing light fixtures, all the good stuff.
You get the idea. We all had our burgundy wall phase (paired with forest green, of course – I had a plaid couch that featured those colors), but things are changing around here!
During
By the time I got there to start spraying the cabinets, the new floors had been installed. Already a great change, but definitely calling more attention to the current kitchen cabinets, right?
Since this kitchen is large, with a lot of detail work, I opted to spray it, which means lots of prep. But a bonus that I didn't have to tape off the walls, as another painter was tackling that task.
You can see how it's coming together. Backsplash still needs to go in as well. Lucky for you, I was also working on the master bathroom and laundry room, so I got to see it when that additional work was completed.
Never underestimate the power of paint! Isn't it gorgeous? If memory serves, the wall color is Worldly Gray, and the tile backsplash is from The Tile Shop.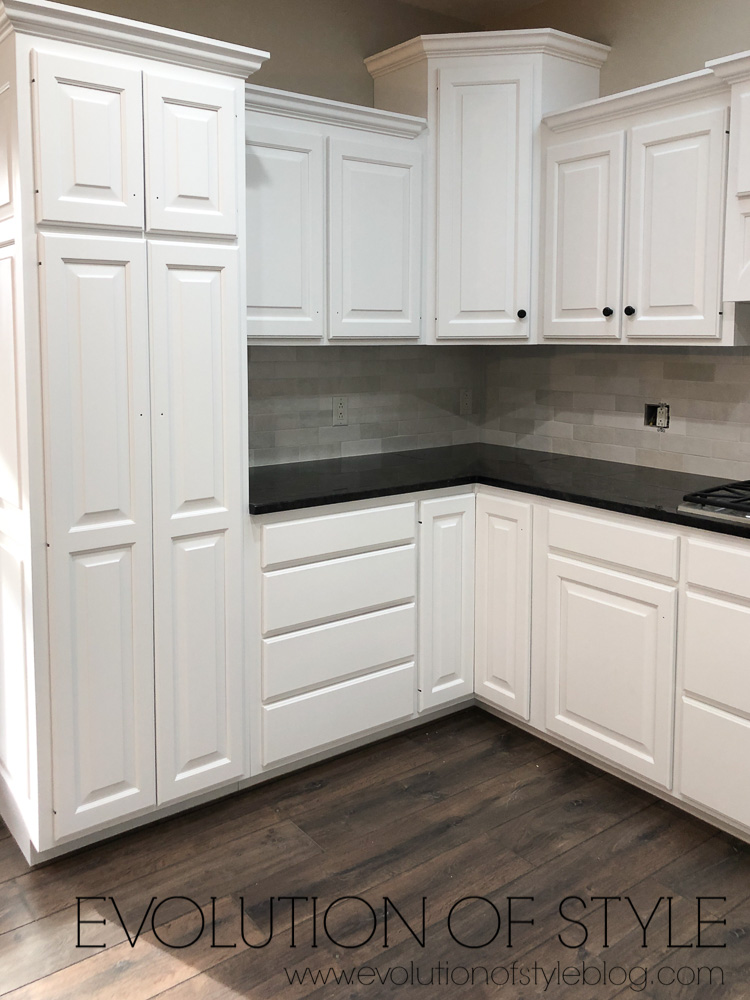 Ignore the pink – that was a touch up, and I hadn't removed the tape. You get the idea.
As I mentioned before, I also painted the master bedroom vanity and the laundry room cabinets. They added a gorgeous new quartz countertop to the bathroom, and it's just stunning. Here it is before…
The countertop really makes a big difference doesn't it?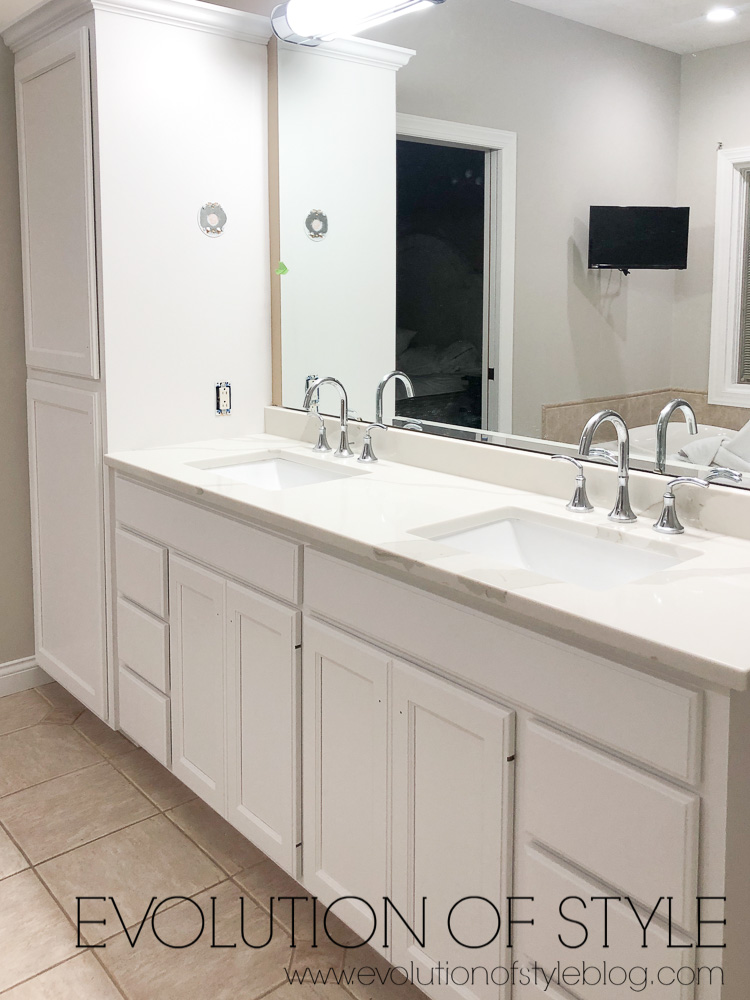 It's a nice mix of gray with some brown, so it works with their existing flooring.
The laundry room walls weren't yet painted, so I'll let you use your imagination on that one. If you're considering painting your cabinets, Sherwin Williams' Snowbound is definitely a great color option.
If you're interested in how these transformations are done, check out this post here. You can check out my favorite tools and products, here. If you're in the Dayton/Cincinnati area and would like a quote, contact me!
Jenny